The Real Reason You Should Never Put Steak In Your Instant Pot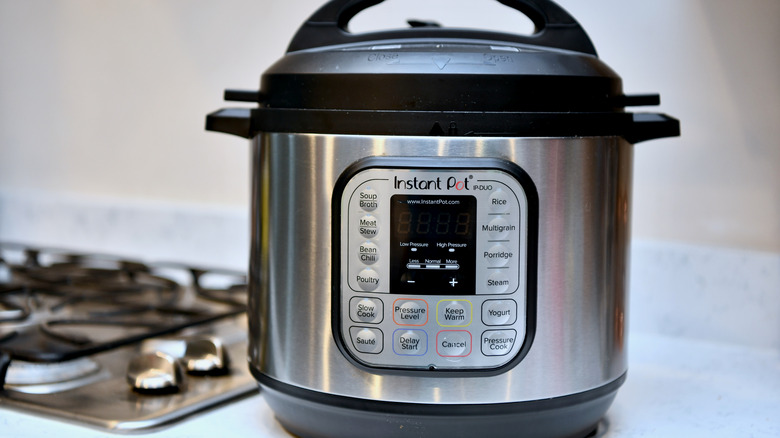 Jeramey Lende/Shutterstock
We get it — ever since you added an Instant Pot to your collection of kitchen appliances, it has completely changed the game in terms of how you cook. A survey by Instapot Life suggests that 21% of Americans 18 or older have the appliance in their kitchen, and there are countless cookbooks tailored specifically to the device, from general recipe books for beginners to vegan cookbooks and much more. There seem to be endless hacks for how to transform your favorite recipes into dishes that can be whipped up in the Instant Pot. After all, why use a method that takes double the time when you have a handy gadget that can speed up the process?
While the appliance is undeniably versatile and convenient, there are a few items you really should never cook in the Instant Pot, and steak is at the top of the list. Sure, you certainly can cook steak in the Instant Pot, but it won't deliver a very tasty result. As New York-based registered dietitian Jodi Greebel explained to Food & Wine, the goal for a well-cooked steak is to have a crisp, seared exterior and a tender interior once you cut into it. In the Instant Pot, that prime cut of meat will end up mushy — the meat will get tender, but you won't get that exterior crust that is so prized in a well-cooked steak.
The better method to cook steak and cuts that do well in the Instant Pot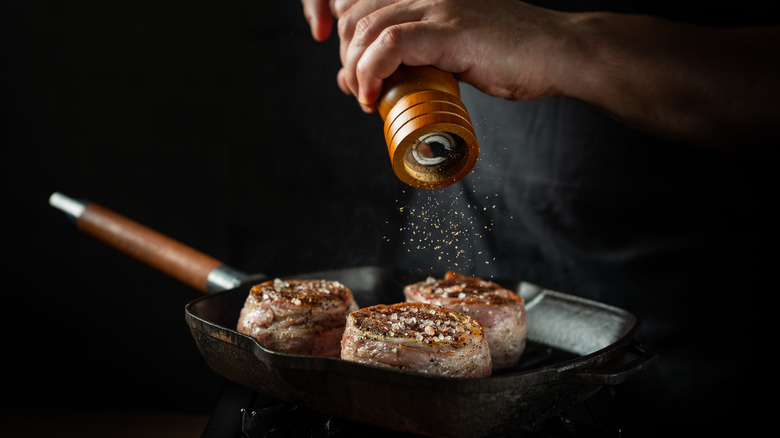 Anton Chernov/Shutterstock
Just go ahead and close the lid to that Instant Pot, and instead turn to some of the other appliances available in your kitchen when you're looking to whip up a perfectly cooked steak. If you live in an area where the temperature dips during certain seasons, you may not want to be shivering outside in front of the grill in the depth of winter — however, you can cook a phenomenal steak using a cast-iron pan on the stove. You can also, as Delish recommends, start by searing your steak in a piping hot skillet and then finishing it in the oven at a high heat to really lock in all that flavor.
While any kind of steak, from top sirloin to filet mignon, isn't the best choice for the Instant Pot, there are other types of beef that will get juicy and tender in the pressure cooker rather than overcooked and mushy. Typically, it's cuts that do well with a low and slow method of cooking — things like brisket, pot roast, round roast, and short ribs (via Hip Pressure Cooking). Or, if you've decided to steer clear of beef altogether in your Instant Pot cooking, you can try out items like pork shoulder or pork butt, oxtail, chicken thighs, or bone-in, skin-on chicken breast.