Marcus Samuelsson Just Made A Major Chicken Nugget Announcement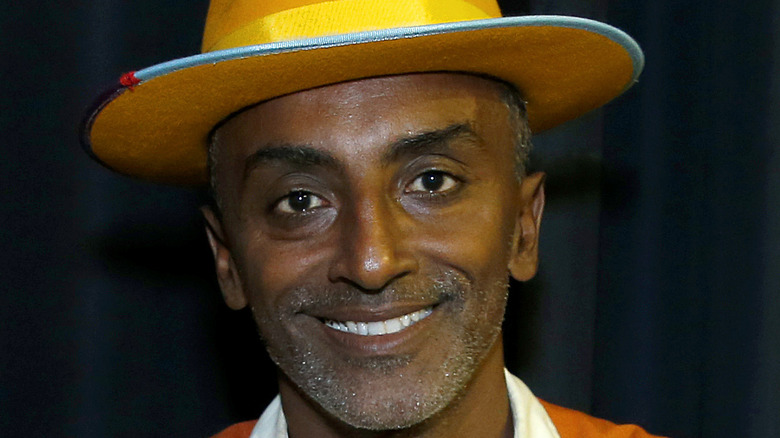 John Lamparski/Getty Images
Marcus Samuelsson just made an announcement on Twitter that will have his fans and foodies excited. The Ethiopian-Swedish chef is known for his restaurant Red Rooster Harlem and Red Rooster Overtown, which celebrates the food and culture of the New York and Miami neighborhoods while serving up delicious dishes. The announcement is about an addition to the menu that may surprise you.
Samuelsson hosts the television show "No Passport Required" on PBS, where he shares immigrant cuisine and culture across the United States with viewers. He has also been featured on lots of other shows like "Iron Chef," "Chopped All-Stars," and "Top Chef Masters." Samuelsson has been honored by the James Beard Foundation and the White House, and works with UNICEF to promote immunizations across the world and fight childhood malnutrition (via Food Network).
With such a wide impact in the culinary scene, the Red Rooster Restaurants are high profile and an announcement about their menu is big news. 
Marcus Samuelsson's menu addition announcement
For the first time ever, the menu at Red Rooster Harlem Red Rooster Overtown will offer chicken nuggets. Although, they're not just any chicken nuggets. Marcus Samuelsson announced on Twitter that both restaurants will begin serving plant-based Impossible Chicken Nuggets.
As we previously reported, the Impossible Chicken-Free Nuggets are only available at certain restaurants for now, including fast-food chains and fine dining establishments alike. They will be available in grocery stores around the country by the end of the year, but for now, restaurants like Red Rooster are the only place you can sample the new chickenless nuggets (via Business Wire).
Samuelsson's tweet included some pictures of the nuggets served with a dipping sauce, and they look mouthwatering. "Bring in the whole fam, and taste how delicious they are for yourself..." the tweet reads. If you're able to visit one of the Red Rooster restaurants and sample the new nuggets, they definitely look to be worth a try.