Easy Maple Roasted Carrots Recipe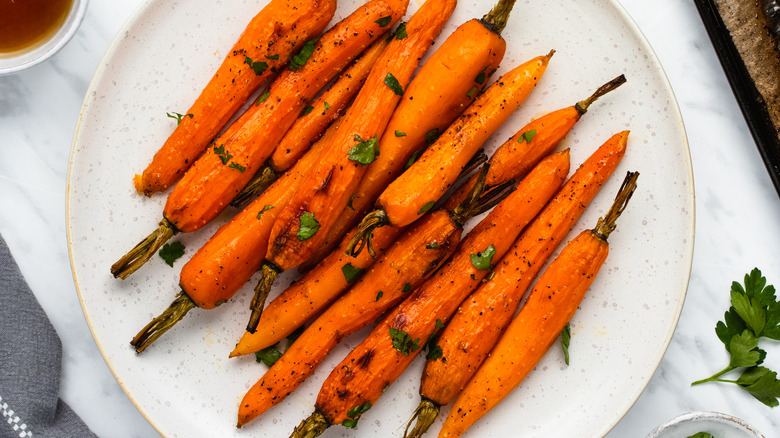 Catherine Brookes/Mashed
Generally speaking, side dishes play a secondary role to the entrée, with asparagus spears, broccoli florets, or a basic house salad leaving little impression on a diner when compared to the ribeye or salmon fillet that anchored the meal. But that all goes out the window when you have a side dish like this one, created by chef and recipe developer Catherine Brookes of Blue Sky Eating.
To call these maple roasted carrots a side dish would be an affront. They are so tasty that perhaps, instead, we refer to them as a co-entrée? Semantics aside, these carrots are perfect for an autumn evening dinner with family, including kids who are usually averse to eating their veggies. "They'd go great with steak or roast chicken," says Brookes, adding that these carrots would also be a welcomed addition to the holiday table as you feast with loved ones in the colder months.
Second only to how good these carrots taste is their refreshing ease of prep. You can get them ready to roast in less than 10 minutes, and that time can be spent well before dinner, so you will have less on your proverbial plate when it's time to work on the rest of the meal.
Gather the ingredients for easy maple roasted carrots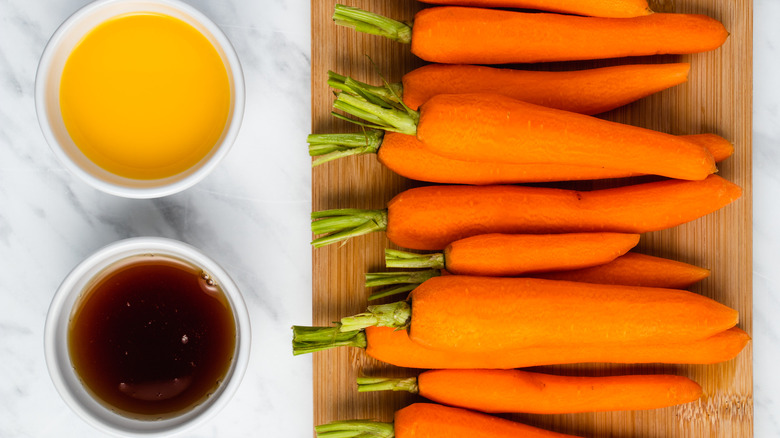 Catherine Brookes/Mashed
As the name suggests, the major players in this recipe are carrots and maple syrup. Beyond the root veggies and the sweet stuff, you'll need a good deal of butter, salt and pepper to taste, and some chopped parsley for serving. Brookes says while the parsley is optional, she highly recommends it, both for presentation and taste.
Once you have tried the recipe, you can (and should) experiment a bit, too. Try some other herbs, a shake of red pepper flakes or cayenne, or even a bit of maple sugar to add more sweetness and some texture. And for the record, Brookes says it's "absolutely no problem swapping in vegan/dairy-free butter."
Clean and prep the carrots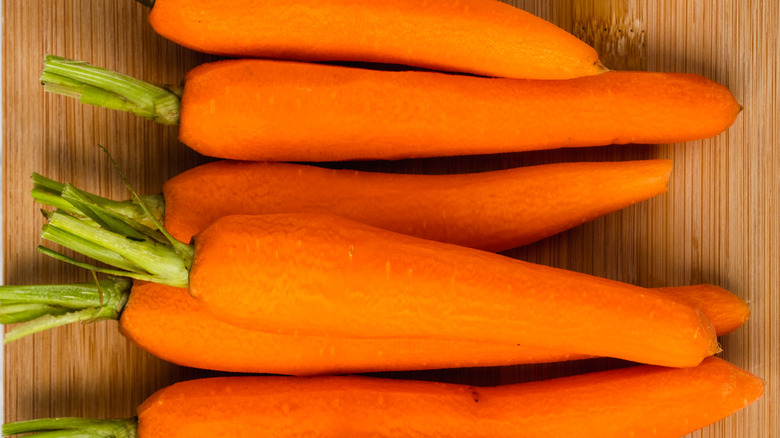 Catherine Brookes/Mashed
Start by preheating the oven to 400 F and lining a baking sheet with foil or parchment paper (or a reusable silicone baking mat). Next, wash and peel the carrots and snip any leafy greens down to an inch or so in length. Brookes says you can leave the ends on the carrots, simply peeled, as they make for a nicer presentation. You can also skip the peeling and vigorously wash and scrub the carrots instead, if you prefer that look.
Make the butter sauce, and sprinkle the carrots with seasoning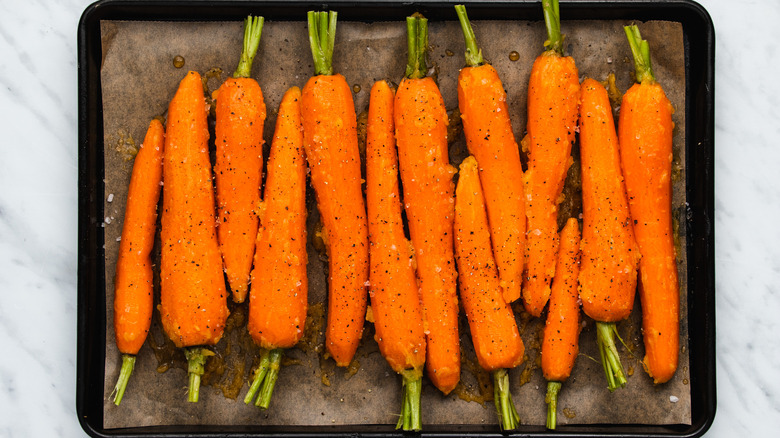 Catherine Brookes/Mashed
Melt the butter in the microwave or on the stove. Next, in a small bowl, mix the melted butter and maple syrup, stirring until well combined.  
Spread out the carrots on your prepared baking sheet and spoon or brush the maple butter mixture over the carrots, ensuring they are coated evenly. Next, sprinkle some salt and pepper over the carrots to taste. At this point, you're ready to pop these beauties into the oven!
Roast the carrots, garnish, and serve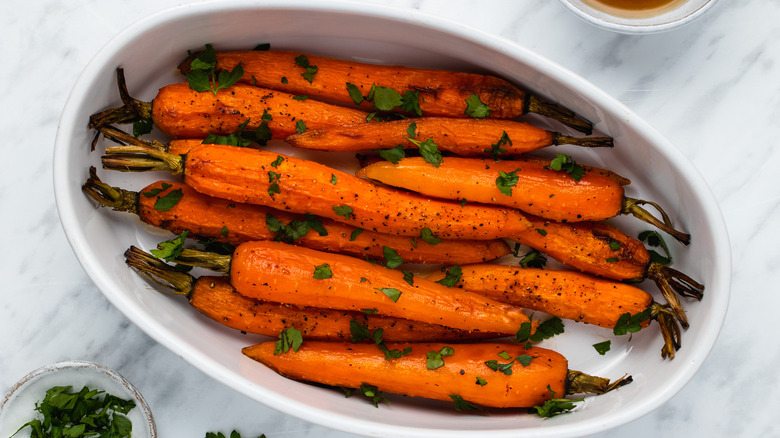 Catherine Brookes/Mashed
Bake the carrots in the pre-heated oven for 45 minutes to an hour, or until the carrots are nice and tender. As they cook, go ahead and chop that fresh parsley, which, again, is optional, but highly recommended.
When the roasted carrots are fresh out the oven, sprinkle with parsley and serve. In the unlikely event you have leftovers, Brookes says, "They should keep in the fridge for a couple of days and can be reheated in the oven."
Easy Maple Roasted Carrots Recipe
This side dish will give your entrée a run for its money. With melted butter and maple syrup, these sweet roasted carrots will be a highlight of any dinner.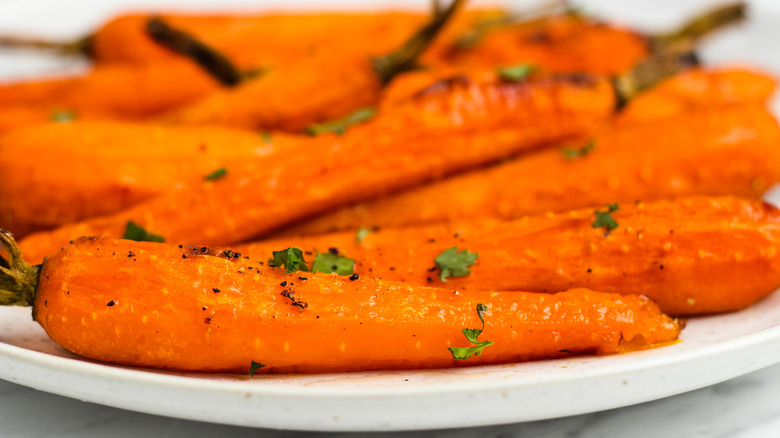 Ingredients
2 pounds medium carrots
¼ cup melted butter
¼ cup maple syrup
salt, to taste
pepper, to taste
Optional Ingredients
fresh parsley, chopped, for garnish
Directions
Preheat the oven to 400 F, and line a baking sheet with foil or parchment paper.
Wash and peel the carrots, and snip the leafy ends down to an inch or so in length.
In a small bowl, mix together the melted butter and maple syrup until well combined.
Spread out the carrots onto your prepared baking sheet, and spoon or brush on maple mixture to evenly coat.
Sprinkle with salt and pepper to taste.
Bake for 45 minutes to 1 hour, until the carrots are nice and tender.
Remove from the oven, top carrots with chopped parsley, and serve.
Nutrition
| | |
| --- | --- |
| Calories per Serving | 248 |
| Total Fat | 12.1 g |
| Saturated Fat | 7.4 g |
| Trans Fat | 0.5 g |
| Cholesterol | 30.5 mg |
| | |
| --- | --- |
| Total Carbohydrates | 35.4 g |
| Dietary Fiber | 6.5 g |
| Total Sugars | 22.7 g |
| Sodium | 608.0 mg |
| Protein | 2.3 g |