Air Fryer Sweet Potato Chips Recipe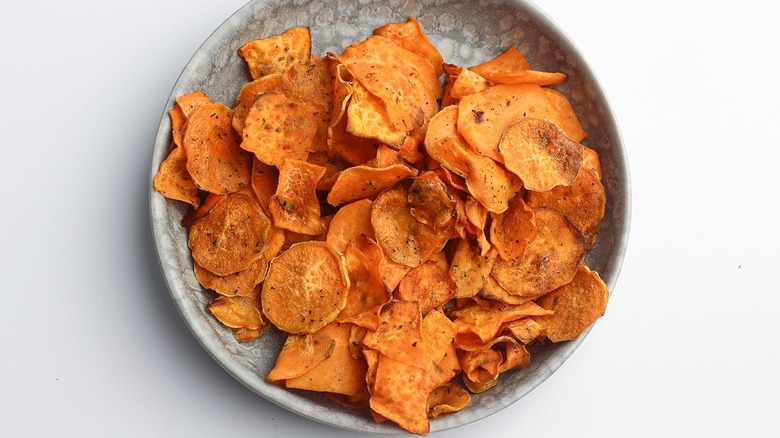 Susan Olayinka/Mashed
When it comes to snacks, potato chips are a superior option. There's nothing better than a crispy, crunchy, salty treat, not to mention the fact that chips are also a great side for dishes like burgers and hot dogs. Unfortunately, if there's one drawback to potato chips, it's that they're not the healthiest snack out there. But what if you could enjoy your chips in a healthier, more wholesome way? With air fried sweet potato chips, you can do exactly that!
Recipe developer Susan Olayinka from The Flexible Fridge has the perfect sweet potato chip recipe that combines simplicity with flavor. Sweet potatoes are a healthy alternative to other types of potatoes, like russets, because they're packed with vitamins and minerals. Also, traditional potato chips are deep-fried, but thanks to your handy air fryer, these chips come out just as crispy without having to saturate them in lots of oil. Olayinka notes that she has made this recipe by frying the chips in the past, but praises the use of the air fryer to both simplify and add a healthier element to this recipe.
While it is a little involved, the results are totally worth it if you love crunchy, salty, savory chips. So, grab you sweet potatoes, air fryer, and mandoline (a super handy kitchen tool that will allow you to thinly slice the potatoes), and get ready to say goodbye to store-bought potato chips for good. You won't miss them once you try this recipe.
Gather the ingredients to make air fryer sweet potato chips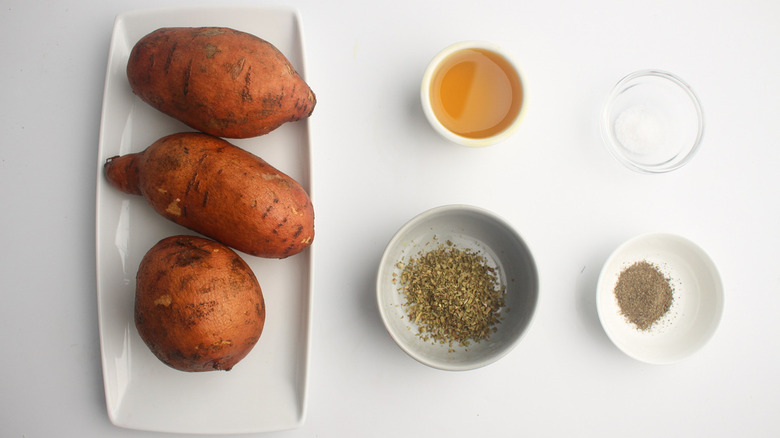 Susan Olayinka/Mashed
To make air fryer sweet potato chips, you'll want to make sure that you have all of the right ingredients. Of course, you'll need sweet potatoes, and you'll also need olive oil, salt, pepper, and oregano. While you do need some oil to help get the chips crispy, you don't need nearly as much as you would if you were frying these, which helps add a healthy element to the dish. Aside from ingredients, you'll also need a few tools to prepare the chips, including a peeler, a mandoline to cut thin potato slices, and an air fryer to cook the chips to perfection.
Peel the sweet potatoes, then thinly slice them using a mandoline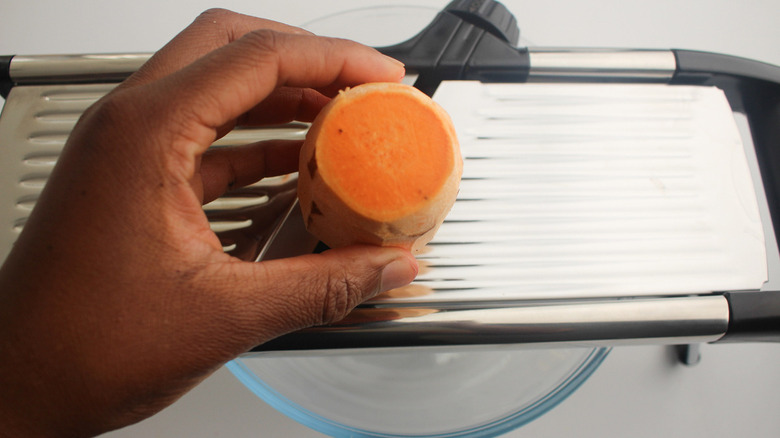 Susan Olayinka/Mashed
Once you have your ingredients sorted, you can begin prepping the sweet potatoes. First, peel the potatoes, removing all of the potato skin. Then, place the mandoline over a large bowl. Grab a peeled sweet potato and swipe it across the mandoline, cutting a thin, chip-like slice. Repeat this step over and over until you've sliced each of your potatoes. You want to make sure that the slices are thin enough to cook evenly and crisp up, but thick enough that they aren't too flimsy. 
Season the sweet potato chips and place them in the air fryer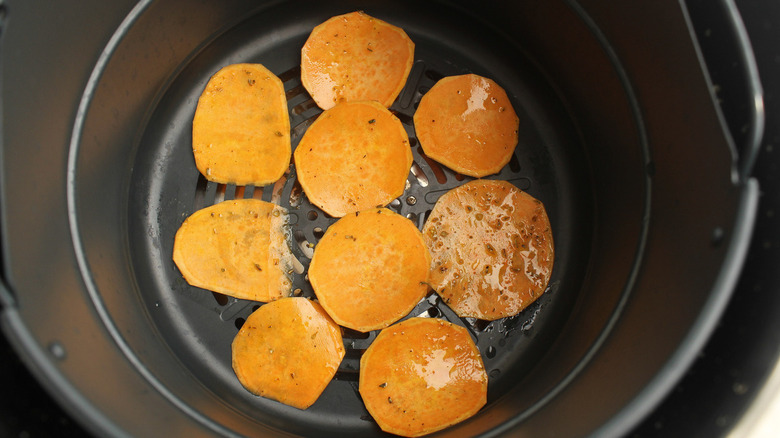 Susan Olayinka/Mashed
After you've sliced the sweet potatoes into a bowl, add the olive oil, salt, pepper, and oregano. Toss until each chip is evenly coated. Now, you can start evenly placing the chips into the air fryer basket. It's crucial that the chips cook in an even layer, so you'll likely have to cook them in several batches, depending on the size of your air fryer. Once you layer the chips into the air fryer, cook for 10 minutes at 350 F. After the first batch is done, repeat the process until you've cooked all of the chips.
Cook all of your sweet potato chips and enjoy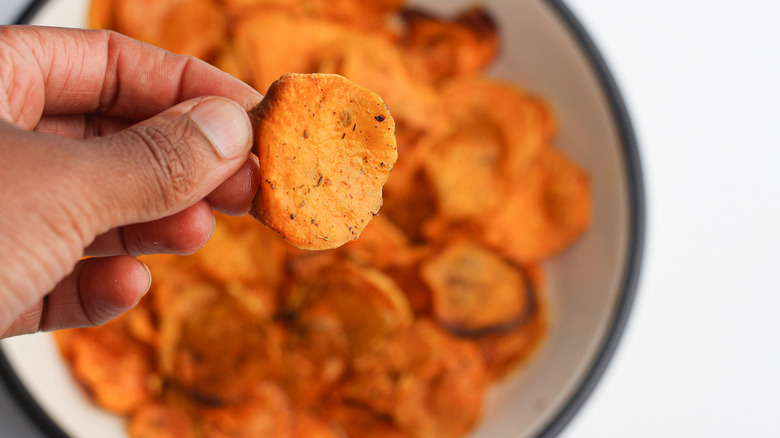 Susan Olayinka/Mashed
As soon as you've finished cooking all of the sweet potato chips in the air fryer, you're ready to enjoy! You'll notice that these chips have a wonderful crunch, just like traditional potato chips, but they also have the irresistible sweet potato flavor as well. And though they're good on their own, they also go great with dips. "An onion dip would be wonderful — or hummus," Olayinka notes. And although she's only made these chips a few times, she says, "The air fryer has been amazing. I'll definitely add this recipe to my family recipe repertoire!" Whether you want to enjoy them as a snack or a healthier alternative to potato chips, these air fryer sweet potato chips will not leave you disappointed!
Air Fryer Sweet Potato Chips Recipe
A delicious and healthy chip alternative? They exist, and these air fryer sweet potato chips will have you adding this recipe to your repertoire in no time.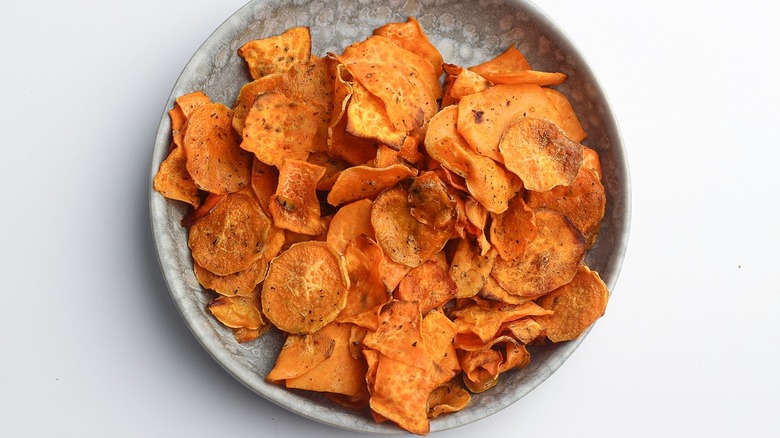 Ingredients
4 sweet potatoes
2 tablespoons extra-virgin olive oil
¼ teaspoon salt
¼ teaspoon black pepper
1 teaspoon oregano
Directions
Peel the potatoes.
Place a mandoline over a large bowl and thinly slice potatoes into bowl.
Add the olive oil, salt, black pepper, and oregano, and mix together in bowl.
Place the chips in a single layer in the air fryer basket, being careful not to overlap.
Cook for 10 minutes on 350 F. Repeat the process for the remaining chips.
After all of the chips are cooked, remove from the air fryer.
Enjoy the sweet potato chip on their own or with your favorite dip.
Nutrition
| | |
| --- | --- |
| Calories per Serving | 230 |
| Total Fat | 9.1 g |
| Saturated Fat | 1.3 g |
| Trans Fat | 0.0 g |
| Cholesterol | 0.0 mg |
| | |
| --- | --- |
| Total Carbohydrates | 35.3 g |
| Dietary Fiber | 5.4 g |
| Total Sugars | 7.3 g |
| Sodium | 289.4 mg |
| Protein | 2.8 g |