The Adorable Way Duff Goldman Is Honoring His Tiniest Fans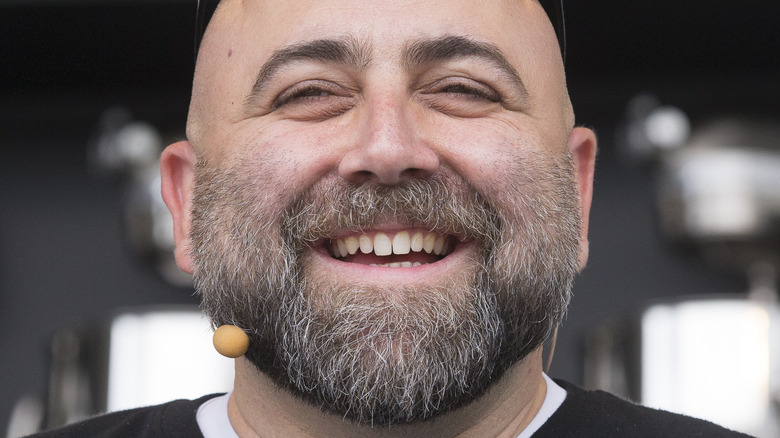 Sterling Munksgard/Shutterstock
Kids might as well learn this life lesson early: There is nothing better than a commemorative t-shirt. And, if you are a vertically challenged fan of Duff Goldman — pastry chef, cake-maker extraordinaire, and a star in the Food Network culinary constellation — there might not be a better t-shirt out there for you than the one Goldman himself just posted to his Instagram account. The post, which features a "Team Duff" youth t-shirt on a peach background, offers this caption: "For all the little bakers in your life! Check out this awesome new youth t-shirt! Get one now at https://www.charmcitycakes.com/merchandise" — and it's being met with lots of excitement.
"I LOVE IT!!!" commented one Instagram user and Goldman fan. "Perfect for my grandson!" said another, adding, "(He loved this last season of Duff/Buddy ! )" The user was no doubt referring to "Buddy vs Duff," the popular Food Network show in which Goldman faces-off against Buddy Valastro to determine who can bake a better cake. Valastro (aka TLC's "Cake Boss") and Goldman (aka Food Network's "Ace of Cakes") premiered their third season of the show this summer, which means that snagging a kids' Team Duff t-shirt for their grandson now might just make that commenter a hero in his eyes (via Yahoo!).
Duff Goldman's colorful, playful style is a perfect match for kid chefs
If you are a Duff Goldman fan with an eye for design, the Team Duff youth t-shirt that Goldman posted on Instagram isn't the only thing from the Charm City Cakes (Goldman's cake company) store that you are going to like. The merchandise on the company's website is all just as colorful and fun as the youth shirt (which, incidentally, is $20 and features the Team Duff logo in pastel colors), as the branding team behind Team Duff and Charm City Cakes seems inspired by the colorful cakes Goldman creates. Rainbow sprinkles provide the background to fun oven mitts, a buffalo t-shirt (apparently Team Duff's mascot), and of course, a trademark Duff pom beanie, just like the ones Goldman himself seems to fancy.
As a new father himself (via People), Goldman perhaps has a new appreciation for his tiniest fans. But he is no stranger to the whimsical world of children; his discovery+ show, "Duff's Happy Fun Bake Time," is perfectly tailored to the younger set, according to People. The half-hour show features Goldman and a team of puppet helpers (and a musical grocer) baking their way through cakes, science questions, and challenges from aliens, sea monsters, and robots. You know, the usual pastry chef stuff.