This Might Have Been Dr Pepper's Biggest Celebrity Endorsement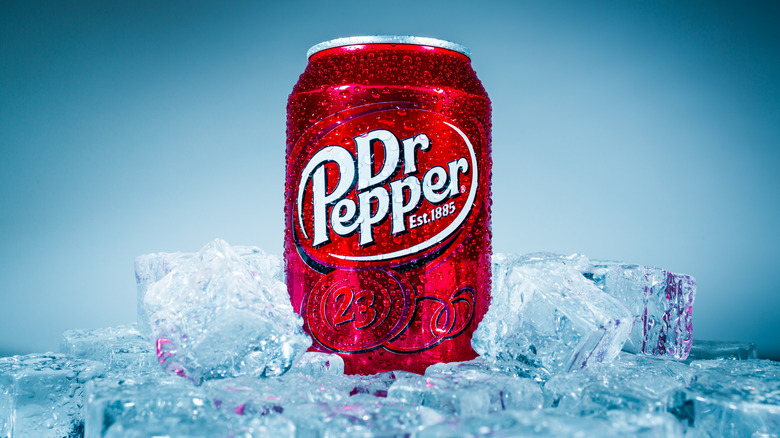 Andrey Armyagov/Shutterstock
Celebrity endorsements are nothing new. A celeb can get paid upwards of millions of dollars to promote a food or beverage they probably wouldn't even be in the same room with in their everyday life and make it seem like they love it.
According to NPR, Justin Timberlake got "paid an estimated $6 million" for his involvement in McDonald's "I'm Lovin' It" jingle, and Beyoncé earned "an estimated $50 million" for her deal with Pepsi back in 2012. In 2016, The Official Journal of the American Academy of Pediatrics published a study on celeb endorsements of food and nonalcoholic drinks and found that 65 "celebrities were collectively associated with 57 different food and beverage brands owned by 38 parent companies."
Continuing this trend, Dr Pepper's PR team recently announced via PR Newswire that Clemson's star QB, DJ Uiagalelei, would be teaming up with the soda brand this year. So their reach extends pretty far and wide, and they likely aren't shy to ask any celeb they wanted to join team DP. So, which standout celebrities have endorsed Dr Pepper in the past?
Mr. Worldwide endorsed the famous soda brand
Scott Legato/Getty Images
Of those many food and beverage endorsements mentioned, plenty were likely for Dr Pepper, with Celebrity Endorsements' website claiming the brand has been backed by the likes of Flava Flav, Jesse Eisenberg, Fergie, and Macklemore, to name a few. They even did a commercial with Justin Guarini (playing Lil Sweet), whose biggest claim to fame is a flop of a movie with the winner of his "American Idol" season, Kelly Clarkson. But which celeb was their biggest get?
Quite possibly their biggest get was Mr. Worldwide himself, Pitbull. It's all in the name, isn't it? Someone as traveled, successful, and popular as Pitbull has a lot of pull. News 18 described him as "one of the most influential rappers who has continuously managed to spread his charm worldwide." As of 2021, his net worth came to about $100 million for his work as a "rapper, singer, songwriter, brand ambassador, businessman and philanthropist" (via Wealthy Genius).
Suffice it to say he's earned the title, and if his endorsement of Dr Pepper and the commercial they created together years ago help their sales skyrocket even a fraction of the amount he has, they'll be in good shape.