The Problem With TikTok's Food Organizing Trend, According To A Dietitian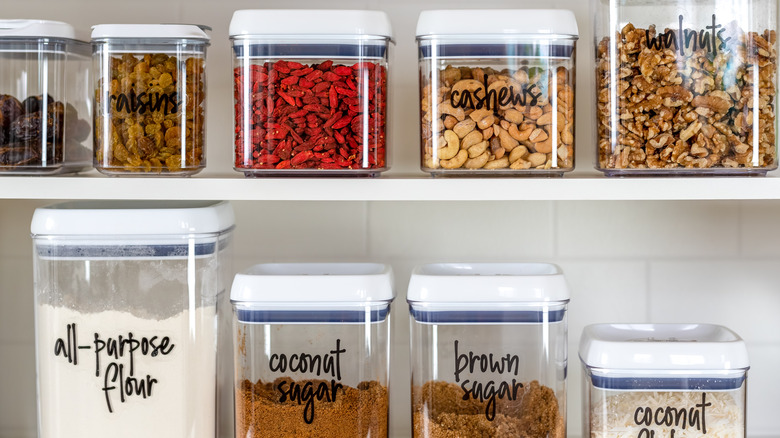 Kristen Prahl/Shutterstock
TikTok food trends are nothing to play with. As reported here on Mashed, top trends on the app have wreaked untold havoc in the past few years, causing global shortages of feta, inciting super-spreading events, and normalizing "menu hacking" at fast-food restaurants. The latest TikTok craze is more of the same, according to one expert.
Known as "decanting," the trend has TikTok users transferring their packaged groceries (dry and wet) into sleek, high-volume glass and plastic storage containers. You can find TikToks of people decanting everything from pancake powder, to cereal, to detergent pods. Practitioners of decanting claim that it extends the shelf life of dry goods, frees up shelf space, and makes inventory checks easier. When asked to justify the practice, though, most can't help but make some mention of the aesthetic pleasure of decanting. "Is decanting really necessary?" asked one popular TikTok user, an influencer specializing in "organizing for moms."
After running through the above-mentioned benefits, she paused to add, almost as an afterthought: "Also ... I think it looks really pretty." And the point is taken. Who wouldn't want to overhaul their pantry with a fleet of these OXO Good Grip containers? Well, it turns out not everyone is a fan.
A waste of time, money, and resources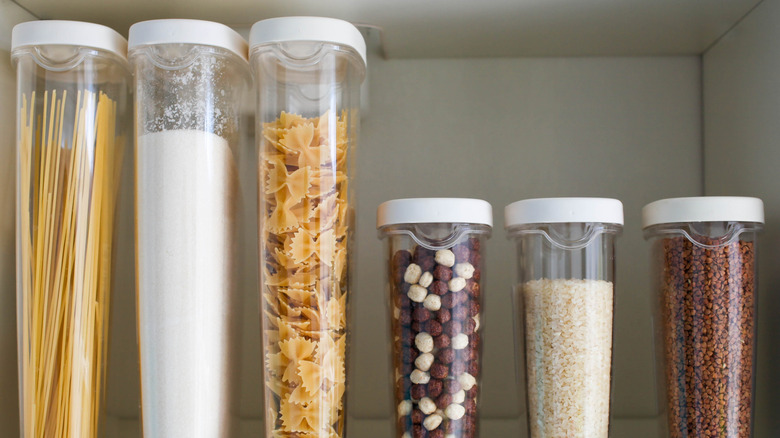 smile23/Shutterstock
Shelf life and efficiency aside, the implicit purpose of decanting is visual pleasure, and for Jessica Ball, M.S., RD, that just isn't good enough. In a recent column for Thrifty on Yahoo! Life, Ball does a cost benefit analysis of the TikTok trend, looking at the various costs rolled into decanting. Ultimately, decanting comes out in the red, by Ball's estimates.
Notwithstanding the steep price of most storage container sets (the aforementioned OXO set will run you over $100), decanting is also time-consuming. As Ball points out, if you hop on the decanting train, you're committing yourself to a lifelong increase of labor — of emptying all of your groceries twice (once one when you decant your dry and wet goods, and again when you use them). Ball also challenges decanting on grounds of sustainability. Storage containers do nothing to reduce retail-related waste. In fact, they contribute to it: storage sets, themselves, come in packaging, and even high-quality brands will eventually be thrown out.
Perhaps if decanting were proven to substantially increase shelf life, and thereby reduce food waste, there might be a case for it. But as Ball demonstrates, the underlying costs of the trend cannot be justified — no matter how eye-pleasing those plastic and glass storage sets may be.