Lidia Bastianich Shares One Of Her Household's 'Best-Loved Italian Classics'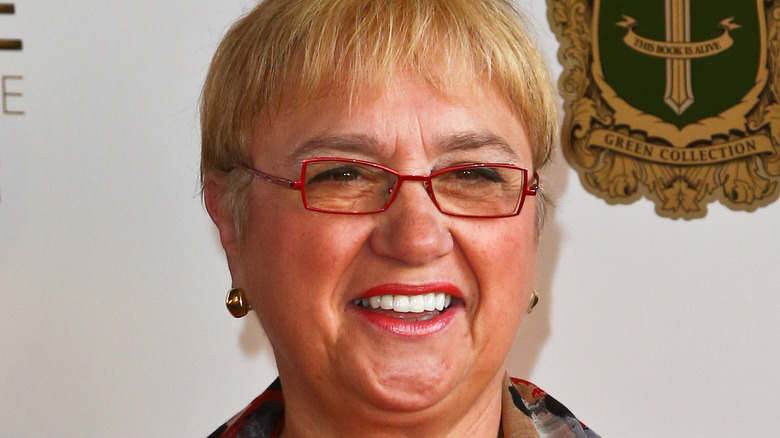 Debby Wong/Shutterstock
Lidia Bastianich, who helped to create a restaurant empire that has included the acclaimed Del Posto, Becco, and Lidia's restaurants, as well as Eataly (via Family Business), wants to help you make one of her signature dishes: mushroom risotto, which she recently shared on Instagram.
Many home cooks are reluctant to make risotto. It's true that it is a time-consuming dish that requires a fair bit of attention and lots of stirring, but is it so worth it. When cooked correctly — perfectly tender, creamy, and starchy — it's the ultimate Italian comfort food. But what exactly is risotto? Some liken it to pasta, but, as explained by the Food Network, risotto is a rice dish. You can use any starchy, short-grained rice, but arborio is the most commonly used rice variety for risotto.
Risotto differs from other rice dishes in its technique. Rather than leaving it alone to simmer, risotto is made by slowly adding warm stock to the rice, constantly stirring until it is absorbed, then repeating the process until you have a creamy, spoonable result that "pools" on the plate.
A wonderful thing about risotto is that it is a great showcase for so many other flavors, like cheeses, herbs, or, as Bastianich demonstrates, mushrooms. This is a classic way to prepare risotto, and Lidia Bastianich serves it not only in her restaurants but has made it a weekend tradition with her family as well. With all due respect to pumpkin spice, this sounds like the perfect fall dish!
Lidia Bastianich's mushroom risotto is a delicious way to use your favorite mushrooms
You can find step-by-step directions for Lidia Bastianich's Mushroom Risotto on her website, Lidia, but here are the broad strokes: You can use your favorite mushroom — white, cremini, shiitake, oyster, chanterelle, etc. — or a combination of them. One of Lidia's Instagram followers, erinsantos55, says this dish is the perfect showcase for the "beautiful Hen of the Woods" mushrooms her husband forages. (Of course, you should be very careful if picking your own, as many varieties of mushrooms are poisonous.) Bastianich complements the earthy flavor of the mushrooms with sautéed leeks and shallots and dry white wine and finishes it with some grated Grana Padano cheese.
Bastianich says that her one-pot recipe, which serves six, easily doubles, and it's easy enough that you can chat with your guests throughout the long cooking process. She adds that if you want to make a day of it, "You can add more flavor to your chicken stock by simmering the trimmings from the mushrooms and leeks in it." As for all the stirring, she advises recruiting a guest or two to help with that.
Lidia's Instagram fans give the recipe their stamp of approval, many claiming it to be their favorite all-time recipe, and some offered their own modifications, such as adding seared sea scallops, asparagus, or celery and peas. Writes lizbeth043: "I've made this recipe many times...everyone always loves it!" We're sold!