What's Really Inside Jennifer Aniston's Favorite Smoothie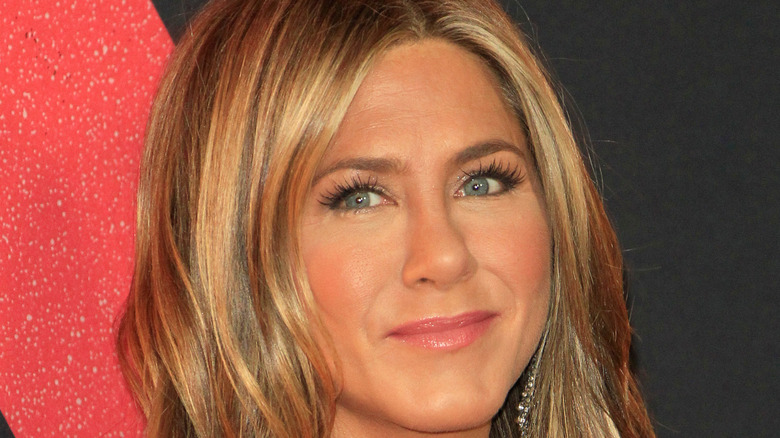 Kathy Hutchins/Shutterstock
Jennifer Aniston's commitment to her health is well known. Whether it's her diet or the care of her skin and hair, she's talked openly for years about the various routines she employs to keep herself in tip-top condition. One thing, in particular, she has noted that has made a huge difference in her well-being is the use of collagen, both on her skin and hair, and in her diet as well (via Forbes). Aniston believes in it so much that she recently took the position of Chief Creative Officer for Vital Proteins, a collagen supplement company. 
"Collagen is the glue that holds everything together. I've always been an advocate for nourishing your wellness from within, which is why I started using Vital Proteins so many years ago," Aniston stated (via the company's website). And the internet is freaking out because she shared on Instagram the recipe for her favorite smoothie, which contains Vital Proteins Chocolate Collagen Peptides, which she told Forbes she's "obsessed with." The smoothie post has garnered more than 2 million likes (and many adoring comments), and it's easy to see why. It looks amazingly luscious, appearing more like a milkshake, as Eating Well notes, than the nutrient-rich concoction full of vegetables and fruits that it actually is.
Collagen peptides are only 1 of the many ingredients
There are actually quite a few ingredients in Jennifer Aniston's "Favorite Smoothie," as she called it on Instagram. It includes chocolate almond milk, some scoops of Vital Proteins Chocolate Collagen Peptides, cherries and banana, a few drops of Stevia, antioxidants, and ice. She also mixes in "other key players" including spinach, a pinch of cinnamon, matcha powder, and a spoonful of almond butter. She notes on her Instagram video that "consistency is key" as she pops a straw into the glass, revealing the thick, creamy result.
Aniston was a fan of Vital Proteins for a long time, long before she joined as CCO. As she told Forbes, "I've been using it for seven years now. My doctor told me to incorporate this into my diet and I did and in a few months, I could not believe how it changed my workouts, my endurance, my mood, my hair, my joints." Collagen, the protein backbone for all of our skin and bones, slowly decreases production in our bodies as we age. There seems to be some belief that eating additional collagen can supplement the age-related decrease in our natural output, Eating Well notes. Well+Good suggests that adding that to her smoothie could be one of the reasons Aniston's skin has stayed looking so youthful and glowing.