Perrier's Mysterious New Flavor Celebrates Dia De Los Muertos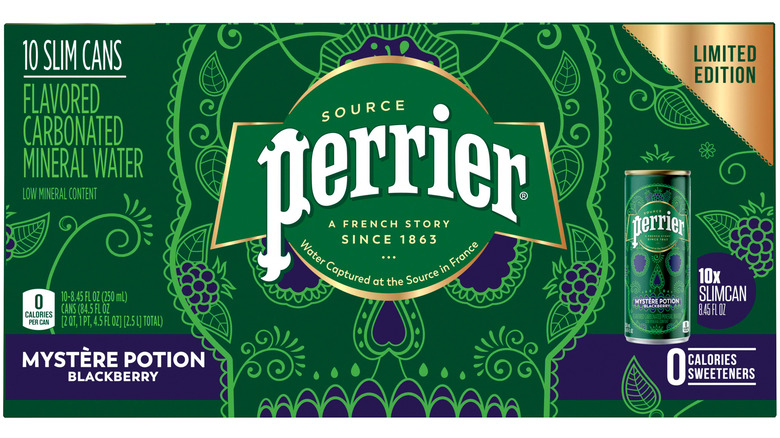 Perrier
During different holiday seasons, lots of food brands from snack companies to fast-food chains create special products that are available for a limited time to help customers get into the spirit of the season. Usually, these products are a lot of fun. They can be a great way to celebrate with friends and family. Perrier is celebrating a special holiday in a new way that will hopefully benefit some good causes as well.
This year, the company is creating a special flavor of sparkling water for Día de los Muertos, the Mexican holiday that takes place on November 1 and 2 to celebrate, mourn, and honor the lives of dead loved ones. Festivities include colorful celebrations filled with sugar skulls and pan de muerto, decorative skeletons, and altars filled with special items for the dead. The holiday is celebrated by communities in the United States as well (via National Geographic).
How to celebrate Día de los Muertos with Perrier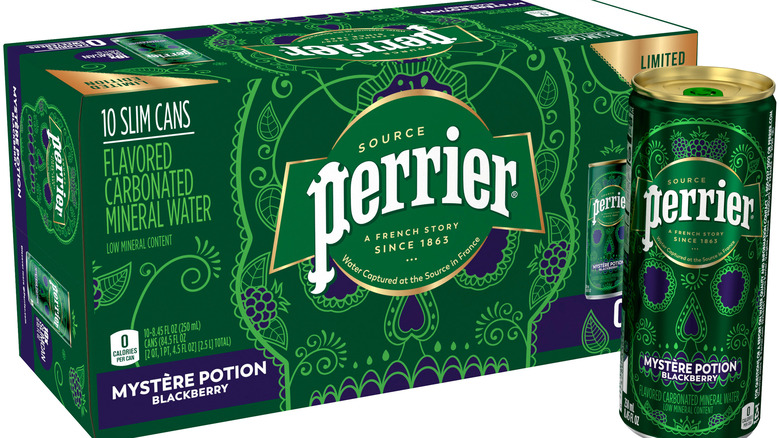 Perrier
The new Perrier flavor for Día de los Muertos is now available for purchase at Target, the brand revealed in a press release sent to Mashed. The limited edition variety comes in a can and infuses the classic Perrier carbonated mineral water with a blackberry flavor. The drink has no calories and no sweeteners. The product design features an image of a sugar skull associated with the holiday.
Perrier has also pledged to support two charitable organizations that assist and empower the Latino community in the U.S. as a part of its Día de Los Muertos celebrations. The brand will be donating to the Hispanic Heritage Association, which executes leadership and workforce development programs, public awareness campaigns, and youth education programs to support Latino leaders. Perrier has also committed to supporting United Farm Workers, the labor union started by Cesar Chavez, Dolores Huerta, Gilbert Padilla, and other early farmwork activists that advocates for farmworkers and supports Latin American immigrants.
The Día de Los Muertos Perrier flavor comes in a 10-pack of 8.45 oz cans, with a suggested retail price of $6.89.