Easy Butternut Squash Pasta Recipe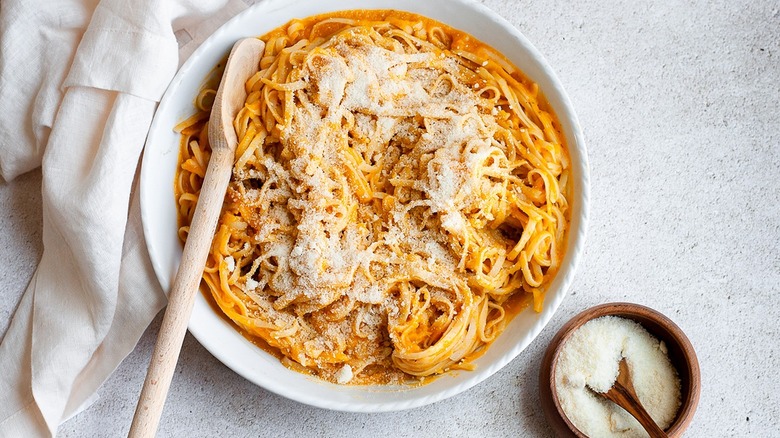 Christina Musgrave/Mashed
If you love nothing more than digging into a comforting bowl of pasta, then tie up your apron, and keep reading. Christina Musgrave is a food blogger at Tasting with Tina, and she is enthusiastic about creating dishes that are accessible for all home cooks without compromising taste. Musgrave developed this easy butternut squash pasta recipe, and we bet you'll love this appetizing dish as much as we do. It's not too hard to convince anyone about the delights of pasta, but this version certainly stands out from classic preparations.
This is one of Musgrave's favorite ways to make pasta. "I love how much this dish reminds me of fall and how easy it is to make," says Musgrave. Fall is certainly squash season, and using it to make a sauce is a unique way to incorporate it into your meals. If you're getting tired of spaghetti bolognese, then you'll certainly want to try this recipe. The fact that it's simple to make and ready in less than 30 minutes definitely adds bonus points to this tasty dish.
Gather the ingredients to prepare this easy butternut squash pasta recipe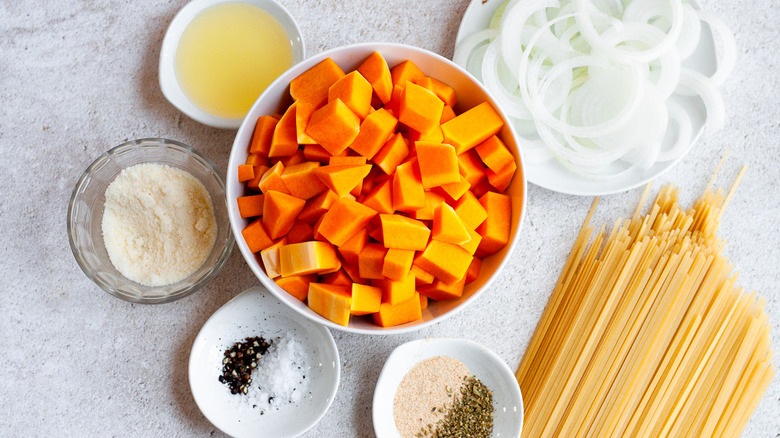 Christina Musgrave/Mashed
For starters, you'll need a butternut squash. For simplicity, you can buy a package of pre-cut chunks of squash, or else prepare it yourself with a sharp knife and some muscle. In case you can't get your hands on butternut squash specifically, Musgrave notes, "You could use pumpkin, or skip the roasting step and use pumpkin puree for the sauce." Next, a white onion is also roasted to add depth to the squash and balance out the flavor. To roast the squash you'll need olive oil, salt, and pepper — all of which you'll need to eliminate if you plan to use pumpkin puree, which is already seasoned.
As for the pasta, Musgrave opts for linguine which coats well with sauce, but she adds that "any pasta will work in this recipe." Before completely draining your pasta water, be sure to reserve 1 cup to use in the sauce. Taste of Home reported that while the pasta cooks, it releases starches into the salty water, which are ideal for thickening and flavoring your sauce.
To season the sauce, Musgrave keeps it simple with garlic powder and oregano, noting that, "You could add any other savory seasonings to this recipe, but I wouldn't go overboard — the squash and seasonings in the recipe have good balance." Adding grated Parmesan cheese before serving is the final touch you won't want to skip!
Start off by roasting the butternut squash and onions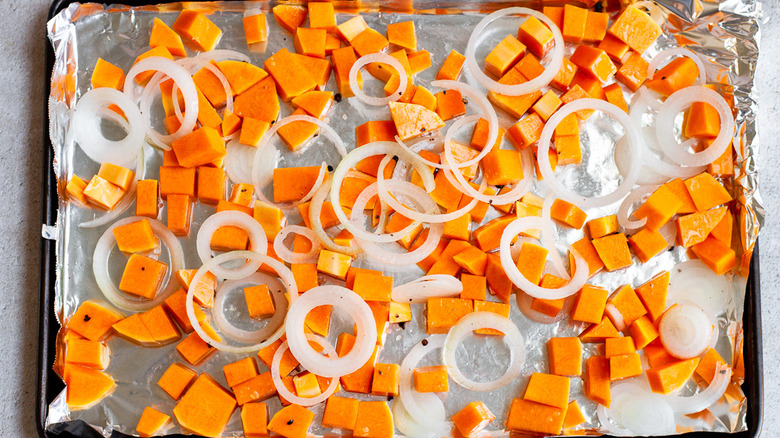 Christina Musgrave/Mashed
Start off by preheating your oven to 400 F. Next, line a baking sheet with aluminum foil for easy cleanup. Transfer the chunks of butternut squash and the sliced onion to the baking sheet. Then, drizzle with olive oil, and sprinkle with salt and pepper. Using your hands, mix the squash and onions with the oil and seasoning to thoroughly coat. Once the oven has reached temperature, transfer the baking sheet to a rack, and roast the squash for 20 minutes.
Meanwhile, cook and drain the linguine
Christina Musgrave/Mashed
While the squash is roasting in the oven, prepare the linguine according to package instructions. Bring a big pot of salted water to a boil, and cook the pasta for the recommended duration. When the time is up, drain the pasta, but remember to reserve 1 cup of the pasta water. Again, the starches and salt from the pasta water will lend a rich texture and flavor to your sauce, so don't forget this step! Set the pasta aside until it's time to combine it with the sauce.
Blend the squash, onions, and seasonings to make the sauce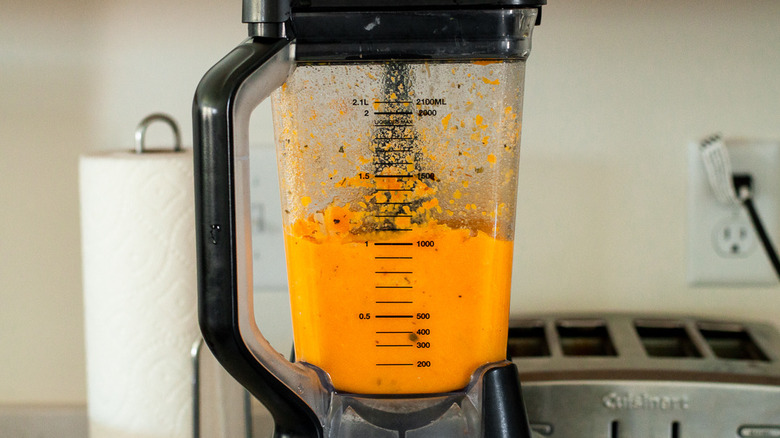 Christina Musgrave/Mashed
By this time, the squash should be cooked, although it might take a little longer depending on the size of the chunks. Use a fork to test for doneness — when it slides through easily, the squash is tender and ready. Next, transfer the onion and squash to a blender or food processor. Musgrave notes, "[It's important] to make sure your squash is fully cooked and soft before putting in the blender," or else you'll end up with lumps in your sauce. Add the reserved pasta water, garlic powder, and oregano to the blender, and blend all of the ingredients together until the texture is smooth and creamy.
Combine the pasta with the sauce, top with Parmesan cheese, and serve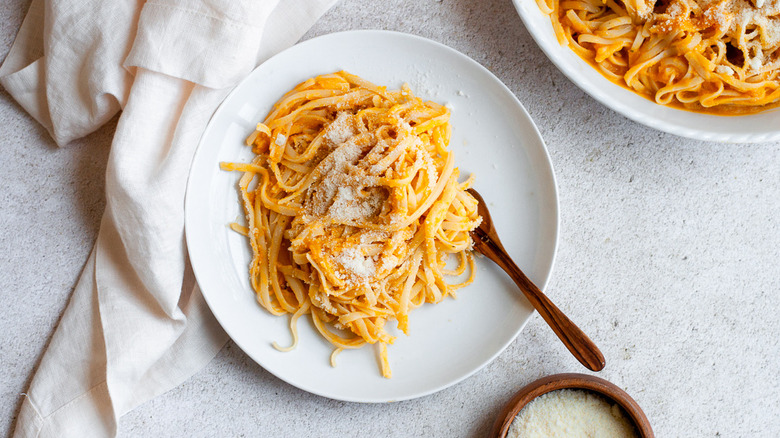 Christina Musgrave/Mashed
Finally, it's time to assemble this tasty dish. In a large bowl, combine the pasta and the butternut squash, and toss them together until the linguine is fully coated. Grate some Parmesan cheese over the top for a salty finish, and serve to your lucky guests (or your lucky self). 
This pasta is filling and packed with nutrients, so it works well as a stand-alone dish. But if you'd like some extra color on your table, serve it with a freshly tossed green salad, and you're all set. Musgrave confirms that you can definitely make the sauce ahead of time, and store it alone or with the pasta in the refrigerator for a few days.
Easy Butternut Squash Pasta Recipe
Perfect for cold weather, this butternut squash pasta recipe will warm you up and have you craving a hearty meal year-round.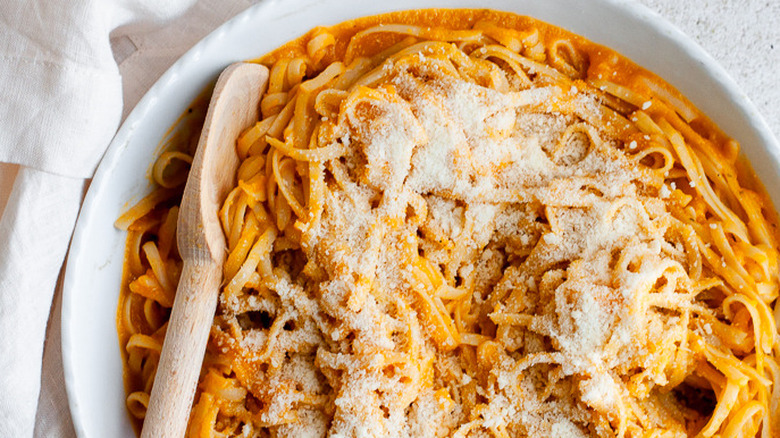 Ingredients
1 medium butternut squash, peeled and cut into chunks
1 white onion, sliced
2 tablespoons olive oil
½ teaspoon salt
½ teaspoon pepper
1 pound linguine pasta
1 cup pasta water
1 teaspoon garlic powder
1 teaspoon oregano
Optional Ingredients
grated Parmesan cheese, for serving
Directions
Preheat the oven to 400 F, and line a baking sheet with parchment paper.
Combine the butternut squash, white onion, olive oil, salt, and pepper onto the baking sheet, and mix well.
Roast the vegetables for 20 minutes, or until the squash is fork-tender.
While the squash is cooking, cook the linguine according to the package directions.
Once the pasta is cooked, reserve 1 cup of pasta water, drain the rest, and set the pasta aside.
After the butternut squash and onions have finished cooking, transfer them to a blender or a food processor.
Add the reserved pasta water, garlic powder, and oregano, and blend until they are smooth.
Combine the butternut squash sauce with the cooked pasta, and toss it to coat.
Transfer the pasta to serving dishes, top with grated Parmesan, and enjoy.
Nutrition
| | |
| --- | --- |
| Calories per Serving | 369 |
| Total Fat | 5.8 g |
| Saturated Fat | 0.9 g |
| Trans Fat | 0.0 g |
| Cholesterol | 0.0 mg |
| | |
| --- | --- |
| Total Carbohydrates | 68.8 g |
| Dietary Fiber | 4.6 g |
| Total Sugars | 4.8 g |
| Sodium | 204.6 mg |
| Protein | 11.0 g |