Instagram Is Loving Carla Hall's Creepy Makeup For Halloween Baking Championship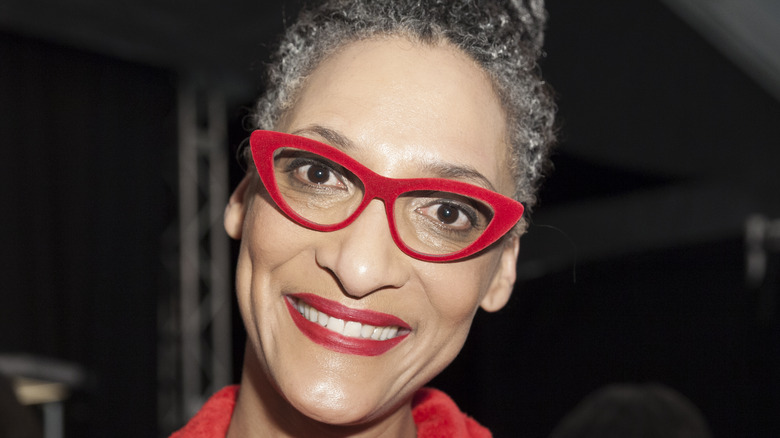 lev radin/Shutterstock
Seems like only yesterday that we were anxiously awaiting this year's installment of Food Network's cult favorite seasonal baking contest, "Halloween Baking Championship." As promised, the two-hour premiere of Season 7 aired on Food Network on Monday, September 13, with stand-up comedian John Henson once again playing host (back by popular demand, according to SBHilfe.com) to 10 bakers who will be challenged to come up with the best Halloween-inspired baked goods in hopes of taking home a $25,000 prize.
As Food Network confirmed, this year's theme is 1980s classic slasher movies and it's already proving to be wonderfully "campy" in both the figurative and the literal sense, given the iconic status of the "Friday the 13th" franchise, which kicked off in 1980 and was set in a summer camp. Accordingly and oh-so-appropriately, the setting is "Camp Devil's Food Lake," and the judges, including Carla Hall, Stephanie Boswell, and Zac Young, have dressed the ghoulish part, to say the least. In fact, Instagram is loving the creepy makeup Hall debuted on the first episode.
It takes a team to make Carla Hall look this creepy
"This year's ['Halloween Baking Championship'] inspired by '80s slasher movies is going to have you looking like THIS," the Food Network wrote in the caption of an Instagram post on Monday in advance of the two-hour premiere . And while the "THIS" was followed by the "terrified scream" emoji, the post was accompanied by a moving image ofHall, popping up on set while made up to look quite petrifying. The post has already been seen over 148,000 times, with followers registering their faux-terrified pleasure. But over in another corner of Instagram, Hall has offered her loyal following a hilarious window into what it took to transform her into her ghoulish alter-ego." And Instagram is loving it!
"Ok, so who watched the kick-off of ['Halloween Baking Championship']???" Hall asked, via Instagram, promising a season filled with "lots of Tricks n' Treats" and offering a gracious shoutout to the makeup brand responsible for her transformation, Jacque Mgido Cosmetics. But from the comments, it appears that the true highlight of Hall's post is the accompanying video, which shows a makeup and wardrobe team hard at work giving Hall her creepiest show look yet. "I did, and I absolutely loved your hair," one of the comments enthused. "Loved your look," another commenter told Hall. But most importantly, as Instagrammer Vickery_Jr put it, "Great first episode! Can't wait to see more!"