Over 17% Want This Discontinued Ice Cream To Make A Comeback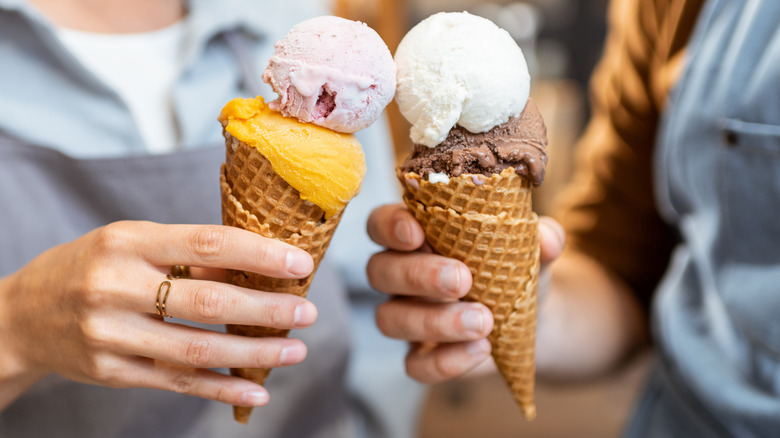 RossHelen/Shutterstock
It's a sad day when you find out that one of your favorites treats has been retired, whether it's a candy bar, favorite doughnut flavor, or a discontinued snack that you loved as a kid. Memories of those foods never leave us, and on rare occasions we actually get to see them make a triumphant return. A few long-missed foods and drinks are now being revived, including the '90s-era Surge energy drink, the Wonder Ball, and French Toast Crunch cereal. Perhaps this bodes well for discontinued ice cream flavors too, because a recent Mashed poll shows that there are several bygone flavors people are really missing. 
Mashed recently polled 637 people in U.S. to find out which flavors they would like to see back on store shelves. Coming in at the bottom of the wish list (and this by no means makes it any less tasty) is Dreyer's Chocolate Malt Frozen Custard with 12.56% of the votes. Respondents were equally divided on Blue Bunny's Red Carpet Red Velvet Cake and Haagen-Dazs' Black Walnut, with both ice creams getting 12.87% of votes. However, there are four more flavors that ice cream fans want to see return even more.  
People want this Ben & Jerry's flavor back most of all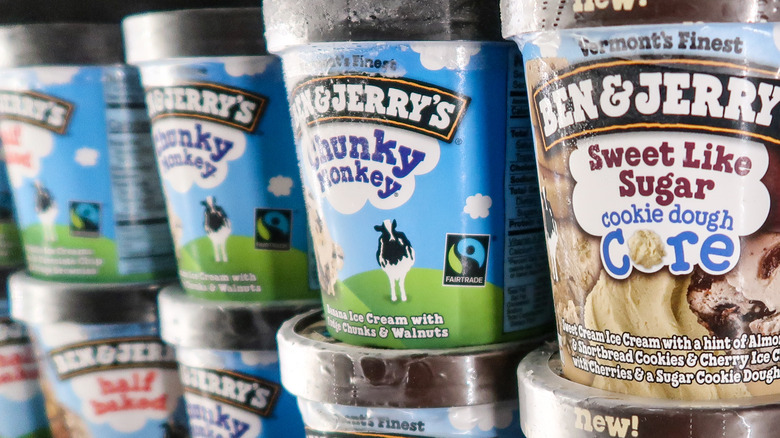 Arne Beruldsen/Shutterstock
Ice cream fans are clearly devoted to their favorite flavors, and haven't given up hope that they'll one day be back in stores and scoop shops. One fall-inspired flavor that 14.29% of Mashed poll respondents want to see revived is Baskin-Robbins' Apple Pie A La Mode, which according to the Baskin-Robbins website had pieces of real apple and pie crust mixed in. Close behind was 14.44% of votes for Starbucks' Java Chip ice cream. (You can still get a Java Chip Frappuccino, according to Starbucks.) The retired Haagen-Dazs Crème Brûlée had 15.38% of the votes.
But the flavor that Mashed poll participants want back most of all? That's Ben & Jerry's Dublin Mudslide, with 17.58% of poll votes. We honestly can't imagine why this flavor isn't still around. The Ben & Jerry's website says Dublin Mudslide had Irish cream liqueur-flavored ice cream with a coffee fudge swirl and "chocolate chocolate chip cookies." Yum!
Ben & Jerry's very respectfully honors Dublin Mudslide and all their "dearly de-pinted" flavors by enshrining them in a "flavor graveyard" that you can visit online or in person at their Waterbury, Vermont factory. We may yet bring Dublin Mudslide back from the dead, though: On the Ben & Jerry's website you can click the "Resurrect This Flavor" button and tell them how much you miss this Irish cream-y treat.