Classic Beef Stroganoff Recipe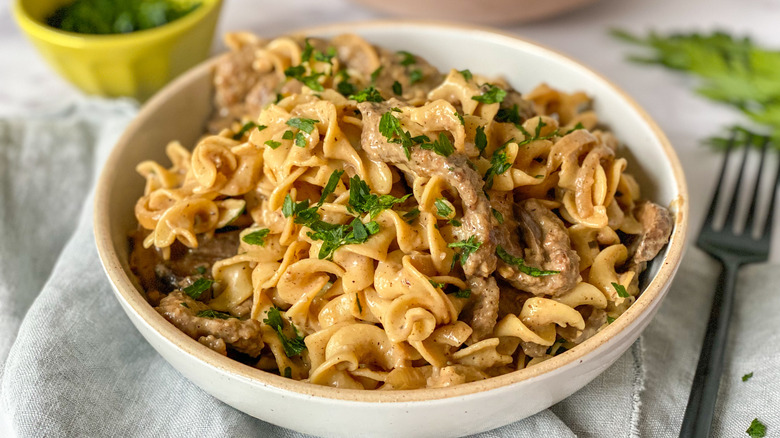 Hayley MacLean/Mashed
Classic beef stroganoff is a great comfort dish that everyone needs in their lives. If you love a warm and thinly sliced steak that is served over noodles, along with the addition of white onion and delicious cremini mushrooms, then this recipe was made for you. Can you even read the description without drooling? We can thank a French chef for giving us the gift of this dish. According to Taste Atlas, a chef working for a wealthy family in Russia (whose last name happens to be Stroganoff) created the dish that has become a favorite in many households.
Recipe developer and nutritionist Hayley MacLean came up with her own spin on this incredible recipe that is sure to be a hit at your next family dinner. "I love how hearty and comforting this meal is!" MacLean raves. "The soft noodles are so yummy with the rich creamy sauce, and the steak strips add such wonderful texture and flavor. It is perfect for a breezy fall evening, but really makes a wonderful dinner any time of the year!" 
Keep reading to find out to make this incredibly comforting meal that will truly warm your soul.
Gather the ingredients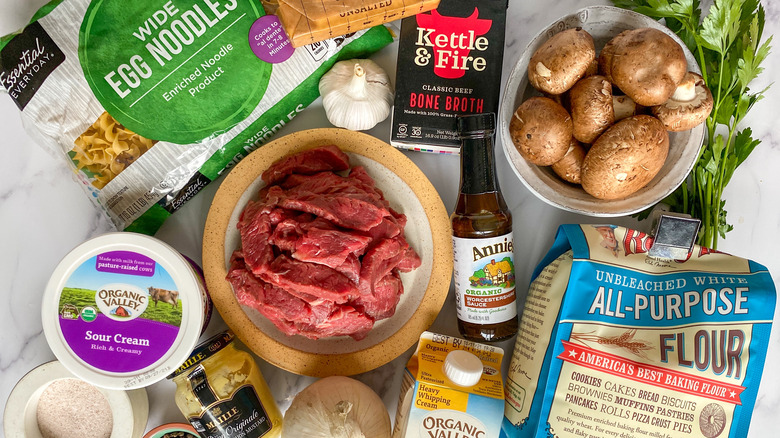 Hayley MacLean/Mashed
The first order of business is to make a list of all the ingredients needed to make this hearty meal. The first three things are commonly used in cooking and include all-purpose flour, salt, and black pepper. Hopefully, you have some at home already. At the store, stop at the butcher counter and ask for 1 ½ pounds of boneless sirloin or ribeye steak. Make sure you ask to have it thinly sliced (you can also do this at home yourself).
In addition, you will need egg noodles and unsalted butter. When you swing by the produce section, grab a white onion, cremini mushrooms, and minced garlic. Moving onto the sauces and wet ingredients, grab some beef broth, Worcestershire sauce, sour cream, heavy cream, and Dijon mustard. The last thing you need is some parsley for a garnish.
Mix the spices and steak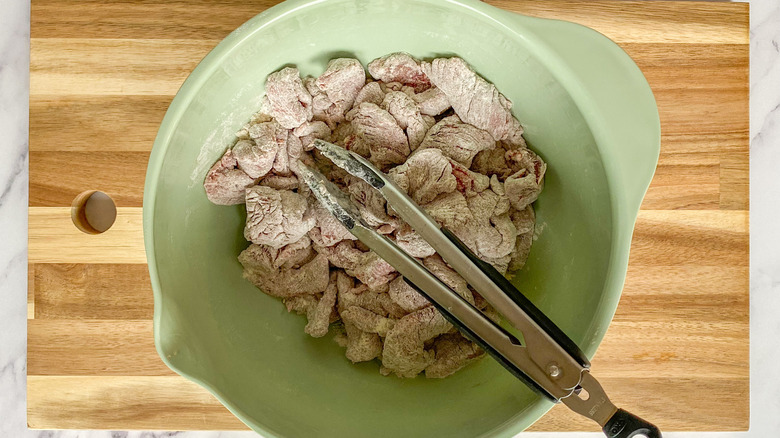 Hayley MacLean/Mashed
Are you ready to get things started? Because we sure are! Now that you have all of your ingredients ready to go, take out a large mixing bowl and add in the flour, salt, and black pepper. At this time, you can also toss in the thinly sliced steak. Continue mixing until the steak is well coated with the spices and flour. This step shouldn't take more than a few seconds and it helps the beef to cook better. 
Next, set the bowl to the side because you will need it in just a minute.
Cook the egg noodles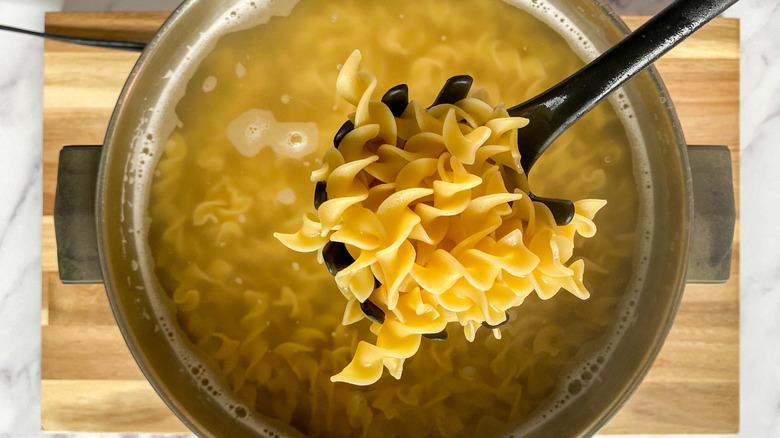 Hayley MacLean/Mashed
Now, take out your egg noodles and a pot that is big enough to cook them in. Check the instructions on the back of the box and cook the noodles accordingly. Each brand of noodles will have slightly different instructions so be sure to double-check. In the meantime, you can move on to the next step as your egg noodles cook. Just a reminder that once you finish cooking the egg noodles, you will need to drain them well and remove the excess water. 
Cook the steak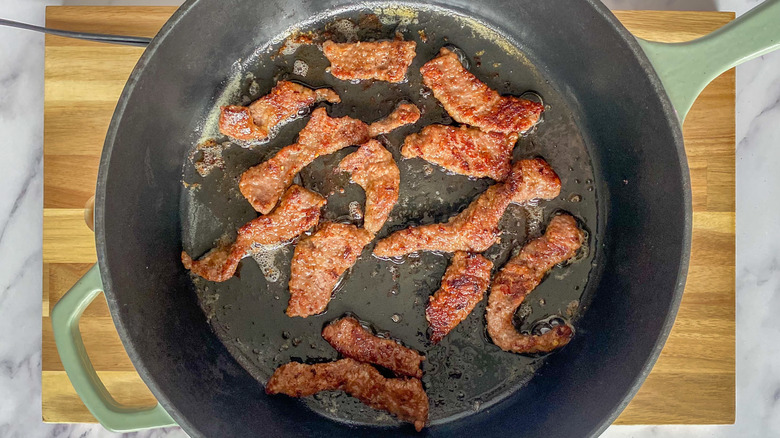 Hayley MacLean/Mashed
While your noodles are cooking, take out a large, heavy-bottomed pan and put it over medium-high heat. Place the butter in the middle of the pan and once it melts, cook the steak in batches. This will take about 2 to 3 minutes per side until they're browned. Once you finish cooking the steak pieces, remove them from the pan and set them aside.
Using the same pan, heat another 2 tablespoons of butter until it melts. Then, add in the mushrooms and onions and cook until they're tender. This will only take 5 minutes or so. Add the garlic in and cook everything again for about 2 more minutes.
Add the sauces
Hayley MacLean/Mashed
Now, it's time to add in the beef broth and the Worcestershire sauce and bring the mixture to a simmer. Next, you will want to temper the sour cream to prevent it from curdling in the sauce. You can do this by adding a few tablespoons of hot beef broth to the sour cream first before adding the sour cream to the pan. 
Then, dump in the heavy cream and Dijon mustard. Let the mixture simmer until the sauce has thickened. This should only take about 3 to 5 minutes, so be sure to keep an eye on it. "The spoon test is the best way to check if the sauce has thickened! Dip a spoon into the simmering liquid, and when the liquid slightly coats the spoon without immediately running off, it is ready!" MacLean shares. "You do not want to over thicken it, however if you do more broth can be added in order to thin it back out." 
Add the beef and serve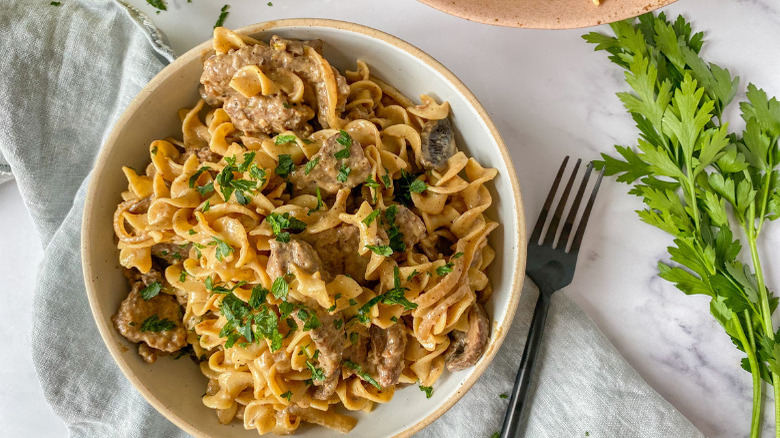 Hayley MacLean/Mashed
Now, add the beef and any juice to the sauce and give it a few good stirs to combine. Add a little bit of salt and pepper to taste, and voilà, you are all done!
Serve the sauce over the cooked noodles and use chopped parsley to garnish the dish. "Serving this with a fresh green salad and a glass of your favorite red wine would make for a totally perfect meal!" MacLean shares. To be honest ... that sounds like a match made in heaven! 
If you happen to have leftovers, MacLean has got you covered. "Leftovers can be stored for up to 5 days in any airtight container," she says. "After this, it loses much of its freshness!" 
Classic Beef Stroganoff Recipe
Grab a glass of your favorite red wine and indulge in this classic comfort food dish, complete with steak, egg noodles, and a sour cream sauce sure to delight.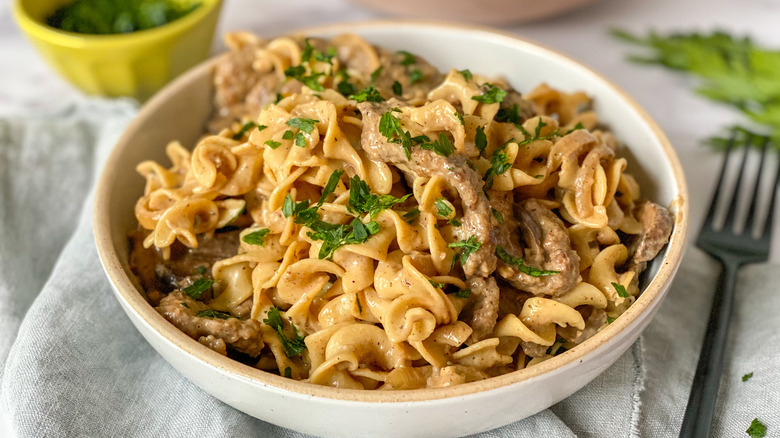 Ingredients
½ cup all-purpose flour
1 teaspoon salt, plus more to taste
¼ teaspoon black pepper, plus more to taste
1 ½ pounds boneless sirloin or ribeye steak, thinly sliced
1 (16-ounce) package egg noodles, uncooked
4 tablespoons unsalted butter, divided
1 medium white onion, thinly sliced
8 ounces cremini mushrooms, sliced
4 cloves garlic, minced
2 cups beef broth
2 tablespoons Worcestershire sauce
½ cup sour cream
½ cup heavy cream
1 tablespoon Dijon mustard
¼ cup fresh parsley, roughly chopped, for garnish
Directions
In a large mixing bowl, combine the flour, salt, and black pepper.
Add the steak strips to the mixture and stir until they are coated.
Cook the egg noodles according to the package directions and drain well.
While the noodles are cooking, heat 2 tablespoons of the butter in a large heavy-bottomed pan over medium-high heat.
Add the steak and cook it in batches until browned, 2 to 3 minutes per side. Remove the steak from the pot and set aside.
Heat the remaining 2 tablespoons of butter in the pan until melted.
Add the onions and mushrooms to the pan and cook until tender, about 5 minutes.
Add the garlic and cook for an additional 2 minutes.
Add the beef broth and Worcestershire sauce and bring to a simmer.
Temper the sour cream by adding in a few tablespoons of the hot beef broth to it and then adding it to the sauce.
Add the heavy cream and Dijon mustard and simmer until the sauce has thickened slightly, about 3 to 5 minutes.
Add the steak and its juices back to the pan and stir to combine. Heat through, adding salt and pepper to taste.
Serve the sauce over the cooked noodles, garnishing with the chopped parsley.
Nutrition
| | |
| --- | --- |
| Calories per Serving | 825 |
| Total Fat | 45.1 g |
| Saturated Fat | 22.5 g |
| Trans Fat | 1.8 g |
| Cholesterol | 198.1 mg |
| | |
| --- | --- |
| Total Carbohydrates | 69.4 g |
| Dietary Fiber | 3.6 g |
| Total Sugars | 5.1 g |
| Sodium | 725.3 mg |
| Protein | 36.6 g |