Cabbage Salad Recipe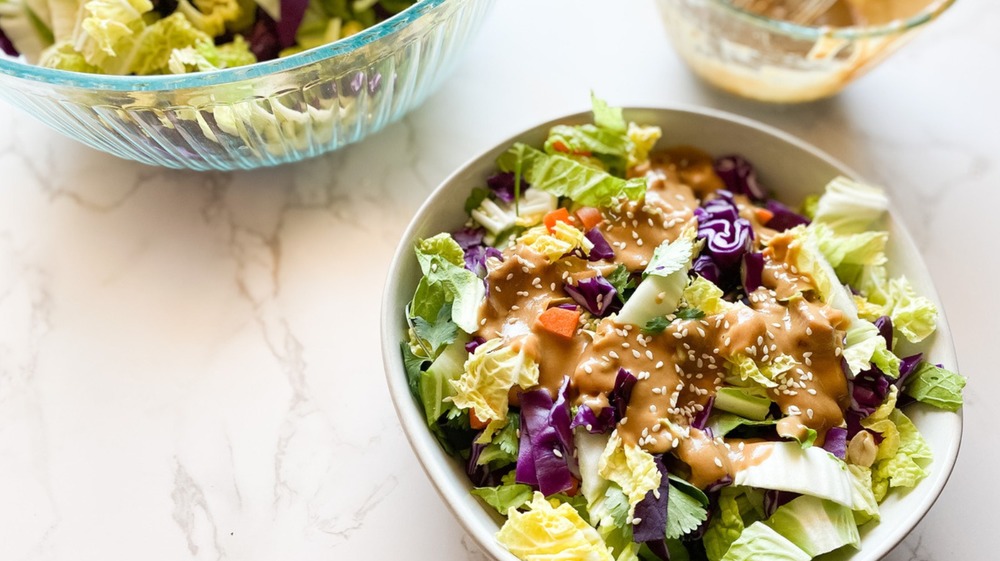 Kristen Carli/Mashed
Can you ever have too many easy, go-to salad recipes in your arsenal that are bookmarked for a quick lunch or dinner side? Answer — absolutely not! This cabbage salad, created by registered dietician Kristen Carli, is a crunchy, delicious option for anyone who wants to mix things up a bit while keeping it healthy. In other words, if you are sick of the same old lettuce and dressing, Carli's peanut and cilantro-infused cabbage salad is definitely one to try.
"I make this for my weekday lunches. I love a salad midday," Carli told Mashed. And if cabbage alone won't fill you up, there's always room for some hefty add-ins. Carli notes, "It's great topped with fried tofu or grilled chicken."
So, let's head to the kitchen and wrestle up a few ingredients to prep your cabbage salad. With just a few easy-to-find items, you will soon be happily munching away at a flavorful, healthy meal you are sure to make again and again.
Assemble your ingredients for cabbage salad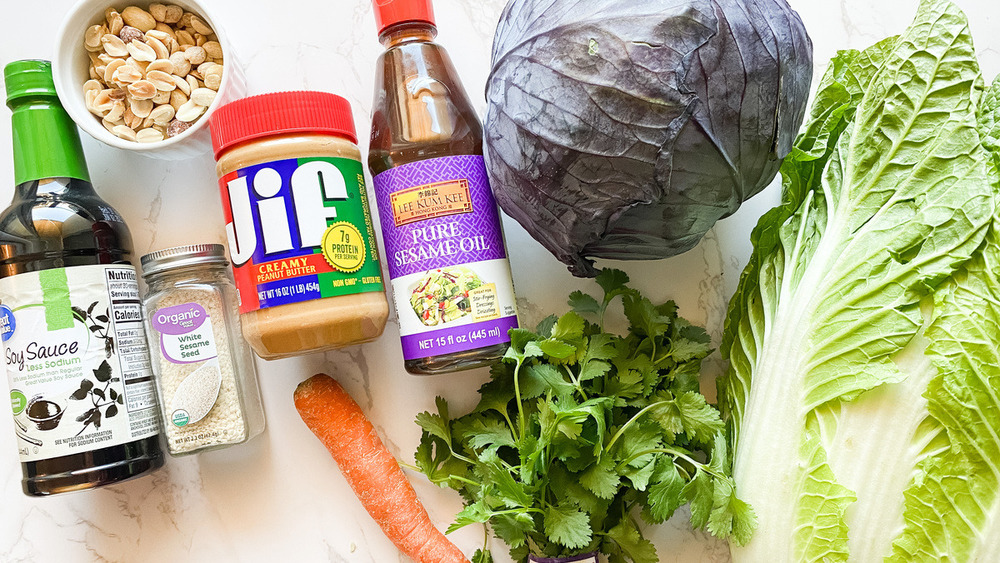 Kristen Carli/Mashed
To make Carli's inventive, taste-bud-satisfying salad, you will need both napa and red cabbage, both thinly sliced. Yum! Aren't you already imagining the satisfying crunch of this meal? Meanwhile, if you're not sure what napa cabbage is, well, you aren't alone, with Carli explaining to Mashed that "napa cabbage is a variety of cabbage that has slightly curly edges, and it's more oblong than round." 
Next, the recipe calls for a diced carrot as well as cilantro — unless of course you are one of the many people who despise it — as well as peanuts and peanut butter, soy sauce, sesame oil, and sesame seeds. That's it! In fact, we are betting you may have several of these needed ingredients on hand already. Just note this word of advice from Carli about creating the salad dressing, "I recommend using unsalted peanut butter, as soy sauce will bring plenty of salt." 
Create your salad and dressing for cabbage salad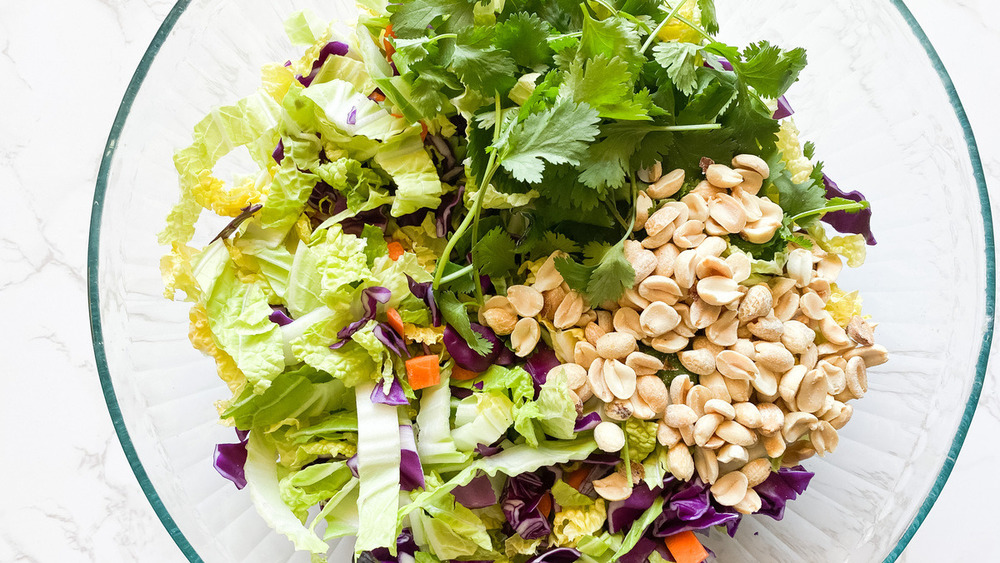 Kristen Carli/Mashed
This salad really could not be easier to assemble. First, simply chop your two different kinds of cabbage and add the shreds to a large bowl. Then, add the diced carrot, cilantro if you are using it, and the peanuts. Aren't you loving how colorful this salad looks? Now, give the ingredients a good toss, about which Carli tells Mashed, "The cabbage and peanuts provide crunch and the cilantro is a nice herby touch."
Next, create your salad dressing. Grab another bowl and combine your unsalted peanut butter with the soy sauce and sesame oil. Then, you will whisk the ingredients until they are smooth. But do note that "this salad dressing does not keep well ahead of time. It will separate," Carli said. So, be sure to whip up the creation just before you're going to enjoy your cabbage salad — not in advance. 
The finishing touch is to top your cabbage salad with the dressing and to sprinkle sesame seeds over everything. Serve and enjoy!
Cabbage Salad Recipe
This Asian inspired salad combines napa and red cabbage with peanuts, cilantro, sesame seeds, peanut butter and cilantro for a truly refreshing treat.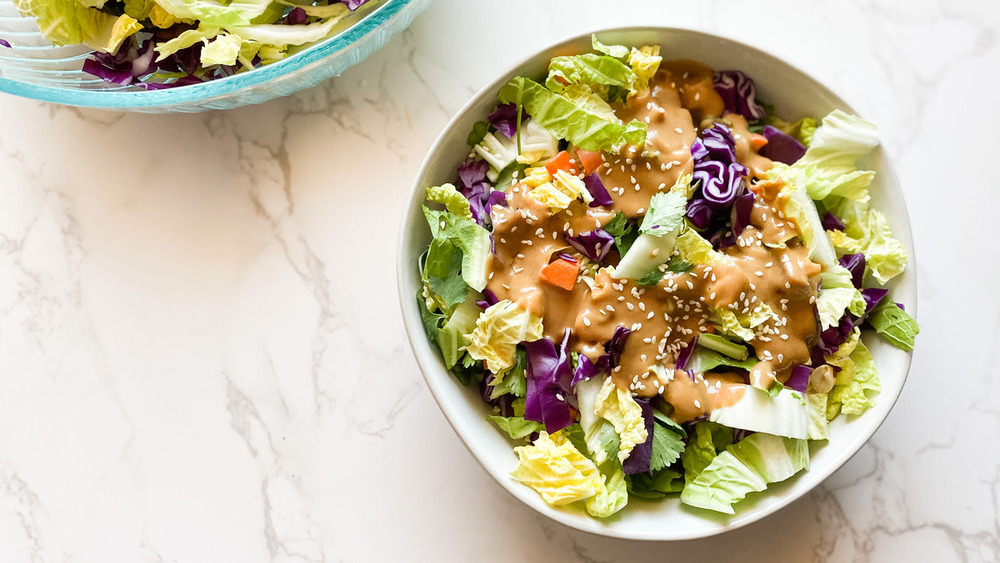 Ingredients
½ head of napa cabbage
¼ head of red cabbage
1 carrot, diced
¼ cup cilantro
¼ cup peanuts
2 tablespoon peanut butter
2 tablespoon soy sauce
1 tablespoon sesame oil
2 tablespoon sesame seeds
Optional Ingredients
Chicken or tofu as a topping
Directions
Add the cabbage, carrots, cilantro, and peanuts to a large bowl. Stir to mingle together.
In a small bowl combine peanut butter, soy sauce, and sesame oil. Use a whisk to combine until smooth.
Dress salad with peanut dressing and mix.
Top with sesame seeds.
Nutrition
| | |
| --- | --- |
| Calories per Serving | 196 |
| Total Fat | 14.6 g |
| Saturated Fat | 2.2 g |
| Trans Fat | 0.0 g |
| Cholesterol | 0.0 mg |
| | |
| --- | --- |
| Total Carbohydrates | 12.3 g |
| Dietary Fiber | 4.4 g |
| Total Sugars | 5.3 g |
| Sodium | 536.2 mg |
| Protein | 8.1 g |