Taco John's Launched 2 New Menu Items Perfect For Queso Lovers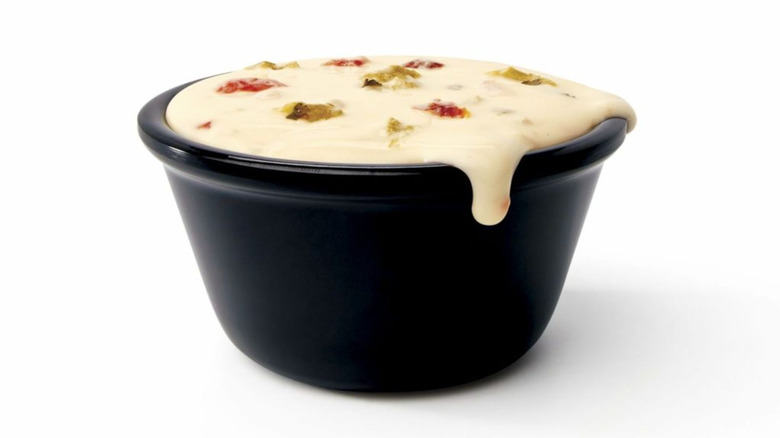 Taco John's
Taco John's has great news for fans of queso dip. The popular Tex-Mex chain has just announced they will be releasing a brand-new premium Queso Blanco that will be available exclusively at the restaurant, featuring three different cheeses mixed together and further enhanced with red peppers, jalapeño peppers, and smoky hatch chiles for a spicy kick, according to Chew Boom. But that's not the only exciting new item that will be appearing on Taco John's menus.
To help celebrate the launch, the chain will be releasing two additional food choices meant to put the spotlight on the newest ingredient. That includes the Double Cheese Chicken Boss Burrito and the Queso Blanco Loaded Nachos, which will showcase the cheesy new item and prove how it's the perfect addition to almost any dish.  
These tasty new creations will be launching at participating Taco John's locations nationwide on September 13 and will only be available for a limited time. As well, in honor of National Queso Day on September 20, Taco John's loyalty members can even indulge their cravings with an in-app coupon that can be redeemed for a free side of Queso Blanco and chips. Use the coupon to order though the app or in-store from September 18 through September 20.
Taco John's new Queso Blanco creations will be available for a limited time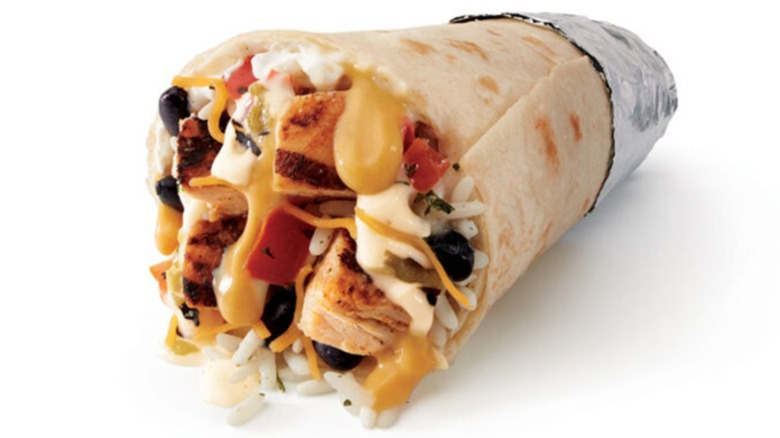 Taco John's
Hungry yet? The new Double Cheese Chicken Boss Burrito packs a flavorful punch with a base of grilled chicken, cilantro-lime rice, black beans, all-natural cheddar cheese, and your choice of pico de gallo or roasted corn and poblano pepper salsa. Finally, the burrito is loaded with sour cream, the new Queso Blanco, and nacho cheese for a deliciously satisfying meal. If you don't want such a hearty meal, or want another great side dish, you can enjoy Taco John's new Queso Blanco Loaded Nachos. This remixed version of the chain's Loaded Nachos features their classic cheesy house-made chips, which are then loaded with Queso Blanco and a pile of toppings, including roasted corn and poblano pepper salsa, sliced jalapeños, tomatoes, queso fresco, and your choice of grilled chicken or hand-cut sirloin steak.
"At Taco John's, we're constantly innovating our menu so that loyal guests always have something new to fall in love with. Our Queso Blanco is bolder than any cheese we've ever offered and it's seriously delicious. That's why we created new menu items that feature this premium queso because we wanted to give guests multiple ways to enjoy it," Taco John's Chief Marketing Officer Barry Westrum said of the new food options, via Restaurant News. "These new items are only available for a limited time, so be sure to stop by your local Taco John's before it's too late. Trust me, you won't regret it."