TikTok Is Debating About This Whataburger Line During A Tropical Storm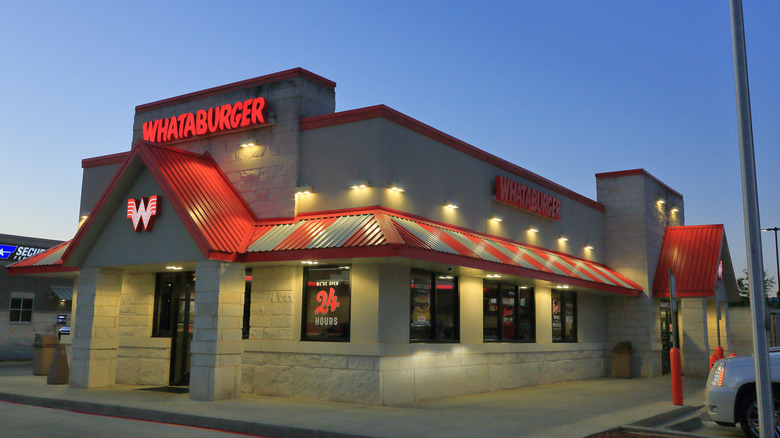 JustPixs/Shutterstock
On the night of September 13, as a Category 1 hurricane was barreling toward Houston, was the Whataburger in nearby Deer Park, Texas a beacon of light and comfort — and, most importantly, hamburgers — in a storm? Or was the chain based in San Antonio, Texas unnecessarily risking employees' safety by staying open even as a hurricane called Nicholas (which would get downgraded to a tropical storm) approached?
That was the debate on TikTok that Monday night, after user @littlehellion86, aka Heather, posted video from the drive-thru line at the Deer Park Whataburger. As Heather explained in the comments, she was happy she had a place to go at 9 p.m., after her workday was over, for a quick meal. The text laid over Heather's video read, "When there's a tropical storm coming and only Whataburger has your back! Everything else is closed. Gotta love Texas."
Some commenters on the video naturally wondered, if every other place was closed, why in the heck was Whataburger still open? "Ooohhh do I feel sorry for the workers," one commenter said. Another TikTok user followed up with, "Sure hope those workers get paid extra or something, working in s**tty weather." Another commenter chimed in, sounding like a fast food employee who knew what it was like to work during a major storm: "We get treated horribly & our managers won't let us close, even when we can't hear the customers because of the rain."
The area around the Texas Whataburger apparently wasn't hit too hard by the storm
Some commenters on @littlehellion86's viral TikTok post from a Texas Whataburger agreed with the poster that the burger chain should be commended for remaining open during a tropical storm. "Whataburger will never turn its back on Texas," @stewartrobby wrote. "We built them up." Such a stirring comment elicited this response from user @madtoastcrunch67: "Sir, we want you for Texas governor."
According to the National Weather Service, the weather station closest to Deer Park was experiencing light rain and sustained winds of 32 mph with gusts of 41 mph when Heather was waiting in the drive-thru lane at Whataburger. An advisory from the National Hurricane Center posted at 4 p.m. the next day said winds continued to blow at 40 mph around the storm and warned of "life-threatening flash flooding."
Reports from the Houston area late Tuesday didn't indicate any serious damage or threat to life, per The New York Times. Unfortunately, the place expected to see the biggest dump of rainfall from Nicholas was Louisiana, which is still recovering from Hurricane Ida. At least they've got Whataburgers in Louisiana.