Over 36% Agree This Is The Best Menu Item At Buffalo Wild Wings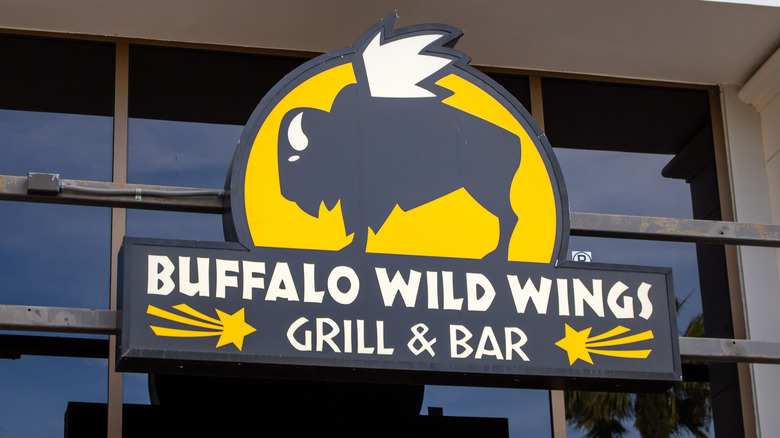 TonelsonProductions/Shutterstock
It's Sunday, there's a football game on, and there's an energy filling the air between the television screens and the long bar as the restaurant buzzes. What are you craving? That's exactly what we wanted to find out when we asked our readers to name the best item on the Buffalo Wild Wings menu.
Buffalo Wild Wings is all about cravings. According to their origin story posted on the Buffalo Wild Wings website, the co-founders found themselves longing for the authentic Buffalo wings after they had moved from Buffalo, New York, to Ohio. To satisfy their hankering for savory and spicy wings, they decided to open their own restaurant. Their passion for wings was shared by many others, because the restaurant continued to expand while still serving up delicious and authentic wings.
Of course, the menu at the restaurant has a lot more to offer than just wings. There's burgers, chicken sandwiches, appetizers, and other meal options. Mashed surveyed people across the U.S. to determine their favorite Buffalo Wild Wings menu items. Here's what we found.
Traditional Wings take the top spot at Buffalo Wild Wings
No surprise — the classic menu items at Buffalo Wild Wings came out on top. More than 36% of the 644 respondents agreed that the traditional, bone-in wings could not be beat. The boneless wings came in a close second place, with 28% of respondents considering it the best menu item. It's clear that customers know what they're looking for when they dine at Buffalo Wild Wings, and it is indeed their chicken wings!
Some of our readers did prefer other items, but none came close to the wings. The All-American cheeseburger came in at 11%, hand-breaded chicken tenders won 8% of the vote, the buffalo bleu burger was chosen by close to 7% of the respondents, and 6% of the vote went to the Nashville hot chicken sandwich. The buffalo ranch chicken wrap came in last with only 4% of people choosing it as the best menu item.