National Guacamole Day 2021: Where To Get The Best Food Freebies And Deals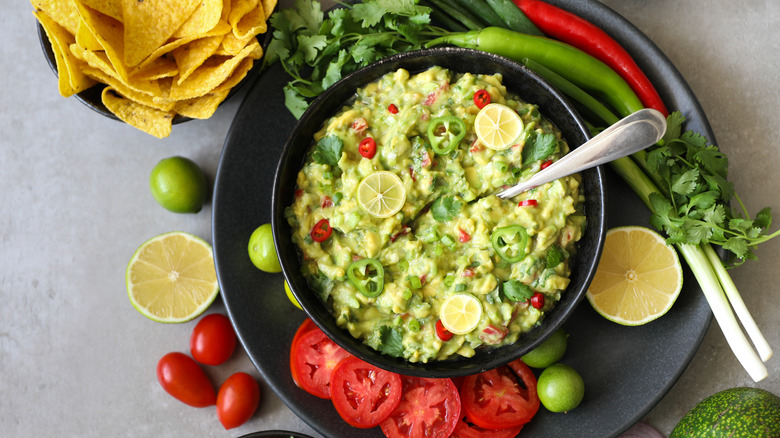 rontav/Shutterstock
From being served with chips to topping a taco, National Guacamole Day 2021 is a reason to embrace a little extra on all types of food deals. From fast food restaurants to food subscription boxes, that favorite avocado-based dish is never the pits.
According to National Day Calendar, National Guacamole Day is celebrated on September 16. Although the exact origin of this food holiday is unclear, the website states that guacamole originated from the Aztecs. Even though everyone has a preferred way of making this dip, it traditionally uses a mortar and pestle to combine the ingredients. From chunky to smooth and from spicy to veggie-forward, there are a myriad of ways to enjoy a bowl.
For National Guacamole Day 2021, many restaurants and brands are looking to make the avocado dip included, not extra. Even Wholly Guacamole launched a Don't Hit Guac Bottom subscription box for the food holiday. The six-month box comes with plenty of Wholly Guacamole products to satisfy each and every guacamole craving for the holiday and beyond.
Tasty restaurant deals for National Guacamole Day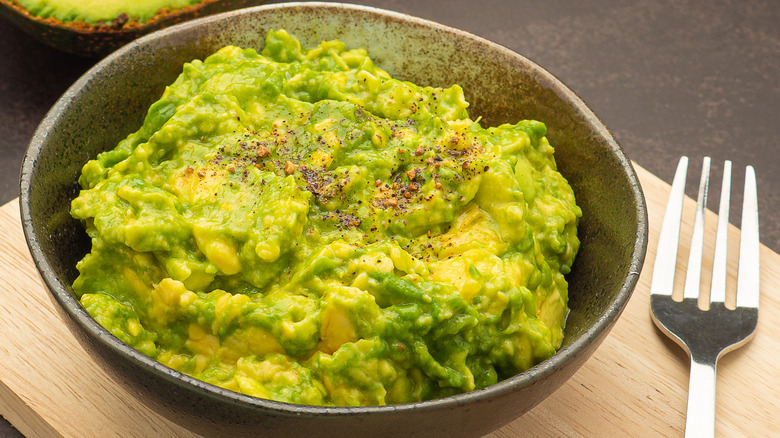 meboonstudio/Shutterstock
Like many food holidays, restaurant deals are a tasty way to celebrate National Guacamole Day. Luckily both national chains and some local establishments have offers. Some Taco Bell app users might have received an email for a free side of guac. According to the Taco Bell app, any purchase of $1 or more can receive a free side of guac. This offer is for app orders only.
As reported by ChewBoom, Del Taco is giving its Del Yeah! Rewards members a BOGO offer in honor of National Guacamole Day. Now through September 19, members will receive a "buy one, get one free Stuffed Quesadilla Taco deal." This offer is available exclusively via the app.
According to "Today," Chipotle is offering loyalty extra points on guac orders for National Guacamole Day. In addition, the brand is expanding its Chipotle Goods Avocado Dye Line. That clothing line upcycles used avocado pits for dying its apparel.
For those who prefer the couch to the drive-thru, Grubhub and El Pollo Loco are offering free chips and guacamole on orders of $15 or more. According to Delish, that offer is available through September 19.
More restaurant deals for National Guacamole Day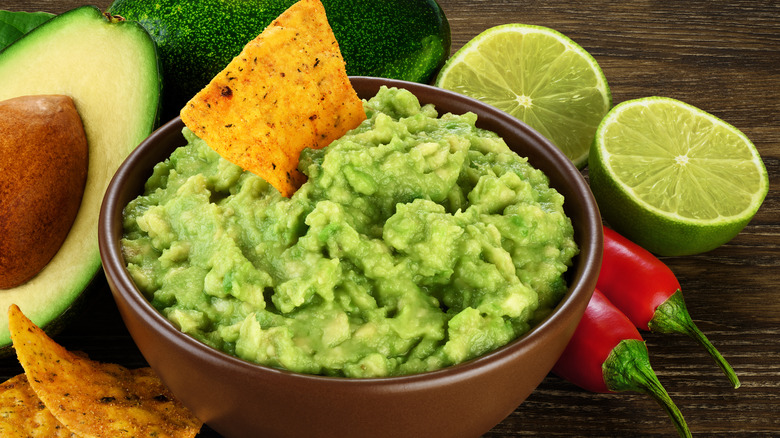 vitals/Shutterstock
Since National Guacamole Day and Mexican Independence Day are both September 16, Abuelo's (via Instagram) is offering a beverage to pair with all that guacamole. To toast the food holiday, its Mexican Flag Margaritas are just $8.95 all day on September 16.
Rubio's is going big for this year's guac celebration. Any order will receive free chips and guacamole. The guac is made fresh, on site every day. According to Delish, guests must present a special coupon in the restaurant or use the code GUAC on Rubios.com.
Although not a special for National Guacamole Day, Qdoba wants to remind all guests that guac is always free at its restaurant. According to the brand, both guac and queso are free every day.
These deals are just a small sampling of some offers. Some local restaurants, food delivery and other establishments might be offering deals for the food holiday. Although guac can be extra on most days of the week, National Guacamole Day 2021 puts the favorite avocado dip on the house. Sometimes a food holiday is a reason to have an extra bite.