Here's What Lidia Bastianich's Catch Phrase Really Means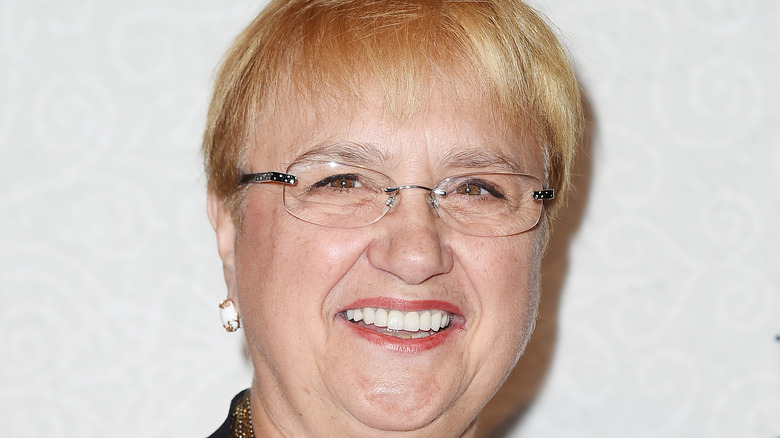 Nicholas Hunt/Getty Images
Celebrity chefs are often known for their catch phrases. Emeril Lagasse has "Bam!" Rachael Ray is known for "delish" and "YUM-O!" Guy Fieri often refers to "Flavortown," and Martha Stewart is the bestower of all "good things."
Before all of these stars, however, was Lidia Bastianich, author of the new memoir, "My American Dream: A Life of Love, Family, and Food." The 74-year old restaurateur, author, and cooking show host of "Lidia's Family Table," "Lidia's Italy," and "Lidia's Kitchen," per IMDB, is well-known for her catch phrase "Tutti a Tavola a Mangiare!" But what does it mean? 
First, some background: Before she became a successful restaurateur in the 1970s, this owner of Becco, Del Posto, and Bastianich was a refugee. Although her family was of Italian descent, the Matticchios' small Northeastern region of Italy (the Istrian Peninsula) fell under Yugoslavian communist rule after World War II (per Britannica). Her "old world life" was idyllic in some ways, spent in her grandmother's orchards and vineyards, where she helped her "nonna" with gardening and learned to cook. 
Lidia Bastianich's catch phrase is a call to the table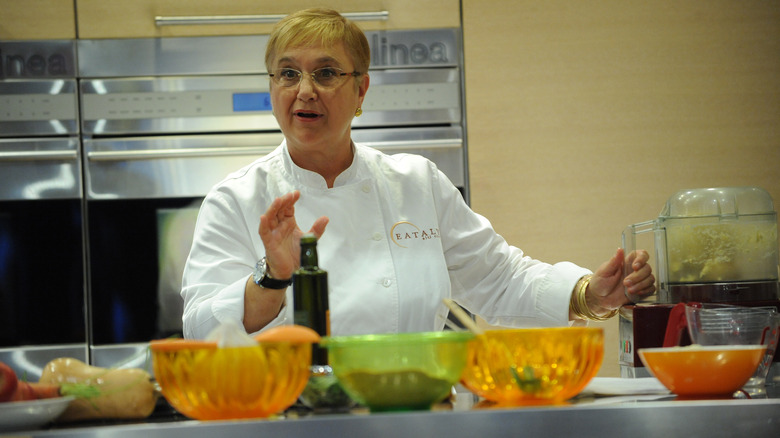 Brad Barket/Getty Images
Bastianich's family fled to neighboring Trieste, Italy in 1956, when she was just eight, and immigrated to New York two years later. Reflecting on her childhood, Bastianich vividly recalled the restrictions of life under communism. Her father lost his trucking business, they were forbidden from practicing their religion, and they "couldn't speak [their] native Italian language," she revealed in an extended bio from the NIAF (National Italian American Foundation). 
"Tutti a Tavola a Mangiare," Bastianich explains on her website, translates to "everyone to the table to eat!" According to Star Chefs, this lyrical phrase is a common call to mealtimes in homes throughout Italy, and has been for centuries. Perhaps losing her family language for part of her childhood is why this one-time refugee chose a saying in her native tongue as the catch phrase for her television shows, in her restaurants, and in everyday life. Beautiful and warm, the words emulate the passion and familiarity Bastianich brings to all that she does, the site explained.
The saying also seems to be the inspiration for the name of her former series "Tutti Ask Lidia" on her "Tutto Lidia" YouTube channel. In 2016, the show invited viewers of Bastianich's PBS series "Lidia's Kitchen" to ask questions and seek advice from the famous cook (via YouTube).