People Can't Stop Talking About Hershey's New Grinch-Themed Kisses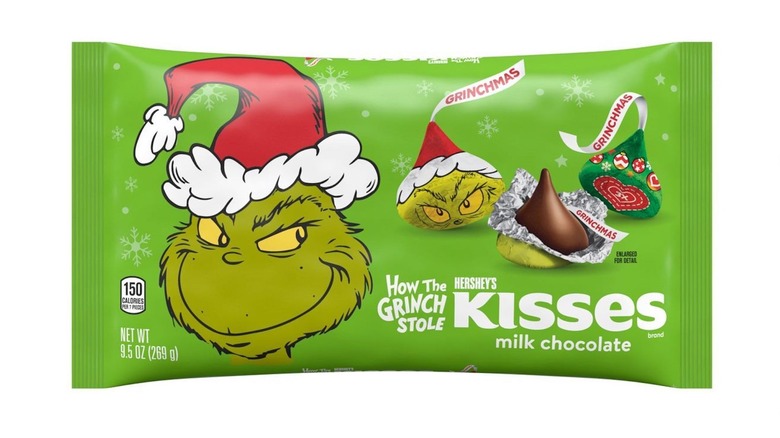 The Hershey Company
Just when you thought Hershey's Kisses couldn't get any better, the chocolate company has unveiled a new Grinch-themed version that's bound to put you in the holiday spirit. According to Best Products, Hershey's Grinch-themed Kisses feature the original milk chocolate recipe that customers know and love, wrapped up in ten limited edition foils inspired by the Dr. Seuss classic, "How the Grinch Stole Christmas." Among the festive designs include the Grinch wearing a Santa Claus hat, famous quotes from the book, and characters like the Grinch's dog, Max. 
"The holidays are a time to create new special memories, so we wanted to make sure your season is sweet in a big way with your favorite flavors, fun holiday shapes, and new ways to enjoy the treats and tastes you love," Melissa Biette, a senior associate brand manager on Hershey's holiday team, said in a press release. Grinch-themed Kisses are being rolled out in stores nationwide during the winter season in three different sizes: The 9.5-ounce bags are priced at $3.49, the 7.4-ounce cost $2.99, and there's also a candy cane-shaped 2.08-ounce package for $2.
Grinch-themed Kisses are part of Hershey's biggest winter collection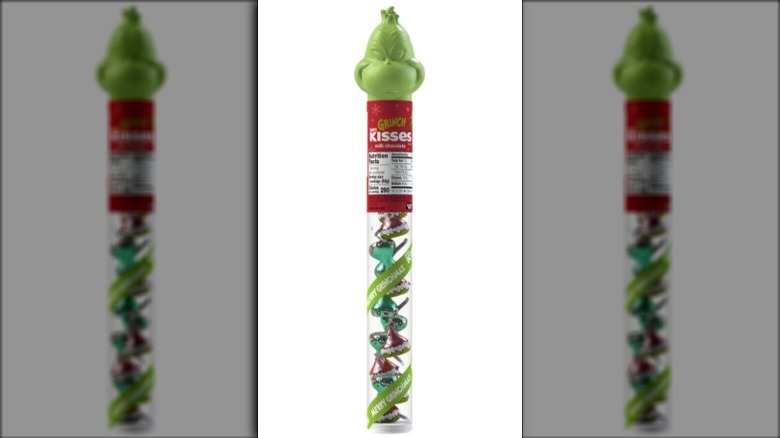 The Hershey Company
The Grinch-themed Kisses are just one of 13 new candy products Hershey's is coming out with this season (via PR Newswire). "This season is our biggest line-up of holiday offerings so, no matter how you are spending the holidays this year, there is a treat waiting for you to enjoy all to yourself or with a loved one," Biette said.
If you're a fan of holiday cookies, Hersey's has not one, but two great choices: The Gingerbread Cookie Flavored Kit Kat Miniatures and Hershey's Sugar Cookie Flavored Bar to accompany the returning fan favorite Sugar Cookie Kisses. For those who prefer Reese's, Hershey's holiday offerings include Reese's Peanut Brittle Flavored Cups, Reese's Snack Size Trees, and Reese's Peanut Butter Ugly Sweater. And if that wasn't enough, Hershey's is also selling York Peppermint Pattie Snowflakes, Whoppers Snowballs, Heath Toffee Milk Chocolate Miniatures, and a more classic Hershey's Milk Chocolate Reindeer. With so many delicious options, this holiday season is sure to be the sweetest one yet.