Only 8% Of People Consider This Breakfast Chain Their Favorite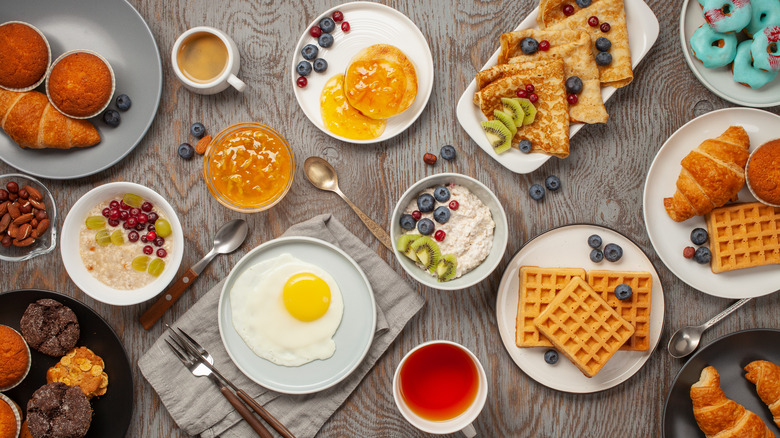 NatalyaBond/Shutterstock
Breakfast can be a divisive meal. Some love a sweet start to the day like pancakes or waffles, while others like a savory breakfast sandwich or classic scrambled eggs for the first meal. When you can't make it from scratch at home, there are breakfast chains to save the day — though not all serve equally delicious morning dishes. To discern who has the best breakfast, Mashed took a poll of 32,000 people across the globe to find out which chain respondents consider their favorite, choosing among Denny's, IHOP, Bob Evans, Waffle House, and the write-in "other" category. The results are interesting, with the least favorite having a strong turnout while the winning choices were relatively close in the poll.
In fact, the top three choices combined earned a whopping 82% of the vote. But ultimately, IHOP won the top spot with 35% of the vote cast by 11,200 people. Falling into second place was Waffle House with 8,640 votes, accounting for 27% of the respondents. So clearly people love their pancakes and waffles — leaving Denny's and Bob Evans up for the title of "least liked" breakfast chain.
Bob Evans came in last in the poll of favorite breakfast chains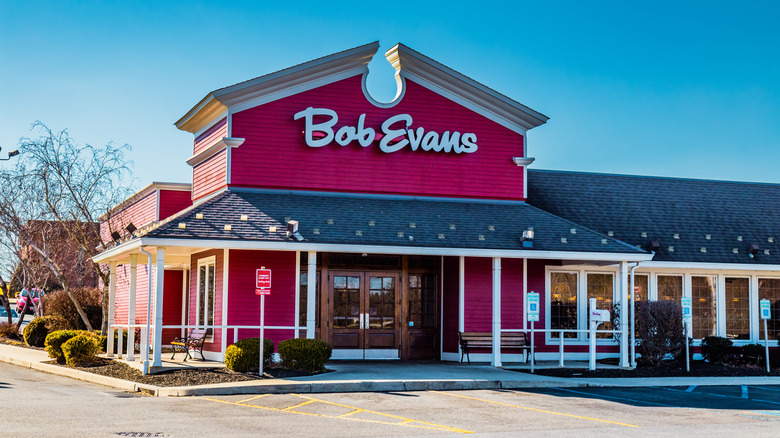 George Sheldon/Shutterstock
Ultimately, Denny's placed third, nabbing 20% of the vote, meaning 6,400 people voted for it as their favorite breakfast chain. That leaves just the write-in category and Bob Evans left in the results. The write-in category actually fared better, with 9% of people choosing that selection. Those who chose to write-in an answer on the survey listed numerous other options. Many write-in answers reflected that Mashed readers like to eat local for breakfast at mom-and-pop places like cafés and diners, claiming that they always beat chains for a quality meal. But many others wrote in Cracker Barrel as their favorite breakfast chain, and Broken Yolk, Huddle House, and McDonald's were also mentioned frequently in the poll.
Ultimately, Bob Evans was the least liked option of breakfast chains in the survey, tallying just 8% of the vote from Mashed readers. That's just 2,560 votes, which only separates it from the write-in option by 320 votes. It is, however, worth noting that several people defended and claimed to love Bob Evans in the comments section, too. So maybe it isn't so bad after all.