For Cooking Ribs, One Dutch Oven Stands Above The Rest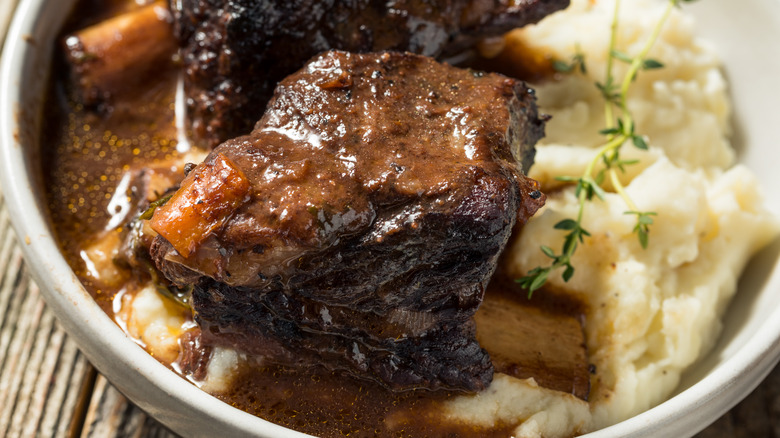 Brent Hofacker/Shutterstock
We may receive a commission on purchases made from links.
Sure, air fryers and Instant Pots are all the rage, but perhaps it's time to go retro and try out a time-honored cooking appliance that cooks going back many generations have sworn by.
Dutch ovens are basically big pots, but they're made of cast iron, which means that they can handle going from the stovetop to the oven and back again, per Country Living. They can even be used over a fire pit, which is why outdoorsy types like them, too! They're also well-known for their stellar ability to maintain temperature and are super durable.
Modern Dutch ovens are far more attractive than those from the olden days, however. The Crock-Pot Artisan Round Enameled Cast Iron Dutch Oven comes in a virtual rainbow of colors and three different sizes (3-quart, 5-quart, and 7-quart). So no matter what your decor or cooking needs, there's a Dutch oven to suit your personal tastes!
Using a Dutch oven to cook ribs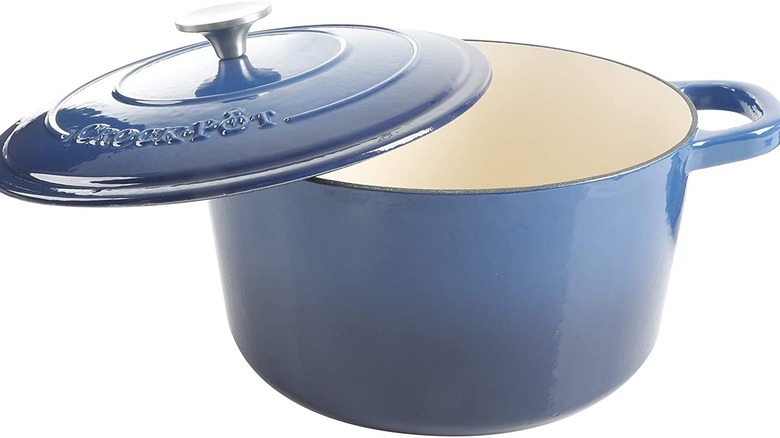 Amazon
There are about a million different ways to cook ribs, from grilling to roasting to a combination of methods. A Dutch oven is an easy way to turn out mouth-watering, fall-off-the-bone ribs that everyone will fawn over, whether they're on a campsite or at the kitchen table (via Mashed). Amazon reviewer VoxWest raved over her first Dutch oven purchase. "Bought it specifically so that I could make braised beef short ribs. Used an online recipe and the meal was delicious," she says, noting that the price she paid for the Crock-Pot Artisan model is well below average.
Fellow reviewer Nicole Carter echoed the value sentiment, saying "I am a big Le Creuset cookware fan and was considering paying the almost $300 for their Dutch oven." In the end, she opted for the budget-friendly version, and was more than pleased with it. "The color is way prettier than any of the other colors out there and for this price, YOU CANNOT BEAT THIS DEAL. I would recommend this pot 20 times out of 10 if you are considering a Dutch oven." This product truly came by its 4.8 star rating honestly.
Buy the Crock-Pot Artisan Round Enameled Cast Iron Dutch Oven on Amazon for $52.79.