This Chocolately Starbucks Frappuccino Was Only Available At Target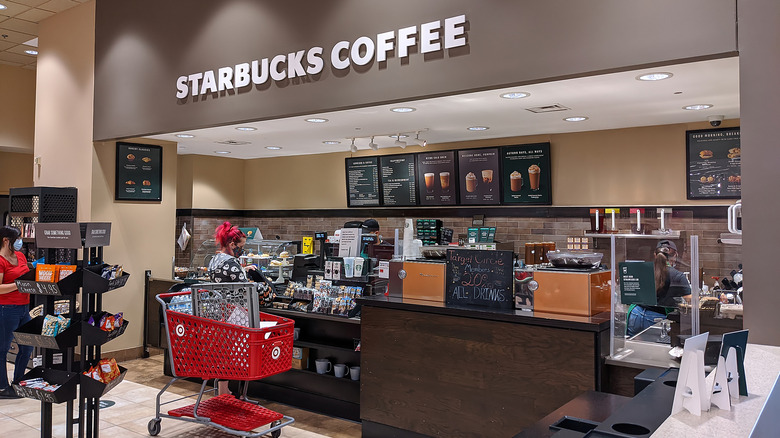 QualityHD/Shutterstock
Target is considered the mecca of home goods. You walk in needing deodorant and a new toothbrush and exit the store with a brand new wardrobe and 15 candles. For more than two decades, Starbucks has been empowering Target customers to check every bathroom, home, clothing, and food item off their lists. What better way to power through your shopping trip than with a frozen caffeinated drink in hand, right? In 2017, the coffeehouse chain honored that relationship by creating a brand new Starbucks beverage, exclusive to Target (via Target).
The new drink is called the Dark Mocha Frappuccino Blended Beverage, and you can only order it at the Starbucks stores that are located in Targets. There are almost 1,500 of these locations nationwide so getting your hands on the Dark Mocha Frap is totally feasible. The drink is described as "rich and fudgy." According to the press release, it blends extra-dark cocoa, coffee, milk, and ice and is finished off with a generous dollop of vanilla whipped cream.
Starbucks' Dark Mocha Frappuccino tastes like a brick of dark chocolate
Obviously, you need to have a sweet tooth for chocolate in order to love this drink. But, one unofficial Starbucks blog noted that this Frappuccino may be too chocolately for some chocolate lovers (via Starbucks Melody). "If you are not into that slight bitterness of dark cocoa, this drink won't be your thing – or you might want to make it sweeter by adding in a syrup," the writer warned. While most chocolate-flavored Starbucks beverages use milk chocolate, this dark mocha creation gives off the taste of dark chocolate. Anyone who doesn't like dark chocolate will tell you there's a clear difference between the two.
To compensate for the bitterness of the dark cocoa, the blogger recommends asking the barista to add in other syrup flavors like toffee nut or cinnamon dulce. If you love dark chocolate, consider asking your barista to top your drink with a mocha drizzle or dark cocoa shavings. The decadent drink is currently not available at non-Target Starbucks locations, but you can always ask a barista if they have all the ingredients on hand!