Aldi Shoppers Are Divided On Its Returning Pumpkin Rolls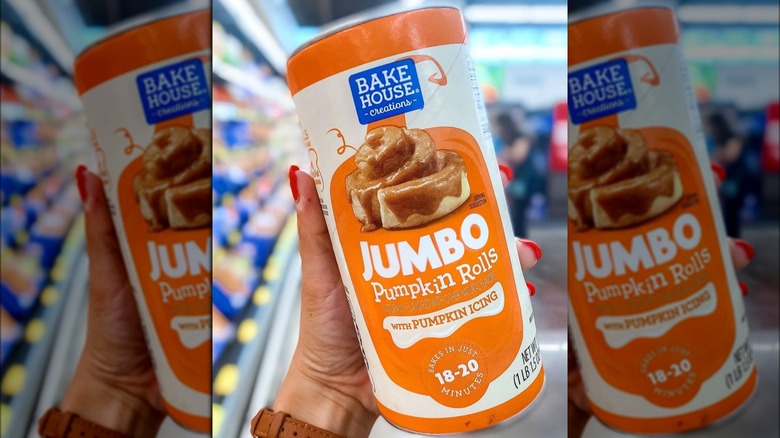 Instagram
Cinnamon rolls and pumpkin spice? Can you please get us a blanket, a good book, and a steaming cup of hot coffee with a rainstorm outside? It feels like fall and Aldi's ready to help with its seasonal pumpkin rolls. Fans are thrilled that these treats are back. Superfan Instagram account aldi.mademedoit shared, "I like big buns and I can't not lie ... I love that all my pumpkin dreams are coming true this week. Who else is going to grab these big buns (pumpkin rolls)?!" (via Instagram). The grocery item in question is a Bake House Creations brand cinnamon roll in a tube, but instead of your standard flavor, this variety adds pumpkin spice and pumpkin icing. Each tube requires simple prep, bakes for 18 to 20 minutes, and sells at Aldi for $2.99.
Another superfan, aldifavoritefinds, posted, "There were mixed reviews on these last year. My family absolutely loved them but we made them in a stoneware pan and they baked to perfection. I will say I think the price is way too high for five rolls," (via Instagram).
While some fans are in love, unfortunately not all the criticisms are based on the price and portions.
These pumpkin rolls didn't please all Aldi fans
Pumpkin spice is an aromatic flavoring, but the amounts of sugar it is combined with can create very different flavor profiles. Some pumpkin treats will be almost savory, while others will be very, very sweet. It seems that these cinnamon rolls fall to the latter, says taster shaunadee603, "Not me. Last year these were sickeningly sweet. [sad emoji]" via Instagram. Taster karenpatrickmann adds, "I didnt like the icing, ugh." So if sweet isn't your thing, you might not like this seasonal treat.
Then again, you could always try to hack your own pumpkin roll. One baker topped her Aldi pumpkin rolls with walnuts, providing an added savory and crunchy element (via Instagram). Another baker shared that these came out of the oven perfect, but she only used half the frosting (via Instagram). Don't be afraid to try your own twist on a classic, as fall is definitely the season for pumpkin.
None of this answers the existential question we get every October, however, in wondering when too much pumpkin spice is too much?