3-Ingredient Banana Oatmeal Chocolate Chip Cookies Recipe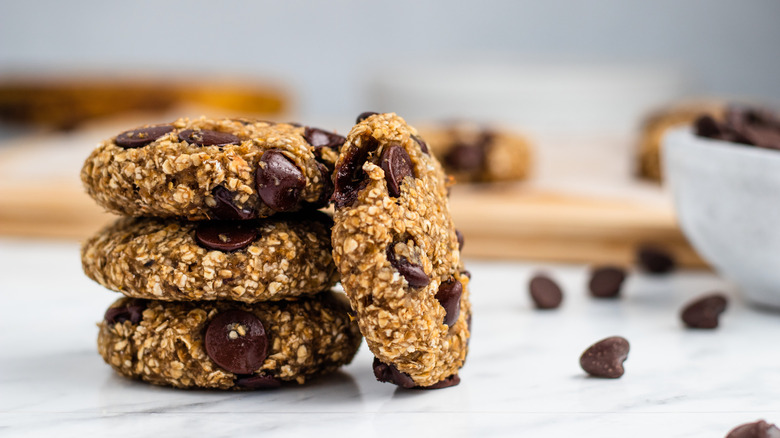 Catherine Brookes/Mashed
There's nothing quite better than freshly baked homemade cookies, but sometimes, making a batch can be daunting. Generally, cookies require more than several ingredients and a solid chunk of your time, but one thing is for sure — the result is always excellent. The great part about this particular recipe for banana oatmeal chocolate chip cookies is that it's super easy to make, and it only requires three ingredients. It doesn't get much easier than that! It's also worth mentioning that you don't need to mess around with flour, sugars, and salts, but instead, use an overripe banana — making it healthy and easy, which is always a win-win.
Recipe developer Catherine Brookes of Blue Sky Eating came up with this wonderful recipe that will curb your cravings for sweets. "I love to eat these as a healthier sweet treat throughout the day," Brookes raves. "They're so quick to make!" We can't express how much we love this — especially because you can eat these for breakfast. (No, we're not joking!) Keep scrolling to find out how to make these incredible cookies that are affordable, seamless to put together, and delicious.
Gather just three ingredients for these banana oatmeal chocolate chip cookies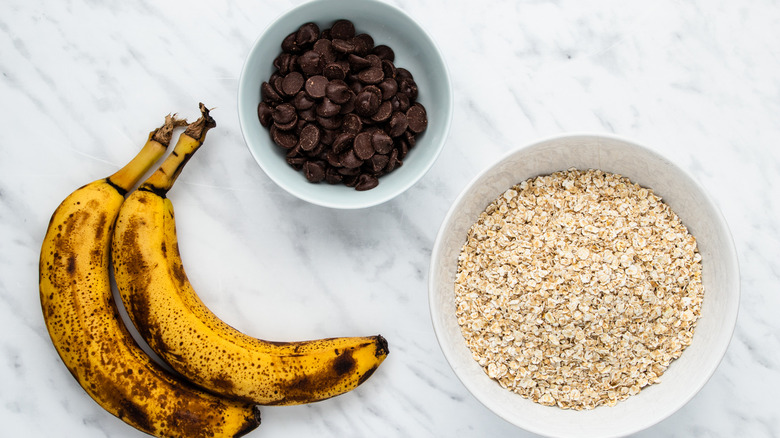 Catherine Brookes/Mashed
As we mentioned before, and as you will see in the title, the great part about this recipe is that you only need three items to make it. The main ingredient in this dish is overripe bananas. You will need two of them. In addition to bananas, grab your favorite oats. (This serves as the base and some of the glue that holds the cookie together.) You'll also need chocolate chips or chunks. This is totally based on your preference — we don't think you can go wrong either way!
Preheat the oven, and prep the baking sheet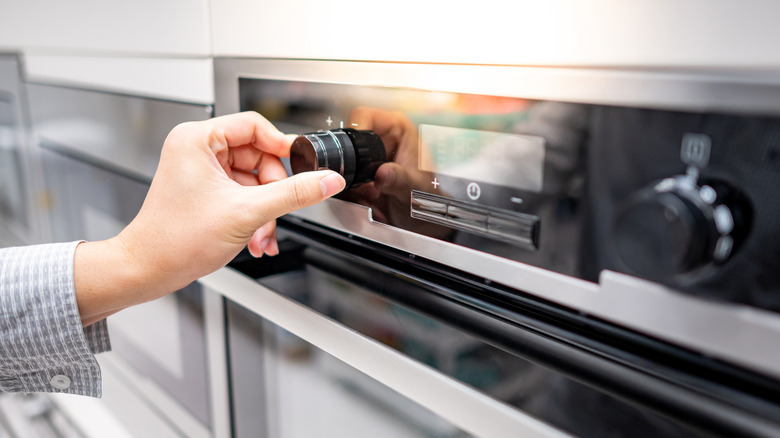 Zephyr_p/Shutterstock
Before you do anything else, it's best to preheat your oven. That way, it gets nice and hot for when the cookies are ready to go in. This step is vital since the cookies need to be at 350 F in order to bake properly, so make sure you don't add them any sooner, as it could ruin the baking process and cookies. 
Once you have preheated the oven, grab a baking sheet that you would like to use for these cookies. Next, measure out some parchment paper, and line the sheet so the cookies don't stick. Then, you're ready to start working with the ingredients.
Mash the banana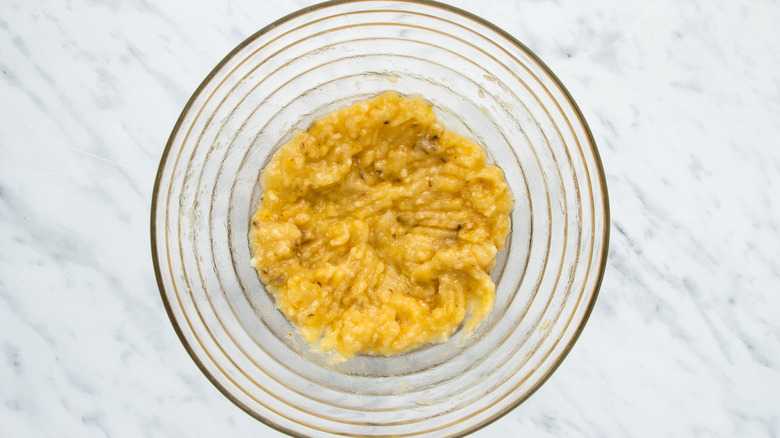 Catherine Brookes/Mashed
There are two things that you will need to grab for this step — bananas and a bowl. Add in the peeled bananas to the bowl, and then mix thoroughly. You can use a spoon or a masher — whichever is available to you. Since the bananas are already super ripe, this shouldn't take a lot of muscle. If you need any tips on picking out the perfect banana for this recipe, Brookes shares a great tidbit. "They should be brown and spotty," she says. "Even blackened bananas will work great."
Add the oats and chocolate chips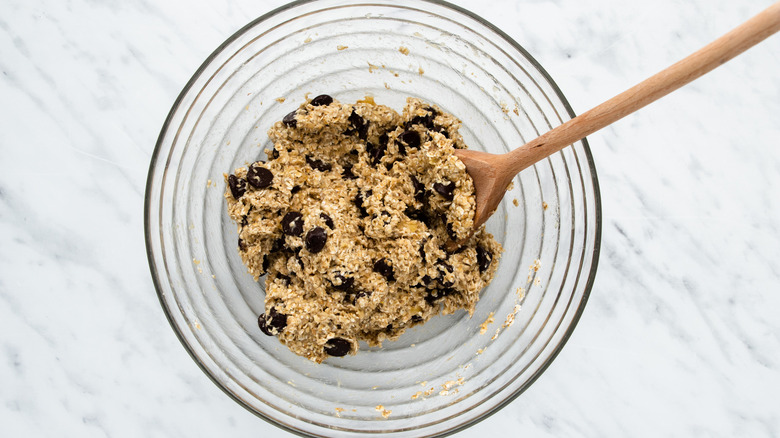 Catherine Brookes/Mashed
For this step, you will need to add the only two remaining ingredients. For starters, add in the oats, and then mix them well with the bananas. You can do this using a wooden spoon, and you don't need a power mixer since it's really easy to mix. "I guess the oats act as the flour, and the bananas replace egg/sugar," Brookes shares. "The sticky texture of mashed banana means it helps to bind everything together as well as adding lots of natural sweetness." 
Next, toss in the chocolate chips and then mix everything again to combine. Once again, a wooden spoon will do.
Form the cookies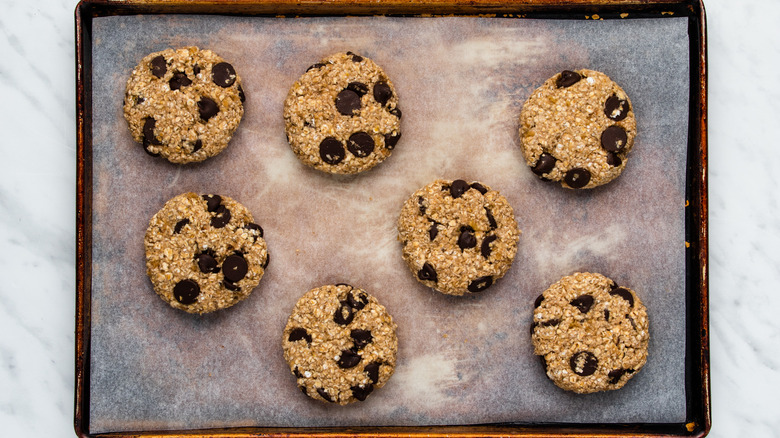 Catherine Brookes/Mashed
Since you've finished your dough, that means it's time to form the cookies into balls, just like you would do with any other cookie recipe. Scoop out a handful of the cookie mixture from the bowl at time, and roll each cookie into a ball. Then, squash down the ball into a cookie, and shape it between your hands. (Who needs a stress ball when you can do this instead?)
Then, place the cookies onto the lined baking sheet. Continue the same process until you have used up all the dough. The recipe makes seven to nine cookies.
Bake, and enjoy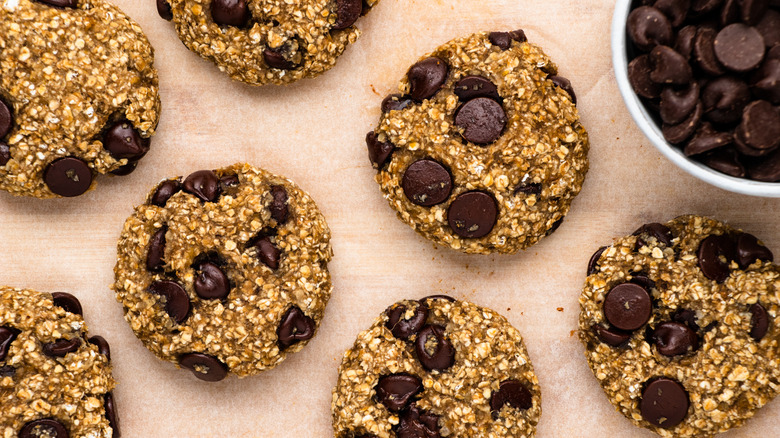 Catherine Brookes/Mashed
Once your have formed all of the cookies, pop them into your preheated oven. Turn the timer on, and bake the cookies for 12 to 15 minutes. When the timer goes off, grab the oven mitts, and take them out. Let the cookies cool for a few minutes before you enjoy.
As far as serving suggestions go? There are plenty! "[Enjoy these as] a breakfast, snack, or sweet treat after a meal," Brookes suggests. "Great with a cup of tea or coffee. They should keep for two days in an airtight container at room temp." Enjoy!
3-Ingredient Banana Oatmeal Chocolate Chip Cookies Recipe
The great part about this particular recipe for banana oatmeal chocolate chip cookies is that it's super easy to make, and it only requires three ingredients.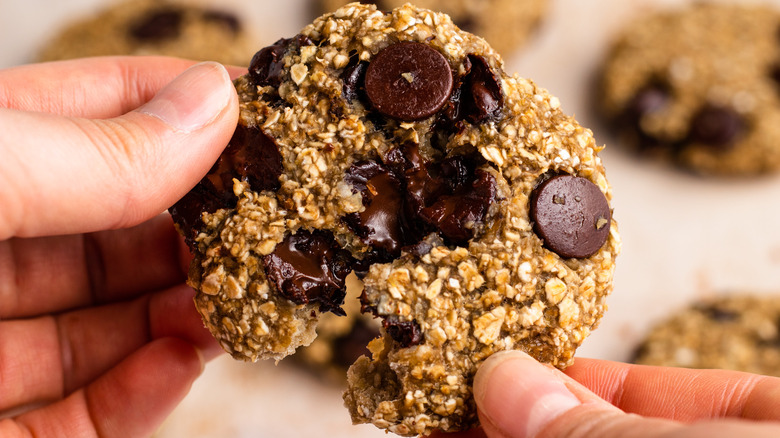 Ingredients
2 large overripe bananas
1 ½ cups oats
½ cup chocolate chips/chunks
Directions
Preheat the oven to 350 F.
Line a baking sheet with parchment paper.
Add the peeled bananas to a large mixing bowl, and mash thoroughly.
Add the oats, and mix well using a wooden spoon.
Add the chocolate chips, and mix again to combine.
Take a handful of the mixture, and roll it into a ball. Then, squash it down into a cookie shape between your hands, and place it onto the lined baking sheet. Repeat with the remaining mixture.
Bake for 12 to 15 minutes.
Nutrition
| | |
| --- | --- |
| Calories per Serving | 240 |
| Total Fat | 6.2 g |
| Saturated Fat | 2.8 g |
| Trans Fat | 0.0 g |
| Cholesterol | 2.4 mg |
| | |
| --- | --- |
| Total Carbohydrates | 40.6 g |
| Dietary Fiber | 4.8 g |
| Total Sugars | 14.0 g |
| Sodium | 11.9 mg |
| Protein | 6.8 g |