McDonald's Is Launching A Retail Line For Fans. Here's What We Know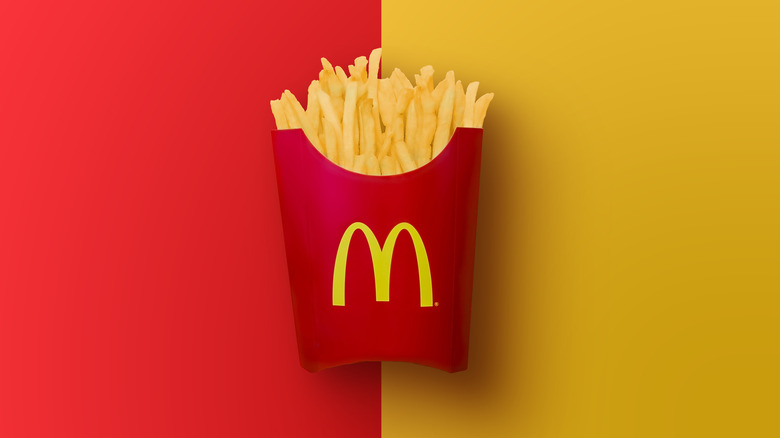 Nixx Photography/Shutterstock
Calling all McDonald's fans and fashionistas: This one's for you! The globally renowned fast-food chain is officially launching its first retail collaboration with BoxLunch, a retailer that designs clothing, accessories, and other merchandise for various pop culture brands. The new line will be available on September 20, 2021, exclusively through BoxLunch (via National Restaurant News). Get ready to flaunt some tasty-looking, super-cozy clothing that features McDonald's classic menu items, its iconic Golden Arches logo, and of course, its lovable mascots!
BoxLunch has also pledged to donate a meal for every $10 spent, thanks to a charitable partnership with Feeding America, an organization with a mission to end hunger in communities across the nation by working with local food banks (via the Feeding America website). "As a brand serving tens of thousands of communities around the world, we're always focused on living our purpose of feeding and fostering the communities we operate in. That's why we're especially proud to partner with BoxLunch and bring to life a new collection of apparel and accessories inspired by fan-favorite menu items and McDonald's characters – connecting fandom for our iconic brand with BoxLunch's food donations for those who need it most," said Jennifer DelVecchio, the senior director of strategic alliances at McDonald's.
What's included in the new McDonald's retail line?
You'll be able to score some pretty cool ketchup-red and mustard-yellow swag from the new McD's + BoxLunch collab, such as shirts and backpacks, People reports. The women's line includes a yellow long-sleeved tee with the Golden Arches logo, a red "I'm Lovin' It" crewneck sweatshirt, a white short-sleeved tee with illustrated menu items like burgers and fries, a red short-sleeved tee with the trademarked Happy Meal smile, and a breakfast food-themed top. 
The men's line boasts such items as a Hamburglar hoodie, T-shirts with an array of the McDonaldLand characters, and a red T-shirt with the Ronald McDonald and his pals that reads "Good Times." Other products in the highly anticipated collection include McDonald's-themed bags (including one that's in the shape of a Happy Meal box), beauty products, hair scrunchies, and keychains. This epic garment and gear coalition could be a huge hit, and we can't wait to pull up the drive-thru or munch on dinner on our couches in style!