Outback's New Seafood Appetizer Is Perfect For Bloomin' Onion Fans
If you are hankering for a good juicy steak, it's hard to beat Outback Steakhouse's premier selection. This much-loved chain has been around since 1988, and even though it may be inspired by the Land Down Under, it's far more American than it is Australian. Shockingly enough, none of the four founders have even set foot in Australia (per Delish). Nonetheless, this fast-casual chain has both affordable prices and delectable steak options, with its special steak seasoning blend composed of a staggering 17 different spices (via The Daily Meal).
Aside from delicious steaks, there are various items on the extensive Outback Steakhouse menu, but no dish is more renowned than the iconic Bloomin' Onion appetizer. According to a 2019 piece by Eat This, Not That!, between 2012 and 2015, customers ordered 40 million Bloomin' onions, and by 2015, it was responsible for a quarter of Outback's appetizer sales. To keep up with the demand for this crowd-pleaser, the restaurant chain uses over 14 million pounds of extra-large onions per year, which can grow up to 4½ inches or larger. To top it off, there are even special "Bloomologists" assigned to prepare each dish (per The Daily Meal). For fans of this masterful creation, we've got some great news for you! Outback just debuted an all-new tasty-sounding appetizer, and it's got a few things in common with the Bloomin' Onion.
There's a new 'Aussie-tizer' in town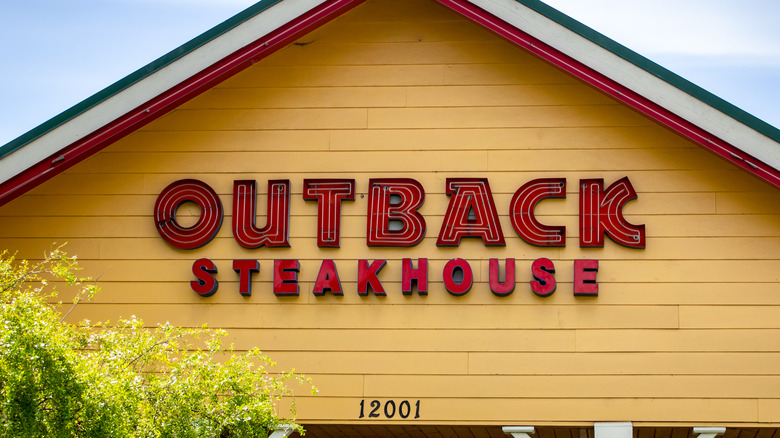 David Tonelson/Shutterstock
According to a recent Twitter post, Outback has just released a new appetizer perfect for seafood lovers: "NEW – Bloomin' Fried Shrimp Aussie-tizer! Available to order exclusively in the Outback App for a limited time. Be one of the first to try them, starting today!" The tweet is accompanied by a mouthwatering photo of this brand-new appetizer.
The Bloomin' Shrimp are composed of juicy, bite-sized shrimp that are hand-breaded and cooked until crispy, according to Outback's official website. While the base of this appetizer may be composed of shrimp, it's easy to see how the Bloomin' Onion served as its inspiration. Not only does this appetizer come with the same spices and flavoring as the Bloomin' Onion, but it is also drizzled in the same tangy and spicy bloom sauce that we all know and love. If this sounds like your kind of Aussie-tizer, you might want to give it a try before time runs out!