Why This Tater Tot Event Is So Special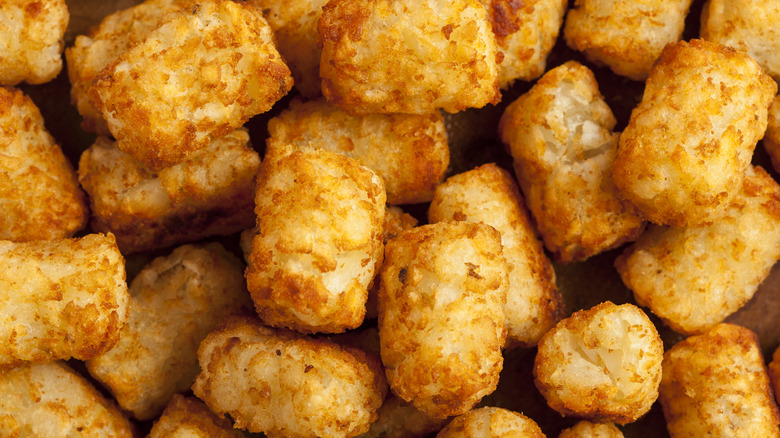 Brent Hofacker/Shutterstock
Whether or not you agree that tater tots are the next best invention since french fries, there's little debate that it ranks high up there on the list of potatoes in all their glorious forms. In fact, Thrillist even goes so far as to say that tater tots are the best way to eat a potato, only after curly fries. And, what's not to love? They're golden and crispy on the outside and puffy and soft on the inside. And, the tiny balls are perfectly-sized for munching and dipping!
What we may regard as a freezer staple, tater tots were originally invented from potato scraps. Two brothers Nephi and Golden Grigg ran a frozen french fry factory in Ontario, Oregon by the name of Ore-Ida (via Food & Wine). The brothers realized that they were wasting way too much potato leftovers from the slicing of French fries and so, they found a way to mix the scraps with some flour and seasoning, consequently giving the world an entirely new way of eating the glorious spud.
Now, 70 years later, Ore-Ida has come full circle to sponsor an event dedicated to their genius invention — the first tater tot festival to ever grace America.
Festival-goers celebrated the glorious tater tot at the event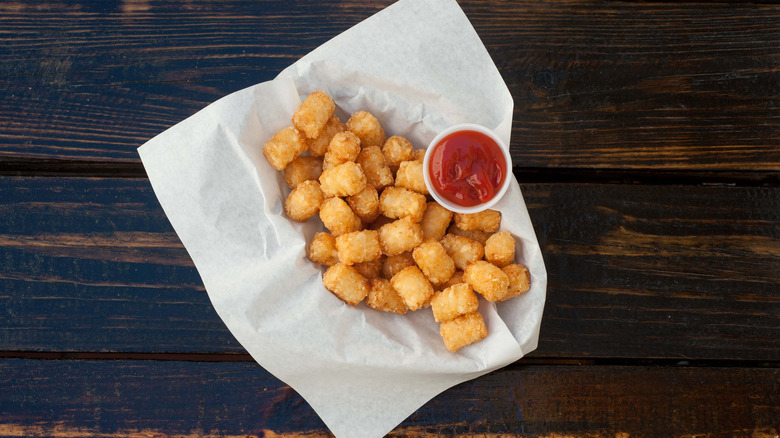 Yue_Studio/Shutterstock
The two-day festival was held September 17 and 18 in the city where tater tots were born — Ontario, Oregon — and per the Tater Tot Festival website, guests were in for a lot of eating.
The event had a cooking competition wherein five finalists got to sell their unique creations to festival attendees who then decided which one should win the title of the best tater tot cook. Guests were able to enjoy a $5 sample platter of the final five dishes that included steak bomb tot waffles, jalapeño popper tater tot casserole, totchos twice-baked tot cups, breakfast tater to biscuits, and ranch tots.
Attendees could also take part in a tater tot eating contest to test how many they could eat in two minutes. And it seems that the competition was taken pretty seriously. Charlotte Fugate, president of Revitalize Ontario, told Malheur Enterprise that the festival had an EMT on standby in case of any choking accidents for any overly enthusiastic fans who ended up eating a tad too quickly.
The family- and pet-friendly festival also had live music and a boardwalk with carnival-style games. Not to mention various food stalls selling all things — what else — tater tots.