You Probably Never Noticed This Animal In Toblerone's Logo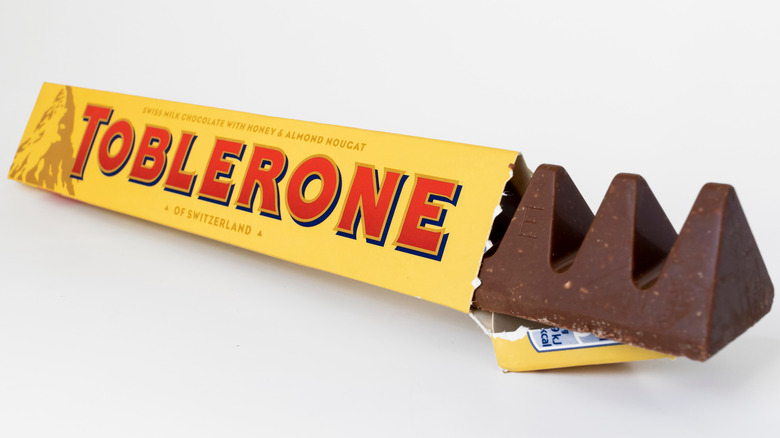 DarioZg/Shutterstock
If you've ever been the lucky recipient of a Toblerone, then you probably noticed how easy the tasty, candy bar is to share. Toblerone candy bars are divided into chocolate triangles that make snapping off a section and handing it to a buddy all the easier. According to the Culture Trip, it's widely believed those little, chocolate pyramids were inspired by a peak in the Alps known as the Matterhorn, while members of the Tobler family, for which the bar is named, have said the shape was actually inspired by a show at the Parisian music hall Folies Bergère that culminated in a spectacular human triangle created by the dancers.
Beyond the iconic shape of the candy bar itself, Toblerones are easily identified by their logo comprising the name in all caps and a mountain shape. But, there may be more to that mountain shape than initially meets the eye. As Twitter user @upStephanie pointed out in a post, there is actually an outline of an animal inside the logo!
In the tweet, @upStephanie wrote about an eye-opening exchange: "My son had his first Toblerone today. 'What's the bear for?' Me: 'what bear?'" She concluded, "I was today years old when I found out there's a bear in the Toblerone logo." Others responded to the message in agreement with messages like, "I had never seen that!!! Your son is brilliant!" But, after learning about the bear's sneaky placement, one may wonder why it's there in the first place.
Why is there a bear hidden in the Toblerone logo?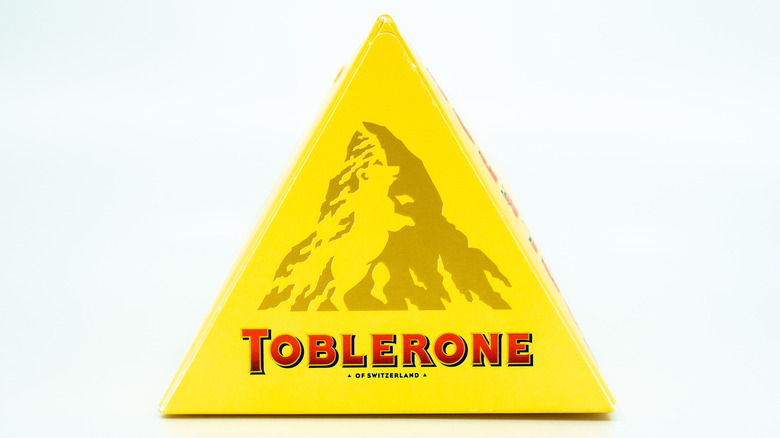 Irwan Bujang/Shutterstock
Upon further investigation of Toblerone's packaging, you may notice text declaring the candy bar's roots are in Switzerland. According to Mondelēz International, owner of the Toblerone brand, the uniquely designed candy bar was created in 1908 by Theodor Tobler and his cousin Emil Baumann, and its name refers to the family name Tobler combined with "Torrone," the Italian word for honey and almond nougat. The Tobler family's dealings in chocolate go all the way back to 1868 when Theodor's dad owned a confectionary shop in Bern, Switzerland.
It turns out the existence of the bear on the Toblerone packaging has a lot to do with Bern. According to NBC News, there's a bear on both Bern's flag and coat-of-arms. According to legend has it, the founder of Bern, Count Berchtold V, killed a bear and named the city afterward. Back then, bears roamed Switzerland, but hunters spelled their doom in the country. According to The Packaging Company, Toblerone bars are still produced in close proximity to Bern. So, next time you find yourself in the sweet situation of staring at a Toblerone bar and its mountain logo, be sure to look for the bear!