IHOP's New Mummy Burrito Is Perfect For The Halloween Season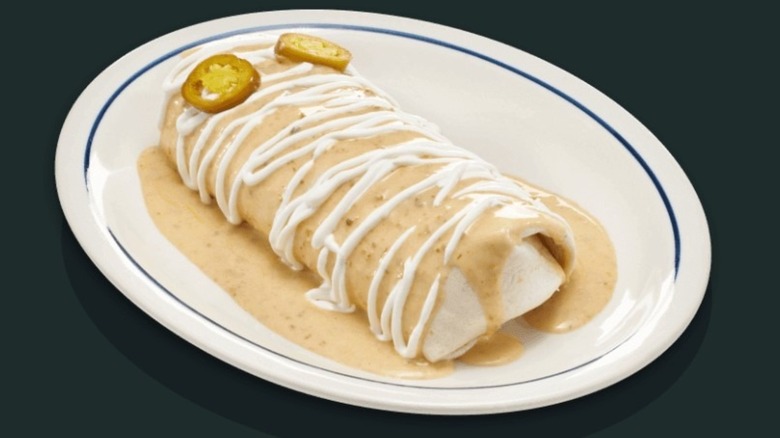 IHOP
IHOP makes no bones about embracing everyone's favorite macabre holiday that falls on October 31st. You may remember that in 2019, the pancake chain turned its menu into a feast worthy of the entire Addams Family, including Cousin It, according to the IHOP website. Between Wednesday's Web-Cakes and Uncle Fester's Chocolate Ice Scream Shake, we couldn't get enough of the Halloween offerings. Well, per the company website, this year, IHOP is morphing into the International Haunted House of Pancakes, and the new menu looks creepy, scary, and delicious. 
The new lineup screams Halloween, though that might just be the sound of hungry stomachs shrieking for such items as Reese's Pieces-topped pancakes, Scary Face Pancakes, and Caramel Apple à la Mode Pancakes that capture familiar autumnal flavors and aid children's charities in the process. Much of IHOP's haunted house-themed menu sounds like a spooktacular path to sugar nirvana. But one menu item that might get you excited is actually a little more savory and may conjure memories of studying King Tut or maybe something a little less academic, like watching Rachel Weisz and Brendan Fraser in their 1999 hit movie, "The Mummy." This dish is called the Monster Mummy Burrito.
The burrito looks like a mummy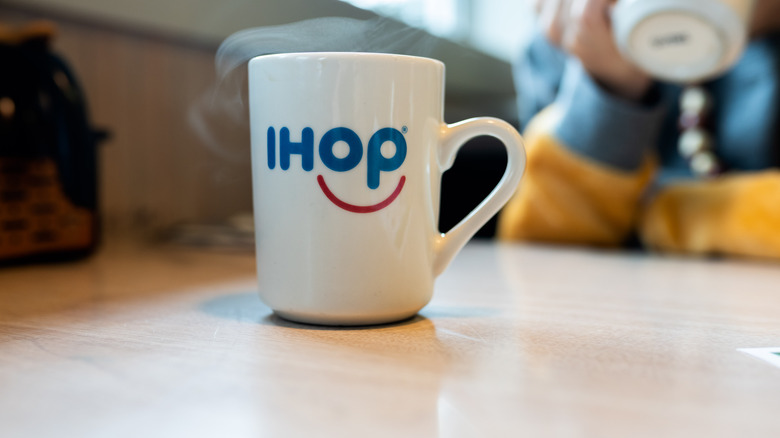 Alexander Oganezov/Shutterstock
Per the IHOP website, the Monster Mummy Burrito's filling consists of scrambled eggs, three kinds of pork (pork sausage, diced ham, and hickory-smoked bacon), hash browns, shredded cheddar and jack cheeses, and avocado. A breakfast meat lover's smorgasbord, if you ask us. But it gets better. It is all wrapped in a warm flour tortilla and blanketed with Poblano queso and sour cream. And as a finishing touch, jalapeños are strategically placed to look like mummy eyes that are presumably staring at you. Sounds amazing. On top of your burrito, you can pick buttermilk pancakes, hash browns, buttered toast, seasonal fresh fruit, or French fries.  
Per the Fast Food Post, your Monster Mummy Burrito will provide you with a frightening 1610 calories and 116 grams of fat. Clearly not for the faint of heart. If you are looking for a new beverage to wash down this new burrito, you could try the Peanut Butter Cup Hot Cocoa. This hot beverage is described as a traditional cup of hot chocolate, topped with "whipped cream, a drizzle of chocolate syrup, and Reese's peanut butter sauce."