What Cinnabon Fans Need To Know About Its New Rewards Program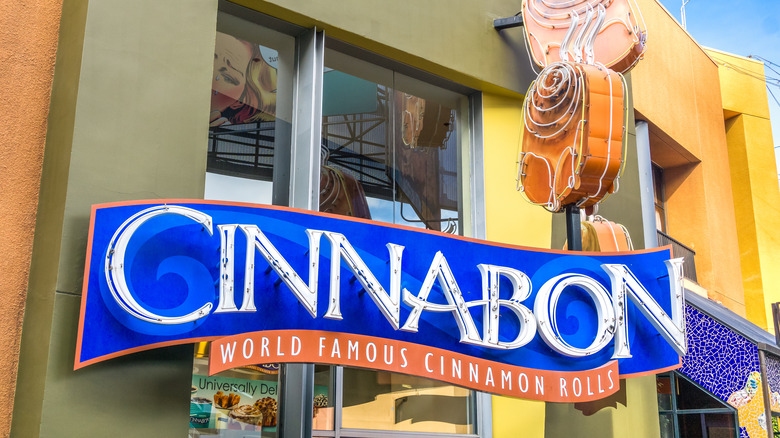 Ken Wolter/Shutterstock
Cinnamon rolls: Those soft and sweet morsels of gooey goodness that transport you to a moment of bliss with a single bite. Everyone loves relishing in a sugary cinnamon roll, and now when you sign up for Cinnabon's new rewards program, you can nosh to your heart's content.
Select Cinnabon bakeries are participating in the company's new rewards program, which is offered through their app (available for iOS and Android) and on their website. According to Chew Boom, members can order delivery or opt to pick up their orders at a Cinnabon location, and as a bonus, when you do so, you get to skip the line.
Cinnabon is banking on serving old cinnamon bun aficionados and drawing in new Cinnabon enthusiasts with the roll-out of the rewards program.
"The new Cinnabon app, Cinnabon Rewards program, and online ordering is just the latest way we're meeting fans where they are — making their favorite treats more accessible than ever," said Cinnabon Chief Brand Officer Kendall Ware (via Thrillist).
Fun buns: How to get in on the Cinnabon rewards
Here's how the new rewards program works: For every $1 you spend on the mouthwatering, iced pastries, you get 10 points. Upon reaching 250 points, you get a free Cinnabon Classic Roll, a MiniBon, or four BonBites. Bonus rewards include four free BonBites just for signing up for the program, 50 points for a referral, and a 16-ounce cold brew on your birthday (via Cinnabon).
But hold on. Cinnabon isn't done giving out sweet deals just yet. In celebration of National Cinnamon Roll Day on October 4, the chain will be offering free delivery on orders placed through the app or online and double points for any cinnamon bun lover who buys a Classic Roll, MiniBon, four BonBites, or a Center of Roll on the app or online all that week (via Chew Boom).
So grab your phone, download the app, or head to Cinnabon's website to find a location near you that's participating in the rewards program and get ready for a divine cinnamon bun-filled life. What more could we ask for?