Here's How Buddy Valastro Is Doing 1 Year After His Accident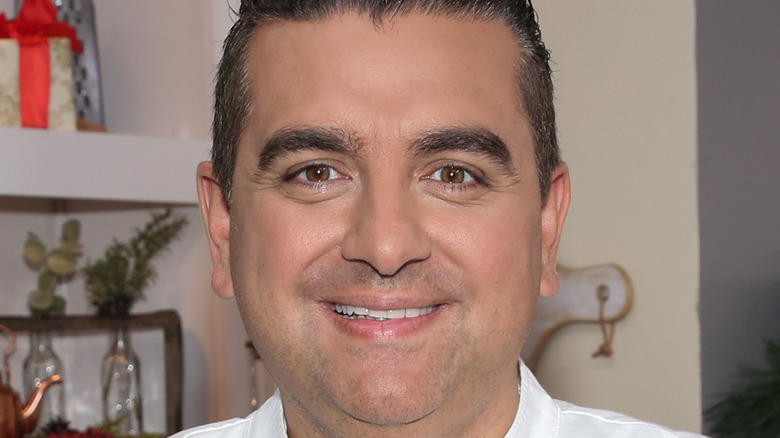 Paul Archuleta/Getty Images
Most of Buddy "Cake Boss" Valastro's fans and followers know he suffered a serious injury to his hand last year. A debilitating hand injury isn't good for anyone, but for those who make their living cooking and baking like Valastro, it can be a serious threat to their livelihood. When you hear of a chef getting hurt, many immediately think of knife cuts, burns, or other kitchen accidents — so it was a surprise for some to hear that the Cake Boss wounded his hand not on a television set or in the kitchen, but in a home bowling accident.
While the not-so-rich-and-famous might not realize it, home bowling alleys are a real thing, and this is where Valastro suffered his horrific accident. According to the TLC Special "Buddy Valastro: Road to Recovery," the star was trying to reset the machine's automatic pin-setter when his right hand was trapped by the machine. A metal rod then came down and impaled his hand between his middle and ring fingers. "I thought I was going to faint ... There was blood everywhere," the star recounted to Today. Luckily, family members were there to free him, apply first aid, and rush him to the emergency room.
Buddy's hand is not fully healed
A full year after the accident that could have ended his baking career, a very grateful Buddy Valastro appeared via video on the "Rachael Ray Show" to tell the host that he is almost fully healed, but may never be exactly as he was before the accident (via "Rachael Ray Show"). Demonstrating his recovered skills, Valastro iced a large cake with a piping bag while chatting with Ray, sharing that he feels 95% recovered from his injury. People reports the process involved five reconstructive surgeries and physical therapy, as shared on the "Road to Recovery" special.
"If that's as good as it's gonna get, Rachael, I'll take it," Valastro joked. He also told Ray that he felt lucky to have been able to film a new season of "Buddy vs Duff" with co-star Duff Goldman. Valastro said his recovery "was amazing because of the fact that I could still do [the show]." Ray joked with her longtime friend that after a certain age, "Our memory, our body, our back ... if we're at 95%, we're good." To which the Cake Boss agreed, "Amen." It sounds like things certainly could have been much worse. We're just glad we'll be able to continue to see Valastro's impressive skills showcased for years to come.