Giada De Laurentiis Says This Cake Is The Perfect Way To Kick Off The Fall Season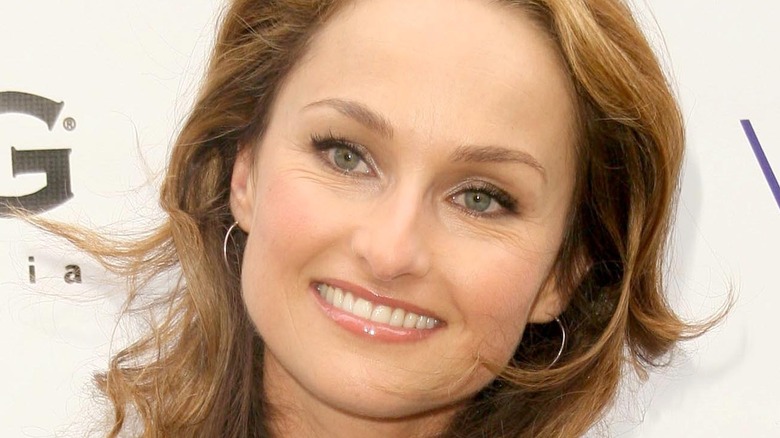 s_bukley/Shutterstock
When fall season swoops in, what foods first come to mind? Pumpkin spice is a given. Maple comes with the Thanksgiving territory (plus what is better on a crisp fall day than fresh pancakes and maple syrup), and apple cider donuts are a staple of any good apple picking trip. As Torani notes, "caramel, nut, spice and baked flavors" are a must, and hazelnut is a frequently forgotten, but absolutely delicious option too. 
Delish notes that there are all sorts of fall-flavored treats you can buy in stores, such as Talenti Pumpkin Pie gelato, Hostess Pumpkin Spice Twinkies, and Caramel Crunch Donettes. Heck, Whole Foods even has Pumpkin Pie Ice Cream Sandwiches. But Giada De Laurentiis has her own thoughts on what spells fall, and it sounds pretty dang delicious. Better yet, she is sharing the recipes with fans and foodies so they can share in the mouth-watering joy that comes along with a job well done and a slice well savored.
An apple a day is much sweeter in cake
In a recent Instagram post, De Laurentiis' website, Giadzy posted an exciting video of what she calls, Torta Di Mele, otherwise known as an Italian apple cake. The video features the layering of apple then pastry batter, more apples, and once baked, a generous powdering of confectioner's sugar. It is as visually beautiful as it sounds. Giadzy captioned the photo, "Cozy baking projects are one of the best things about fall, and @Giadadelaurentiis' new torta di mele (apple cake!) is the perfect one to get started. Easy, beautiful, not-too-sweet, and perfect with a cup of tea or coffee." 
The caption ended with a link to the full recipe on Giadzy. You might want to bookmark this recipe and whip it out the next time you go apple picking and just can not figure out what to do with all the apples you have taken home.