Sugar-Free Chocolate Chip Banana Bread Recipe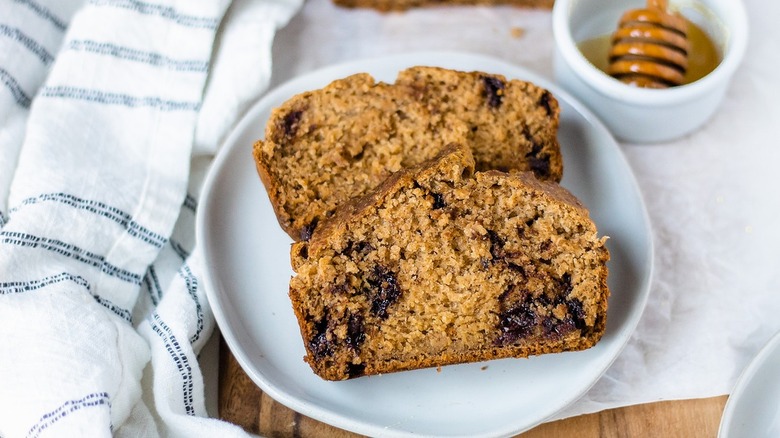 Jaime Bachtell-Shelbert/Mashed
Banana bread is one of the most delicious treats in the world, and it's pretty easy to understand why. Thanks to its dense, moist texture and wonderful banana flavor, banana bread is a breakfast staple that also works well as a snack and even a dessert. There are lots of ways to customize banana bread, and one of the best options is adding chocolate chips, which helps bring a rich, chocolate flavor that perfectly complements the banana flavor.
While banana bread is undeniably delicious, it's often packed with lots of added sugar. Fortunately, you don't have to overload on sugar to enjoy banana bread, and recipe developer Jaime Bachtell-Shelbert's sugar-free chocolate chip banana bread recipe proves this fact! This recipe is so good because it focuses on the natural flavor and subtle sweetness of the banana without adding any sugar — not even artificial sugar. Bachtell-Shelbert, who runs the blog Wholly Nourished, describes this banana bread as "not as sweet" as typical banana bread but notes that it's still plenty moist "with a yummy banana flavor." She explains, "The chocolate chips add that sweetness you might think that you're missing," noting that you can also drizzle on some honey for a touch of sweetness. If you love banana bread but don't love all of the sugar, give this sugar-free chocolate chip banana bread recipe a try!
Gather the ingredients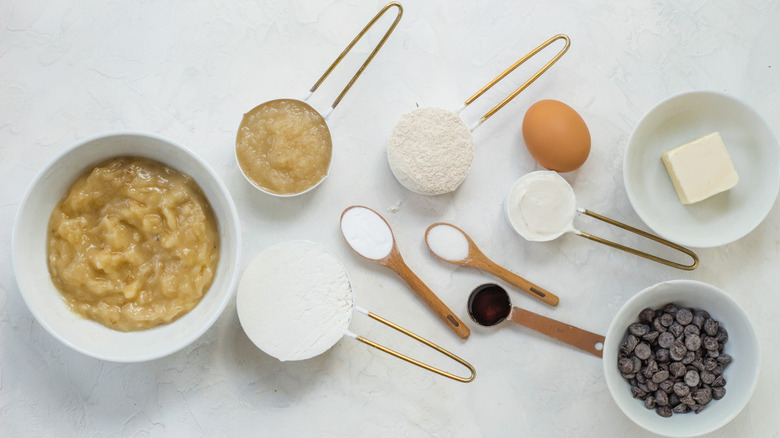 Jaime Bachtell-Shelbert/Mashed
Much like making regular banana bread, you'll need a few key ingredients to make sugar-free chocolate chip banana bread — luckily, many of them are likely sitting in your pantry! First, you'll need ripe mashed bananas. You'll also need unsweetened applesauce, melted butter, an egg, vanilla, all-purpose flour, whole wheat flour, salt, baking soda, plain Greek yogurt, and no sugar added chocolate chips, such as Lily's. Bachtell-Shelbert notes that you can use only all-purpose flour instead of a combination with whole wheat flour, and you can also use melted coconut oil instead of butter. Optionally, you may also want butter, nut butter, or a drizzle of honey to add on top of your baked banana bread.
Prepare your baking dish and mix the wet ingredients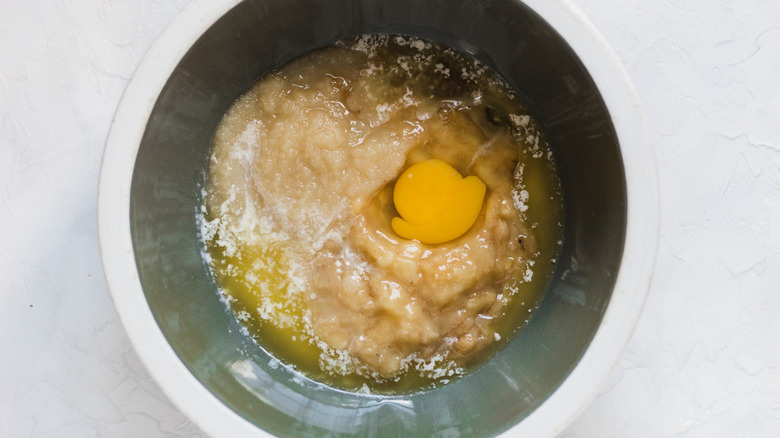 Jaime Bachtell-Shelbert/Mashed
Once you have your ingredients sorted and measured, you can begin preparing this sugar-free chocolate chip banana bread. Start by preheating your oven to 350 F and preparing your loaf pan by either spraying it with nonstick spray or lining it with parchment paper. Then, grab a large mixing bowl and add in the wet ingredients: the mashed bananas, applesauce, butter, egg, and vanilla extract. Using a hand mixer, beat these ingredients until they're just combined, for about 30 seconds. You'll know when to stop when you have an even, smooth, thin batter. 
Add in the dry ingredients, and then fold in the yogurt and chocolate chips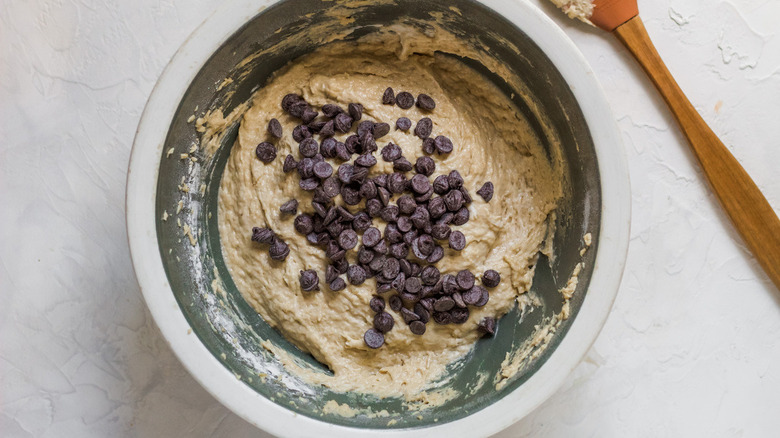 Jaime Bachtell-Shelbert/Mashed
When you've finished combining all of the wet ingredients, you can add in both types of flour, the baking soda, and the salt. Using the same mixer, go ahead and mix on medium speed once again, also for 30 seconds. Now that you've added the flour, you'll notice the batter start to thicken up and more closely resemble typical banana bread batter. Now, go ahead and fold in the Greek yogurt until it's evenly combined into the rest of the ingredients. Finally, stir in the chocolate chips until they're evenly distributed throughout the batter. 
Bake your sugar-free chocolate chip banana bread and enjoy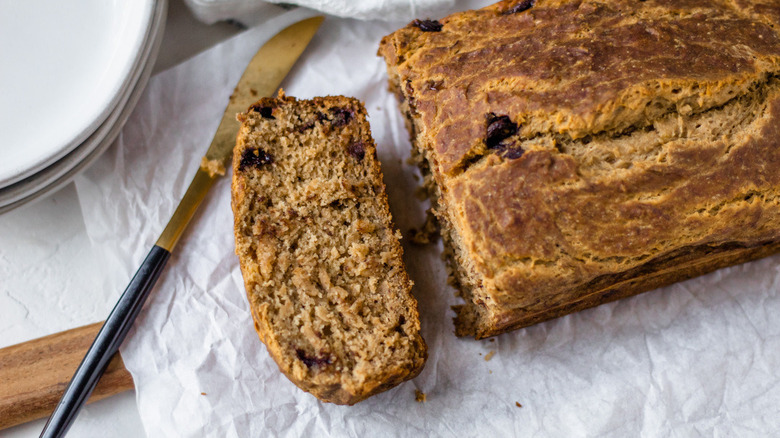 Jaime Bachtell-Shelbert/Mashed
As soon as you've finished stirring in the chocolate chips, pour the banana bread batter into your prepared loaf pan and bake for 50 minutes. You can test your bread for doneness by inserting a toothpick in the middle — if it comes out clean, your banana bread is ready! 
While this sugar-free chocolate chip banana bread is great on its own, Bachtell-Shelbert tells us "this could be enjoyed for breakfast or as a snack. We like to add a spread of nut butter and a side of fruit to make it more balanced." It also pairs well with coffee, tea, or almond milk. With each bite, you'll notice all of the warmth and depth of typical banana bread, without an excess of sugar. This recipe is ideal for those who want to cut back on sugar or for those who simply want a less-sweet option that still checks all of the boxes for quality chocolate chip banana bread!
Sugar-Free Chocolate Chip Banana Bread Recipe
You can feel good eating this delicious chocolate chip banana bread because it's completely sugar-free, with the help of a couple of secret ingredients.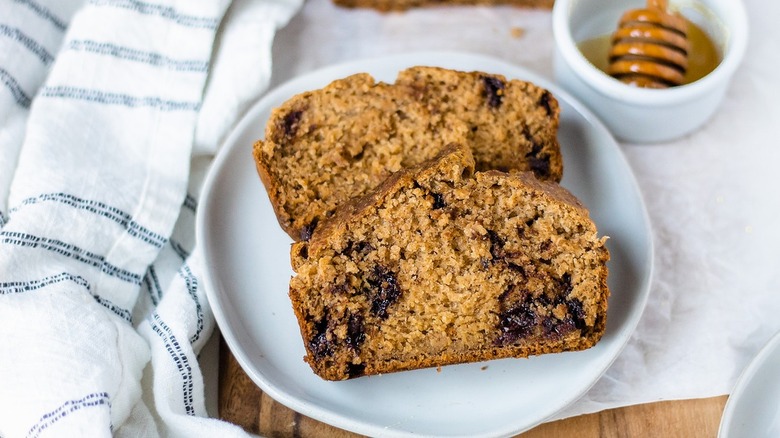 Ingredients
2 large bananas, ripe, mashed
½ cup unsweetened applesauce
¼ cup butter, melted
1 egg
1 teaspoon vanilla
1 cup all-purpose flour
½ cup whole wheat flour
½ teaspoon salt
1 teaspoon baking soda
¼ cup plain, unsweetened Greek yogurt
⅓ cup no sugar added chocolate chips
Directions
Preheat the oven to 350 F. Lightly spray a loaf pan with nonstick spray or line it with parchment paper.
In a large mixing bowl, combine the bananas, applesauce, butter, egg, and vanilla. Mix on medium speed for 30 seconds with a hand mixer until combined.
Add the flours, salt, and baking soda. Mix on medium speed for another 30 seconds until combined.
Fold in the Greek yogurt.
Add the chocolate chips and stir to incorporate.
Pour the batter into the prepared loaf pan.
Bake in the oven for 50 minutes or until a toothpick inserted into the center comes out clean.
Serve and enjoy!
Nutrition
| | |
| --- | --- |
| Calories per Serving | 234 |
| Total Fat | 9.4 g |
| Saturated Fat | 5.6 g |
| Trans Fat | 0.3 g |
| Cholesterol | 37.8 mg |
| | |
| --- | --- |
| Total Carbohydrates | 33.6 g |
| Dietary Fiber | 2.5 g |
| Total Sugars | 11.9 g |
| Sodium | 242.5 mg |
| Protein | 4.8 g |