How Alex Guarnaschelli Really Feels About SNL's Chopped Skit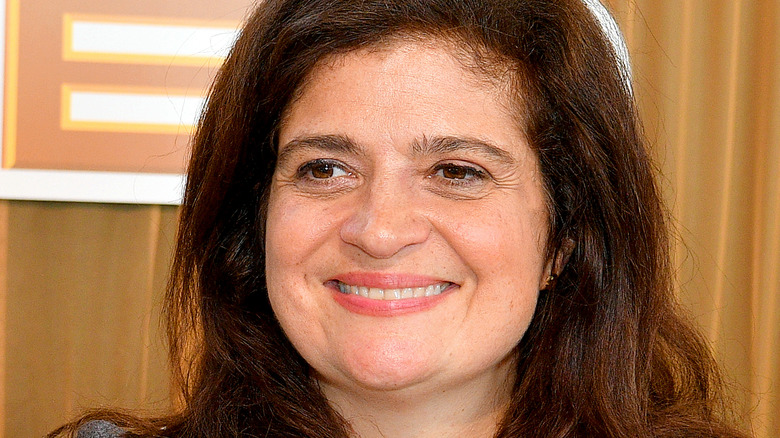 Dia Dipasupil/Getty Images
Was it the conclusion of an episode of "Chopped" or a "Saturday Night Live" sketch? SNL's parody of the popular Food Network cooking competition show, available on YouTube, was so spot-on it was hard to tell at first glance. The sketch, from 2019, must have been filmed on the actual "Chopped" set. Guest host Emma Thompson played judge Amanda Freitag, and cast members Aidy Bryant and Alex Moffat (in white hair) played judges Alex Guarnaschelli and Geoffrey Zakarian. Everyone played their parts to perfection, according to several of the comments on the YouTube video.
In this over-the-top version of "Chopped," only two contestants remained. Georgina, played by Leslie Jones, fired a pistol in her opponent's direction to secure her spot at the ice cream machine. The other contestant, Claire, played by Melissa Villaseñor, only pretended to wash her hands when she went to the sink. Georgina ended up getting eliminated. Instead of the artichoke slider she was going to prepare for her appetizer, she produced a live kitten on a hamburger bun instead.
Commenters familiar with the real "Chopped" were in stitches. "As a huge 'Chopped' fan, this is one of my all-time favorite SNL sketches," one commenter said. "The kitten on a hamburger bun SOLD IT haha." Another commenter could relate to the ice cream machine-related gunplay. "Honestly shocked no one's been shot going for the ice cream machine on the real 'Chopped,'" they said.
Alex Guarnaschelli agrees: SNL's imitation is sincere flattery
"Saturday Night Live" cast member Aidy Bryant, playing Alex Guarnaschelli, was singled out for praise in comments under the YouTube video of SNL's 2019 "Chopped" parody sketch. "Aidy captures Alex's mannerisms perfectly, love it," one commenter said. Another said, "I don't know whether the fact that Aidy and Alex (Moffat) sound so much like ICAG and Geoffrey is hilarious or terrifying." ("ICAG" is a popular acronym for "Iron Chef Alex Guarnaschelli," per Distractify).
This particular SNL sketch is more than two years old, but thanks to YouTube more people are discovering it all the time. On September 19, Twitter user @Marjoy69 reposted the video and tweeted, "I never saw this before, but this is one of the funniest skits I've seen on @nbcsnl."
What's great about Twitter is that @Marjoy69, aka OttawaGrl, with all of 61 followers, can be heard by Alex Guarnaschelli just as clearly as anyone else who tags her on the platform. So when OttawaGrl directed a question at Guarnaschelli: "Don't you think imitation is the sincerest form of flattery?" the Iron Chef saw fit to tweet a reply: "I do," she said simply, and tagged @nbcsnl.
Now that we know Guarnaschelli approves of Aidy Bryant's portrayal of her, maybe SNL can set up one of those cast-member-meets-celebrity moments, like when Jennifer Aniston got to meet her impersonator, cast member Vanessa Bayer (via YouTube).