The Absurd Way PBR Is Paying Fans To Advertise For Them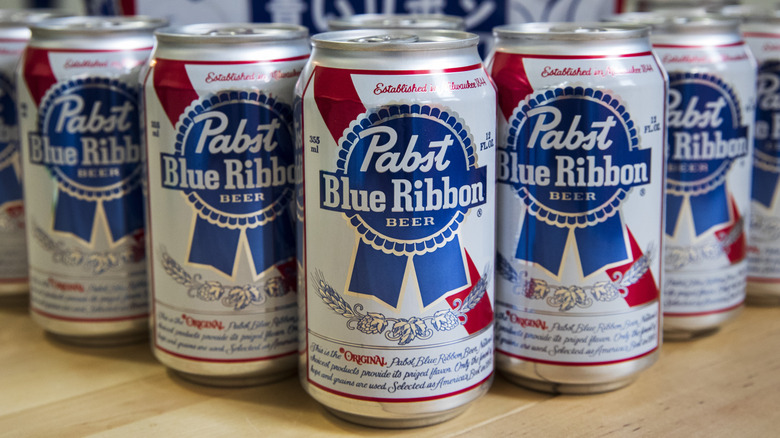 Drew Angerer/Getty Images
It has been a good week for Pabst Blue Ribbon drinkers! Fans of the classic beer were let in on a unique — if not somewhat odd — opportunity. If they hopped on the PBR in Home Advertising website, they were able to try to win some free PBR merchandise to showcase in their homes along with the chance of actually getting paid for it! Hey, we'd display some cool Pabst artwork in our digs free of charge any day!
Sound like a beer-influencer dream-come-true? That's exactly what the company is hoping for. According to Food & Wine, Pabst Blue Ribbon's statement promises that "Each item has a corresponding monetary value, in which participants send them in and Pabst Blue Ribbon posts proof of installation, then you get paid to 'run' the ads inside the comfort of your home." What this boils down to, according to the official rules of the promotion, is that 328 prizes will be given out including $40 and a sweet PBR advertisement. The sweepstakes began on September 21 and will run through September 24, according to the site. Unfortunately, it looks like all the items that were available in the contest are already "sold out."
Pabst Blue Ribbon home decor is hilarious
Winning the PBR In Home Advertisting contest would be amazing for any beer fan. The company has released some truly comical advertisements that winners can place just about anywhere in their homes. As the video on the contest website points out, "If you're a rich person who doesn't need money, please look away as the following is not for you." So, if you're not one of the rich folk, you may get a chuckle out of the clever PBR merch.
Been dying for a PBR matching bathroom set? This was your chance! The contest website features a Pabst shower curtain, toilet seat, and even printed toilet paper! Things get even wackier in the Kitchen section of the site where there's a banana sticker. Really, who doesn't need a reminder to grab some PBR when they're peeling a banana?
For the bedroom, obviously, a duvet cover and beer blinds are more necessity than desire, but the clear winner here is the opportunity to turn your wifi network into an ad. The site suggests naming your network something PBR-related such as "PBRSOGOODBUYNOW." That's one way to get your neighbors' attention! This contest is such a funny one, but next time, feel free to just give us some free PBR. We'll be more than happy to post a picture!