This Restaurant Has The Best Hot Sandwiches, According To 27% Of People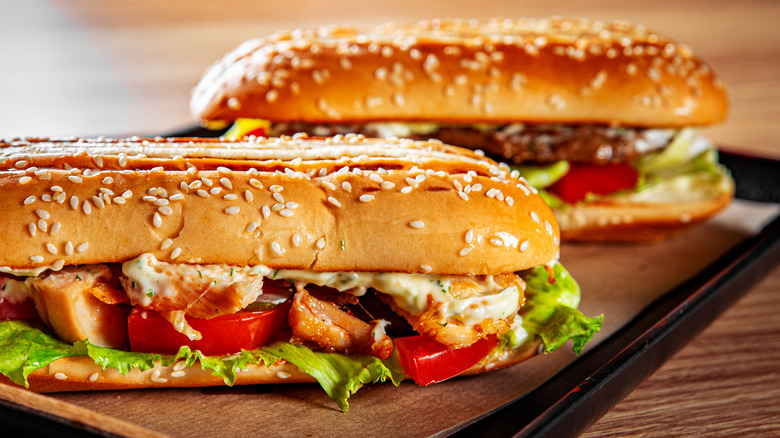 siamionau pavel/Shutterstock
A sandwich can be a versatile snack that can impress even the fussiest eater and leave them longing for more. Ultimately, it all comes down to that unique blend of ingredients in your sandwich. One of the most important decisions to make when choosing a sandwich is if you want it hot or cold. Cold sandwiches include deli staples like turkey clubs and tuna, while hot sandwiches tend to have indulgences like saucy meatballs or cheesy chicken. For something different, you could try the Bombay Sandwich from Mumbai, India, a savory treat that's filled with veggies, tangy sauces, butter, and lots of cheese (via Epicurious). The cardinal rule? This sandwich must always be grilled in a sandwich press to achieve a crispy exterior.
Thankfully, when a hot sandwich craving hits, foodies have plenty of shops to choose from in the U.S., such as Firehouse Subs and Quiznos. Which brand gets the most amount of attention from its customers, though? A Mashed survey had some interesting answers in store.
Jersey Mike's has stolen the show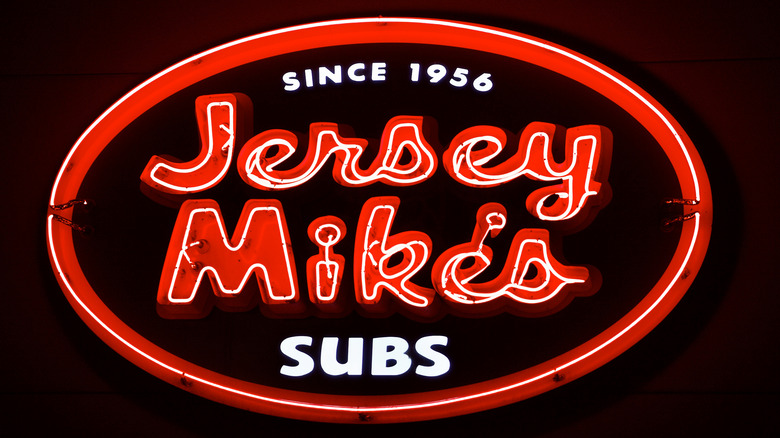 Elliott Cowand Jr/Shutterstock
The Mashed survey roped in 599 participants to choose from a list of popular sandwich shops in the U.S. Jersey Mike's won this contest fair and square, with 27.71% of voters choosing the chain as their favorite hot sandwich purveyor. Firehouse Subs came close to beating its competitor, with 26.04%. This was followed by Quizno's (20.37%) and Subway (19.87%). The last two names in the survey were Penn Station (5.01%) and Blimpie, with a measly 1% of votes.
Truth be told, you really can opt for a staggering number of hot sandwiches at Jersey Mike's such as the Portabella Chicken Cheese Steak, the Buffalo Chicken Cheese Steak, the Big Kahuna Cheese Steak, Grilled Portabella Mushroom & Swiss, and more. The brand claims that all its hot subs are made fresh and are a definite "crowd favorite" with melted cheese and tender meat. Need recommendations? Go for Mike's Chicken Philly if you're looking for a relatively healthier and delicious option. As per Eat This, Not That!, this one's the best hot sub to choose from a health perspective. It sounds delicious too: the sandwich has peppers, grilled onions, and white American cheese. Classic!