Cheez-It's Popular Wine Collab Is Back With An Extra Fancy Twist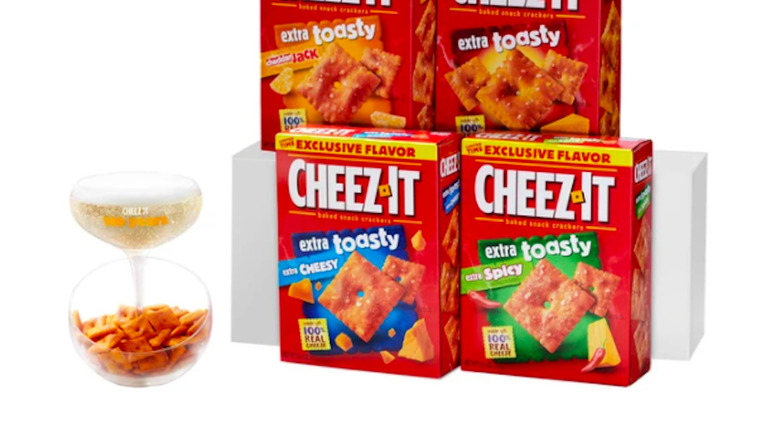 Cheez-It
If you loved the limited edition Cheez-It and Wine combo that came out in Summer 2019, you're in for a treat. The brand is bringing back the fan-favorite for the third consecutive year, and this time around, it's even more extra than the original. As announced on their official Instagram page in celebration of their 100th anniversary, Cheez-It is releasing The Cheeze-It x Usual Wine 'So Extra' Toasty Experience, and it promises to take your Cheez-It snacking to the next level. 
The package contains not one but four "Flavor Flights" of Cheez-Its: the original, cheddar jack, extra cheesy, and extra spicy flavors of the extra toasty cracker variety. It also comes with a "once-in-a-chedderation Cheez-itennial Cracker Coupe" that allows you to hold an entire bowl of Cheez-Its and a full glass of wine at the same time. As described on the Cheez-It website, the cracker coupe is not just a hybrid of a wine glass and a bowl, but rather "a breathtaking innovation in snacking and sipping stemware." And it's apparently the best way to enjoy Cheez-Its and wine together.
Cheez-It is getting serious about its wine pairings
Considering the first edition of Cheez-It and Wine sold out in minutes (via Thrillist), it makes perfect sense that the brand has decided to continue stepping up its game. Though the previous products — white cheddar Cheez-Its with rosé wine and original Cheez-Its with red wine — were created in partnership with canned wine brand House Wine, Cheez-Its' most recent collaboration is with a new brand called Usual Wine. The wine itself doesn't come in the new combo pack, but your purchase of The Cheeze-It x Usual Wine 'So Extra' Toasty Experience — priced at $29.99 through the Cheez-It website — does get you a 20% discount off of Usual Wines' Brut.
Both the new combo pack and the Usual Wines discount that it comes with will be available for a limited time starting September 24, 2021, at noon Eastern Standard Time, so make sure to get it while supplies last. There's a limit of three per person, but just in case you still can't get your hands on one, Cheez-Its also added a 9 oz. Wine Tumbler to their merchandise collection (via Cheez-It), so you'll always be able to pair your Cheez-Its with wine.