The Best Way To Store Fresh Tortillas, According To Reddit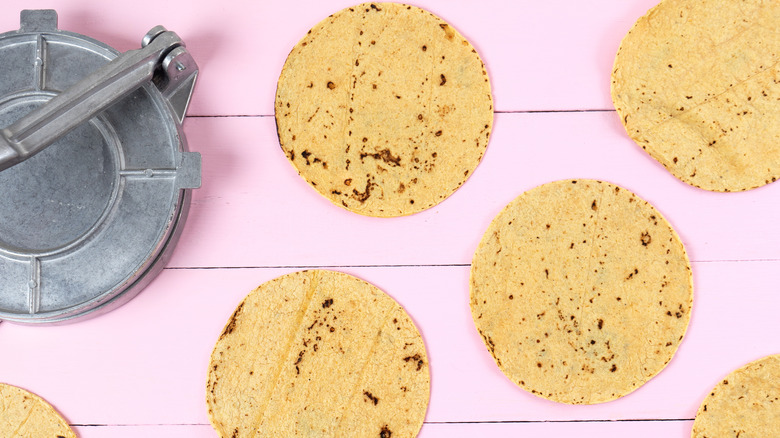 Guajillo studio/Shutterstock
Food-lovers enjoy heading to Reddit, especially to subreddits like r/FoodHacks, for some of the best food tips out there. Threads like this are where seasoned and novice home cooks, as well as culinary professionals, get to weigh in on everything from the best cheese to use in a grilled cheese sandwich to one thread all about how to make canned ravioli taste better. (Herbs, butter, pan-frying). One recent discussion on the Food Hacks subreddit that caught our attention is about the best way to store fresh tortillas. 
As one user, Lissy_Wolfe, noted on the thread, this is something we don't often have to worry about with store-bought tortillas. "I don't think I've ever seen them go 'bad'," she wrote. As Consumer Reports found, store-bought tortillas have preservatives and additives to give them this long shelf life, but freshly-made tortillas are a different story. As the cookware website Uno Casa noted, since they're made with just a few, simple ingredients and no added preservatives, homemade tortillas typically last only two or three days, or perhaps a week if they're refrigerated. If you're going to the effort of making these delicious tortillas from scratch you certainly don't want to waste any, and Redditors have the best solution for storing them. 
This is the simple way to make your tortillas last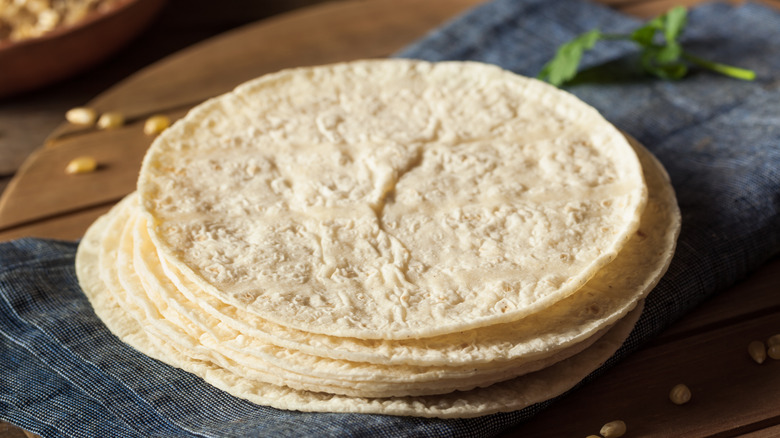 Brent Hofacker/Shutterstock
To keep your freshly-made tortillas at hand and easy to grab when you want a cheesy quesadilla or pan of enchiladas, users on the Subreddit r/FoodHacks say the best method is to freeze them. User JustJoeAKABeans said to layer the tortillas with a sheet of wax paper between each one, and then slide the stack into freezer-safe storage bags. Other users agreed that adding the wax paper or pieces of parchment paper between the tortillas makes it easier to separate them when they're frozen, so you can thaw exactly the number you need. Another user noted that the tortillas freeze well and the texture when thawed is unaffected.
These Redditors have the same idea as The Pioneer Woman blog, which also says that freezing is an ideal storage method for both fresh and store-bought tortillas. They say to be sure that fresh tortillas have cooled completely before stacking and freezing them. To thaw, The Pioneer Woman says the best approach is to let the tortillas sit at room temperature: For an individual tortilla, it will only take 10 minutes or so. Tortillas can also be thawed in the microwave if you don't have time to wait, but you'll need to watch them closely so that they don't dry out. Store your tortillas in the freezer for up to two months.