22% Want This Discontinued Costco Food Court Item To Make A Comeback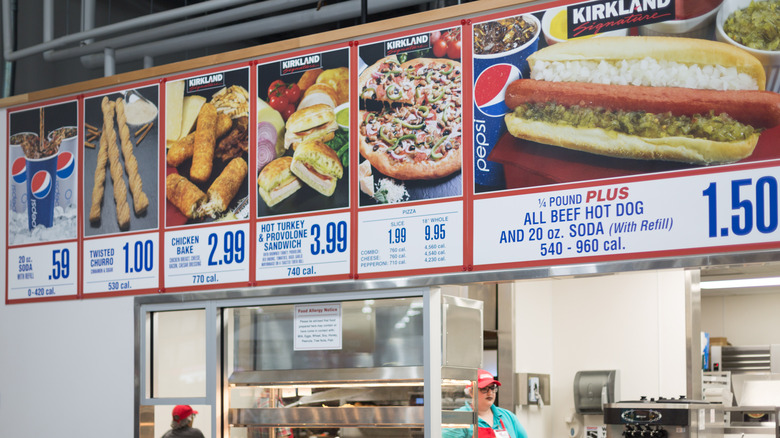 Helen89/Shutterstock
The Costco food court has long been a convenient and affordable oasis for hungry shoppers needing a quick bite to eat after a long day of hunting down the best big-box deals. Certain cult-favorite food court items are perpetually offered in the warehouse chain's dining areas, including their popular $10 pizzas, swirled frozen yogurts, craveable chicken bakes, and the company's famous $1.50 hot dog and drink combo.
On the other hand, many Costco menu items have come and gone over the years, occasionally to the dismay of hungry customers. Recently, the chain's popular combo pizza was removed from food court menus, causing an uproar among many passionate post-shopping pizza lovers. This follows a long-standing trend of menu items experiencing a short stay on the Costco menu before disappearing forever.
In a recent poll, Mashed asked 590 U.S.-based Costco shoppers: "Which discontinued Costco food court item should make a comeback?" Respondents were given the choice between six popular discontinued Costco food court items: gelato, Polish dog, cinnamon sugar pretzel, BBQ beef brisket sandwich, hand-dipped ice cream bars, and calzones.
Many Costco shoppers want this BBQ sandwich to return to menus
When it comes to Costco menu items shoppers most want to make a return, desserts don't appear to be a priority. Coming in dead last in the poll was gelato, with just 6% of votes. Two other desserts, the hand-dipped ice cream bars and cinnamon sugar pretzel, didn't get much love either, with 14% and 18% of votes respectively. This seems to indicate that frozen yogurt continues to be the reigning sweet treat on Costco's food court menu.
Falling in the middle of the pack were the calzones, which just under 20% of respondents wanted to return to Costco. Bringing in the second most votes, with 20% of the total, was the Polish dog, an all-beef Polish sausage that was dropped from the menu in 2018, causing fans to take to social media in droves to fight for the return of the popular sausage, even creating a #SavethePolishDog hashtag.
Taking the top spot as the Costco food court item our readers would most like to make a return was the meaty BBQ beef brisket sandwich, with 22% of the vote. While it's unknown if the popular brisket sandwich — or any of these bygone Costco items — will ever make a return to the warehouse stores, the company's rotating selection of menu items offers hope to fans of these discontinued foods that eventually they just might make a comeback.