Aldi Shoppers Are Impressed By This Affordable Smoker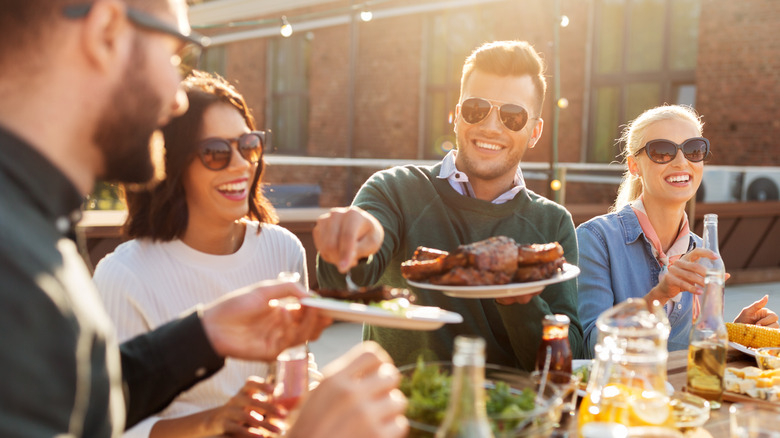 Syda Productions/Shutterstock
If you love grilled meat, you might also want to give smoking your own meat a try. There's a difference between grilled meat and smoked meat, and you can find ways to turn your grill into a smoker online. That being said, if you come across a fantastic smoker for a cheap price, it might just be worth buying. So where should you look for your first smoker? One Aldi customer found a great deal on a smoker, and other Aldi fans are also saying that this smoker is high-quality.
On the Aldi subreddit, one customer posted a photo of a smoker with the caption, "Never thought my first smoker would be from Aldi, but $41.99 was irresistible! (first attempt is a small pork roast with applewood chips)."
Even though Aldi's prices might be low, the quality of many of its products is still fantastic. With this smoker, it's no different.
What are Aldi customers saying about this smoker?
Some Aldi fans and Reddit users chimed in with their own positive experience with the smoker. Some details: The Range Master Electric Smoker includes a window, chrome-plated steel cooking grates, a steel water bowl, wood chip box, and side wood chip loader, according to Aldi Reviewer.
One person commented, "I bought an ALDI smoker on clearance years ago for $50. It was a great purchase... Felt like it was a rebranded Masterbuilt. It eventually died on me after 5 good years." Another Reddit user said, "I got one for $80 a few years back and it had been an absolute workhorse for me! Enjoy!"
Though prices seem to range and also depend on whether the smoker is on clearance or at full price, it seems like this is worth the purchase. If you have a smoker from Aldi (or a smoker from anywhere else), you can smoke almost any meat. Now that you know where to buy your smoker, don't forget to brush up on the biggest mistakes people make with smokers so you make the most of your cooking appliances.