Chipotle's New Menu Item Takes Its Smoked Brisket To The Next Level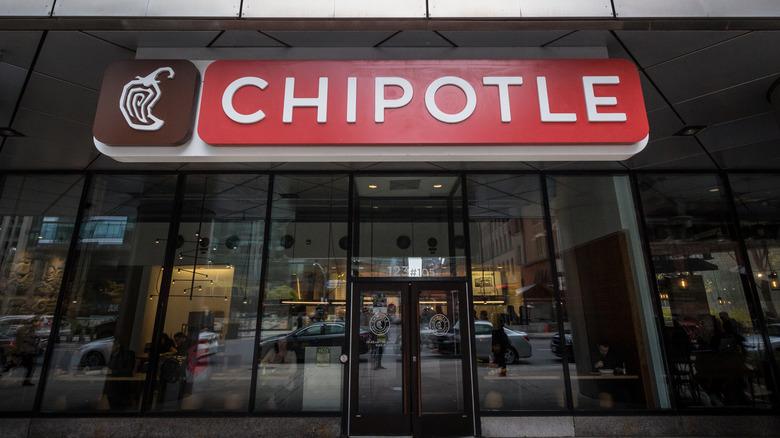 BalkansCat/Shutterstock
Who doesn't love Chipotle? When it comes to rich, spicy, Mexican-style food on the go, this fast-casual chain serving tacos, burritos, and burrito bowls has conquered the world, boasting more than 2,700 locations across the globe (via Statista). Diners love its fresh salsas, its hormone-free meats, and, of course, its addictive guacamole, which has inspired a plethora of copycat recipes across the internet.
Chipotle locations typically offer chicken, steak, beef barbacoa, and pork carnitas as their meat options (via Chipotle). But a few days ago, the chain announced in a press release that a new, intriguing protein would be joining the lineup for a limited time only: smoked beef brisket. According to the press release, the meat is smoked, grilled, and seasoned with roasted jalapeños and chipotle peppers. Sounds mouth-watering, doesn't it? Well, there's more good news for brisket fans: a new, limited-time-only Chipotle menu item that prominently features this yummy-sounding beef. Read on to find out what it is.
The Quesabrisket is a quesadilla-brisket mashup
Do you love beef brisket? Do you love quesadillas? Then you're going to want to try Chipotle's new, limited-time-only Quesabrisket, available only online and through the chain's app today through the end of October (via QSR Magazine). The Quesabrisket loads the Mexican-style fast-casual restaurant's new, limited-time-only smoked beef brisket with melty cheese inside a griddled flour tortilla. On the side, the chain serves a trio of sauces: queso blanco, tomatillo-red chili salsa, and tomatillo-green chili salsa. The quesadilla is the perfect way to sample that newly available smoked brisket if you're not in the mood for a standard burrito, taco, or bowl.
"We had a lot of fun at the test kitchen in the Chipotle Cultivate Center experimenting with the best dipping combinations for the smoked brisket quesadilla," Chipotle's Nevielle Panthaky told QSR. "Quesabrisket dipped into our newest hack, spicy queso, is a full-flavored introduction to our delicious new protein." We're right there with you, Nevielle. Be right back while we log onto Chipotle.com to get ourselves a taste.