Twitter Is Furious At This Florida Legislator Who Slammed DC Food As 'Terrible'
Maybe the progressive politician from Florida dined at Donald Trump's DC hotel, and it left a bad taste in his mouth. Whatever happened, Florida Democrat Omari Hardy, a member of the state's House of Representatives and a candidate for U.S. Congress, trolled all of the district's food offerings in one brief tweet: "Can we talk about DC food being terrible? Because it's not great y'all."
Hardy, a self-described progressive from West Palm Beach (just a stone's throw from Trump's Mar-a-Lago!), also describes himself on his Twitter page as a "troublemaker extraordinaire." Well, Hardy certainly made trouble for himself with his DC food-bashing tweet. Mica Willis, Twitter handle @iAMbigmeesh, had some choice words on Twitter for Hardy, who is Black. "Please don't come on the internet disrespecting chocolate city like this," said Willis, using a Black slang term for DC (via NPR). "It costs absolutely nothing to google restaurants in DC, including Black-owned ones, and find amazing food. Don't do us like this. This is rude."
"If you want to be wrong you can," Twitter user @ciretose1 said, noting that quality cuisine from all over the world can be found in the nation's capital because of all the embassies there. "You best be just fishing for recs because you clearly don't know," @ciretose1 added.
Chef José Andrés called on the legislator to be positive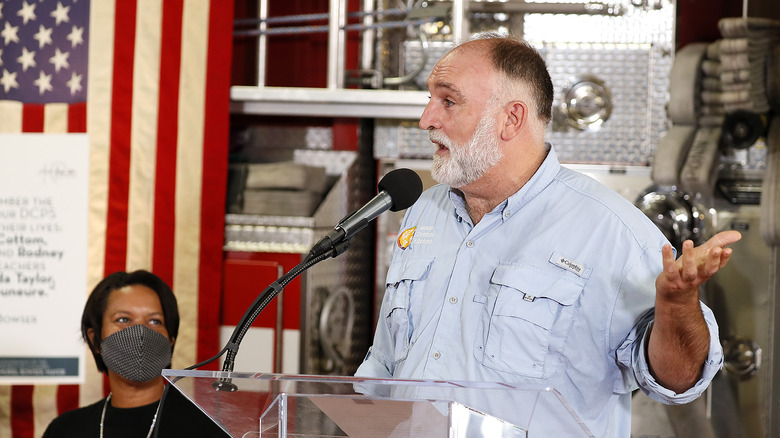 Paul Morigi/Getty Images
Perhaps the biggest and most knowledgeable person to join the chorus of admonitions against Omari Hardy's tweet was celebrated chef José Andrés, whose fleet of restaurants includes several in DC, per his website. Andrés took a different tack, though. He didn't want to argue Hardy's point but rather his bearing as a political leader during the COVID-19 pandemic. Andrés tweeted, "With a person in your position, wouldn't it be nice to talk about anything you did like, versus 'trashing' thousands of cooks and restaurant owners, and food trucks, etc. that are still trying to save their restaurants?" Andrés brought his point about leadership home in a followup tweet, saying leaders should be "lifting people's hopes up," "uniting us," and "building longer tables." He concluded, "Be a man of good Mr. Hardy, God is watching. ... My city @washingtondc welcomes you ... and we are a great food city!"
Andrés' words of welcome may be more relevant than the chef realizes. Hardy could be heading to Washington D.C. as a U.S. congressman. First, he needs to win a special election in January (via Ballotpedia). Fortunately for Hardy, all the people eligible to vote are South Florida residents, not DC restaurant workers. But if Hardy does end up winning, he'll be spending a lot more time in the nation's capital. In that case, we hope he develops a taste for DC cuisine.