Curtis Stone's Favorite Food Is Surprisingly Simple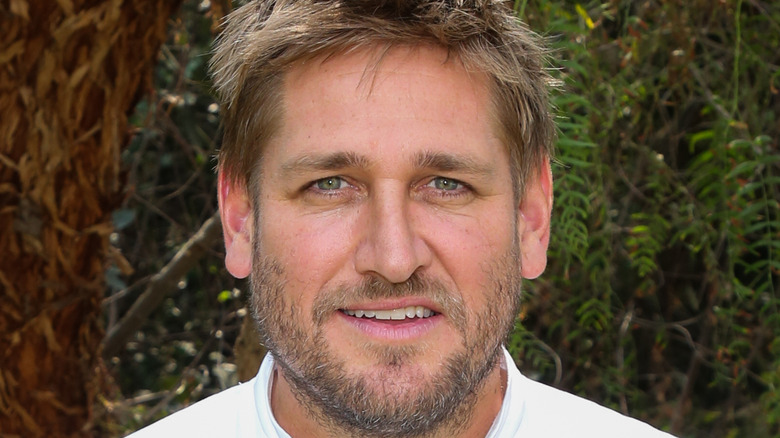 Paul Archuleta/Getty Images
When you envision a chef's favorite dish, you might think of a complex plate with exotic ingredients, advanced techniques, or unusual flavor profiles you wouldn't find on the typical menu. After all, chefs are around food all the time, constantly trying different dishes — a dish that makes it onto a chef's list of favorites must be truly extraordinary, right? Well, yes — but that doesn't mean it has to be a particularly complex dish. Sometimes, classic comfort food dishes are all you really want, even if you're a world-famous chef. That's certainly the case for Curtis Stone, at least.
When appearing on an episode of "The Rachael Ray Show," Stone shared his recipe for a loaded potato salad with bacon, flavors that go flawlessly together. As he said, that particular version of the classic BBQ side dish was "one of the first potato salads I ever learned how to make," and he further gushed over it, saying that "it is my favorite, favorite dish" (via The Rachael Ray Show). Given that the potato salad recipe earned a spot on the show's top recipes of June 2021, it seems that Ray would have to agree with his evaluation of the decadent dish. If you're a potato salad lover, a bacon lover, or simply someone interested in trying out a new side dish, you may want to give Stone's recipe a shot.
What's in Stone's beloved loaded potato salad?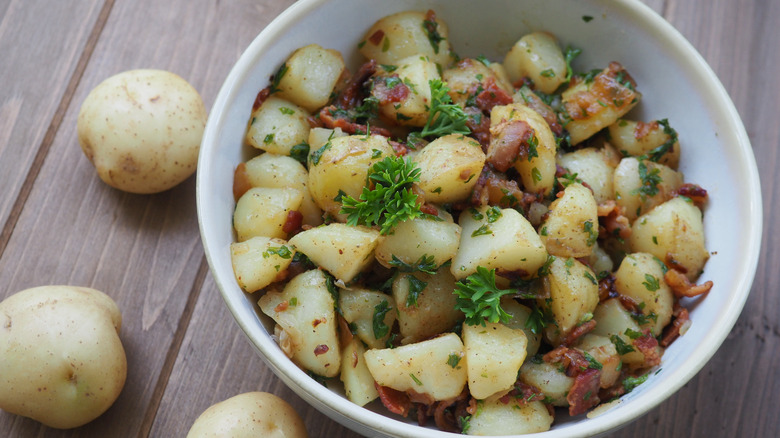 Lulub/Shutterstock
So, what exactly makes Stone's potato salad a favorite amongst all the dishes he's created over the years? It's packed with tons of flavorful ingredients that transform the simple potatoes into a delectable side dish (via The Rachael Ray Show). Stone uses Yukon gold potatoes, peeled and cut into chunks, for the base of the salad. One secret to really infuse those potatoes with flavor is his use of chicken broth — no, he doesn't cook the potatoes in the broth, but he does add it little by little, mixing in the potatoes so that they absorb some of the broth. Add-ins to finish off Stone's loaded potato salad include 8 ounces of bacon, shallots, cornichons, capers, flat-leaf parsley, and mayonnaise.
While many potato salads are served cold, this particular one can be served at any temperature from warm to room temperature to chilled, although Stone does specify in the recipe that it's best when warm. For those who may have missed the show, Ray also shared a short clip in which she made the recipe with Stone on her Instagram page, and her fans rushed to the comments section to share their thoughts.
"Delish as always in your kitchen," one fan wrote. Another simply commented, "Yummmm," followed by a heart emoji while yet another added that the unique twist on potato salad reminded her of a hot German potato salad her mother used to make.