Panda Express Is Testing Out A New Crispy Chicken. Here's How To Try It
If you love crispy chicken, you can't go wrong with almost any item at Panda Express. According to Thrillist, the Original Orange Chicken and Crispy Almond Chicken Breast both rank as some of the best items you can order from this Asian-American fast food chain. While these entrées have kept customers coming back for more time and time again, the chain always has its sights on the next big meal, and its latest offering has just hit menus in Chicago.
Chewboom reports that certain Panda Express locations across the Windy City have started selling a new dish called Crispy Citrus Chicken. The item features crunchy breaded white-meat chicken alongside red and green peppers that get cooked together and coated with a citrus sauce. This delicious item can tempt anyone's taste buds, but if you want to get your hands on this meal, you have to make your way to Chicago, as the new dish is currently only being tested there.
A crispy classic in the making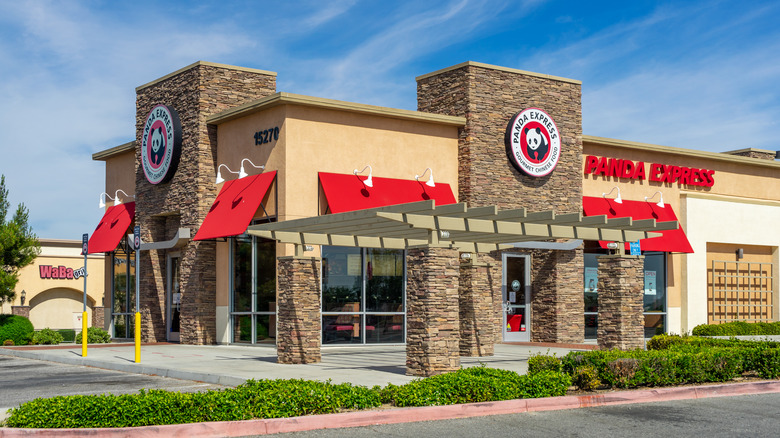 Felipe Sanchez/Shutterstock
While the new Crispy Citrus Chicken from Panda Express looks amazing, the key to the item's success lies in its taste. If the idea of ordering another type of crispy, saucy chicken from Panda Express hasn't won you over just yet, a YouTube review from Darrel Dupit can easily get you excited for this special crispy chicken. After ordering the Crispy Citrus Chicken, Dupit explains that he believes the citrus flavor in the dish comes from lemon. The reviewer ordered the item with broccoli and noted that the flavor tasted underwhelming. He said while the chicken came out incredibly crispy, some bites tasted a bit dry. However, he stated that he could see himself getting it again with a side of rice, and ultimately gave the dish a "double thumbs up."
If you've been craving a new Panda Express menu item, this latest offering has your name all over it. Only time will tell if it makes it to the chain's locations across the country, but in the meantime, make sure to try out the new chicken dish if you find yourself in or around Chicago. Just make sure to act fast — no one has announced how long the Crispy Citrus Chicken will be sticking around.