The One Recipe Antoni Porowski Wants Everyone To Know From His Cookbook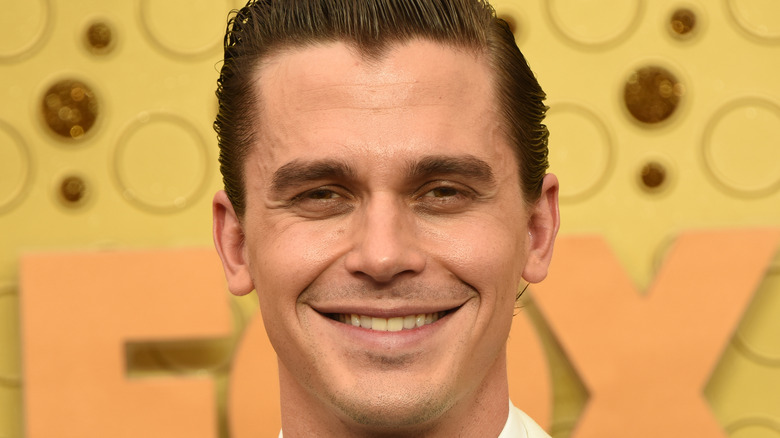 Kathy Hutchins/Shutterstock
We may receive a commission on purchases made from links.
"Kale yeah!" That's how Kelly Ripa and Ryan Seacrest reacted to Antoni Porowski's warm kale and chicken salad with toasted hazelnuts and croutons during a cooking demonstration on "Live with Kelly and Ryan" (via YouTube). Porowski made a guest appearance on the show to promote his latest cookbook, "Antoni: Let's Do Dinner."
"This salad is literally the one dish out of my cookbook that I make variations of more than any other recipe," Porowski told the co-hosts. Like Porowski's debut cookbook, "Antoni in the Kitchen," which was written to appeal to everyone from beginners to advanced home cooks (per Amazon), "Antoni: Let's Do Dinner" focuses on easy preparation with an emphasis on combining common ingredients in creative ways.
Porowski, who wrote the book with his friend and collaborator, Mindy Fox, told Thrillist, "We wanted to make something that people were going to pull from, time and again. ... We wanted to be very conscientious about repeating certain ingredients that people already have in their pantries." That's why the recipes are heavy on things like chili flakes, chicken, eggs, and greens, he explained; people can find these ingredients easily and use them more than once. His kale and chicken salad is the perfect example.
You can make Porowski's kale salad totally your own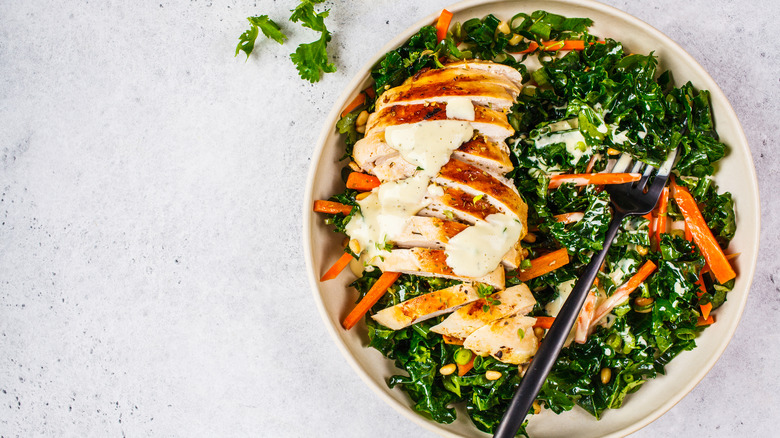 Nina Firsova/Shutterstock
Porowski, the food and drinks expert on Netflix's "Queer Eye," identifies as a home cook — not a chef. He told Fast Company, "I pride myself on being a home cook. I'm somebody who's self-taught. I literally learned to cook from watching cooking shows on Food Network." Maybe that's why his preparation style is so easy-going.
While tossing together ingredients for his warm kale and chicken salad with toasted hazelnuts and croutons on the "Live with Kelly and Ryan" set, Porowski said, "I'm all about swaps. ... If you don't have hazelnuts, [use] sunflower seeds, slivered almonds, whole almonds. Throw in any nut, any seed, and you'll be fine" (via YouTube).
Porowski is not averse to the occasional shortcut either. For example, the warm dressing on his kale salad does double duty: It complements the other ingredients and cuts a step from prep. "I don't have the time or patience to massage my kale, and if you don't massage it, it just tastes like grass," Porowski told Thrillist. "But making a warm vinaigrette with a little bit of anchovies, chili flake, and then topping it with some raisins and some hazelnuts. It's crunchy, sweet, and salty, it's got a bit of heat, it's packed with protein." We can get on board with that. Besides, in what world is it fair for the kale to get a massage before the cook? Find the recipe on the "Live with Kelly and Ryan" website.