Air Fryer Delicata Squash Recipe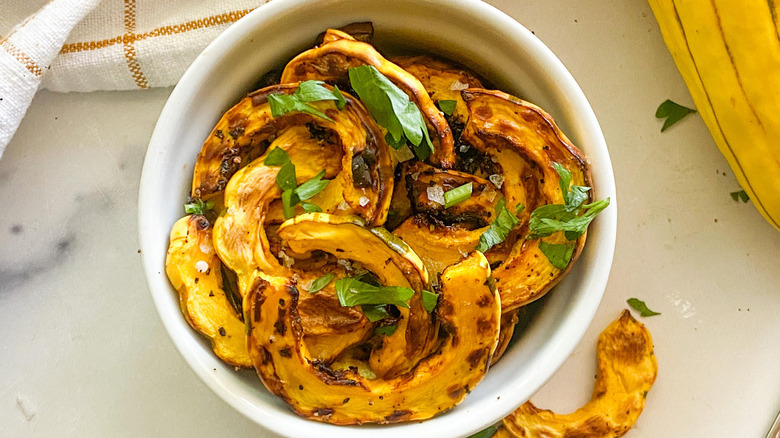 Miriam Hahn/Mashed
A delicious side dish that doubles as a snack should definitely be part of your cooking repertoire. If it's also versatile and healthy, then you've got a recipe you should hold on to! With squash season coming up you'll be happy to know that we have a delicious air fryer delicata squash recipe courtesy of certified wellness coach Miriam Hahn, who specializes in plant-based nutrition. She definitely has a wide variety of ideas when it comes to preparing tasty vegetables without a fuss, and this recipe will not disappoint. 
She points out that this air fryer delicata squash recipe, "is so good and so good for you," which makes it twice as appetizing! This is an easy side dish to serve alongside meat or vegetarian main courses, and it requires very little prep time. Otherwise, do as Hahn does when she says, "I honestly sometimes will make this just to snack on!"
Gather the ingredients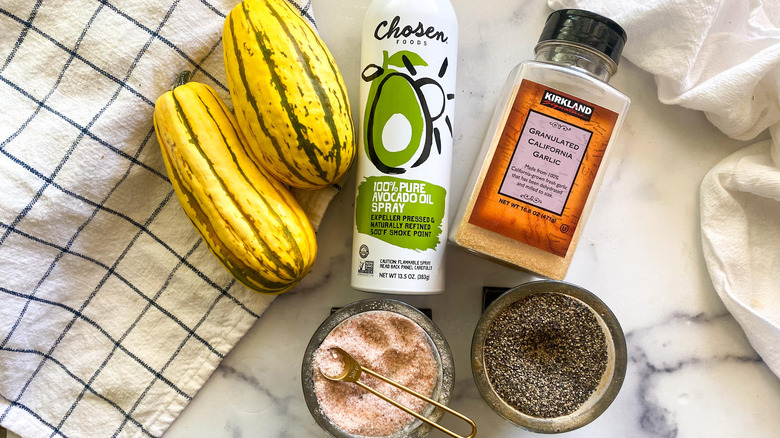 Miriam Hahn/Mashed
You'll just need a handful of ingredients for this quick and easy air fryer delicata squash recipe. First, you'll need a delicata squash, and Hahn notes, "[It] has a short season so when you see it, buy it!" Hahn adds that she has also tried a similar variation with acorn squash and explains, "You can eat the skin on acorn squash too so it is pretty similar." Modern Farmer indicates that delicata also goes by the name "sweet potato squash," so keep an eye out for its long shape and striped exterior. 
Next, you'll need some avocado oil spray or whichever oil you use for cooking. The benefit of an air fryer is that you only need a minimal quantity of oil to obtain a crispy fried texture. Hahn balances out the sweet squash with a savory seasoning of salt, garlic granules, and black pepper. If you want to keep it sweet, Hahn says, "I love these seasonings but you actually can do a sweeter version and toss in a little maple syrup and add cinnamon." Take her word for it when she says that it's, "Delicious too!" 
Prepare the delicata squash to season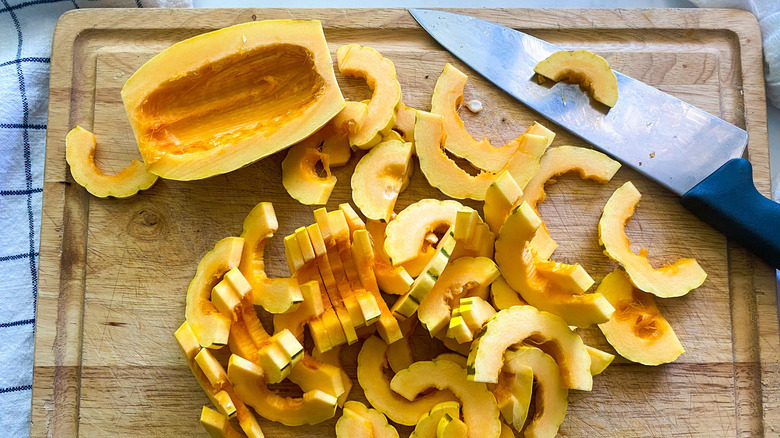 Miriam Hahn/Mashed
First you'll need to prepare the delicata squash before seasoning it. Since you're eating the skin, be sure to properly wash and scrub it. Next, cut the squash in half lengthwise, then scoop out all of the seeds and discard them. Hahn recommends using a grapefruit spoon to scrape them out with ease. Then, place the squash flat side down on a cutting board and slice each long half crosswise into half rings.  
Season the squash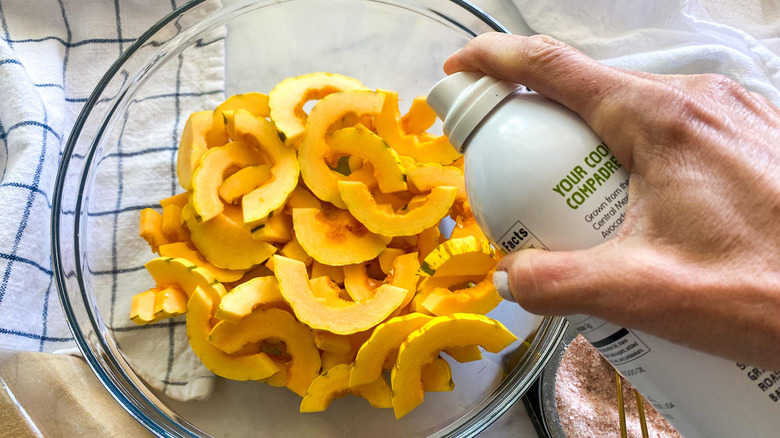 Miriam Hahn/Mashed
Transfer the half rings of squash into a large bowl to season them. Either spray them with avocado oil spray, or drizzle on a tablespoon of your preferred oil. With the help of some large spoons or using your clean hands, toss the squash to coat the slices with the oil. Next, sprinkle on the salt, garlic granules, and black pepper, and toss the squash until it is well seasoned. Make sure every slice has some oil and seasoning.
Air fry the squash for 12 minutes, shaking it halfway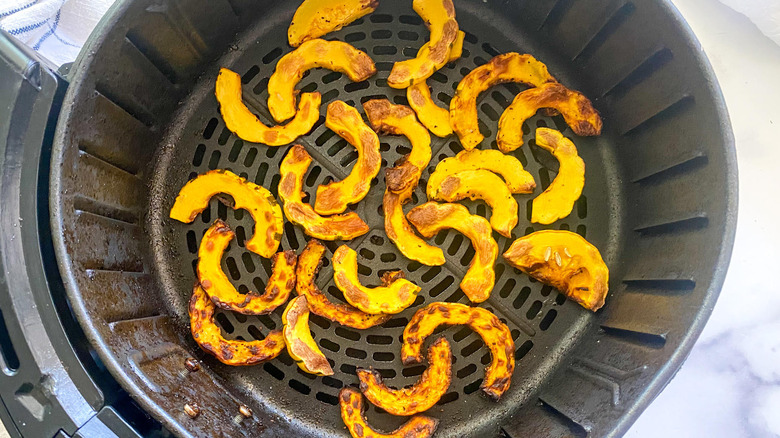 Miriam Hahn/Mashed
You'll be air frying the squash in batches so that the slices cook evenly. Place ⅓ of the squash slices into the air fryer basket, sticking to a single layer. Then, set the air fryer temperature to 400 F and the timer to cook for 12 minutes. At the halfway mark, remove the air fryer basket and shake it up, then put it back in place. After 12 minutes, Hahn explains that "You want the squash to be browned and crispy." She adds that "If you have a larger squash, it may take a couple of minutes longer." Repeat the same steps to air fry the remaining squash slices. Hahn notes that it's easy to keep an eye on an item in the air fryer because, "You can easily check it at any time while it is cooking and just pop it back in if it needs a little more time."
Serve up this tasty air fryer delicata squash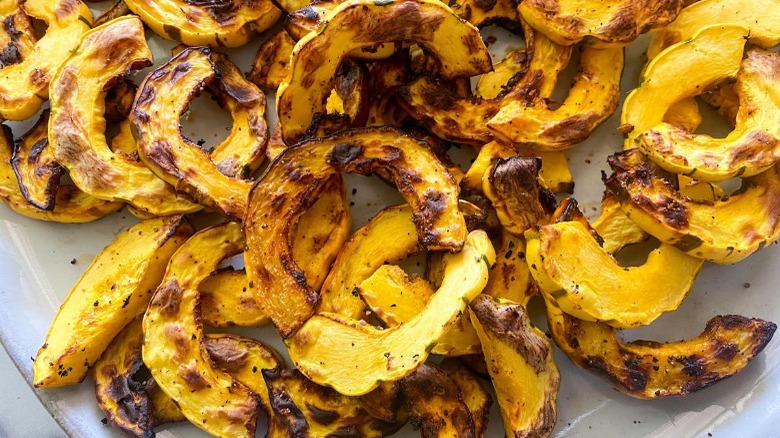 Miriam Hahn/Mashed
Once you've finished air frying all of the delicata squash, it's ready to serve. For immediate satisfaction, munch on it as a tasty snack. Alternatively, Hahn adds that "It also makes a great side dish." You can enjoy it with a protein or a warm comfort food like Hahn, who says, "I love it with Italian pasta!"
If you have any leftovers Hahn recommends, "just reheating [it] in the air fryer so it will crisp up again."
Air Fryer Delicata Squash Recipe
When you're looking for a healthy and tasty side dish, this air fryer delicata recipe delivers!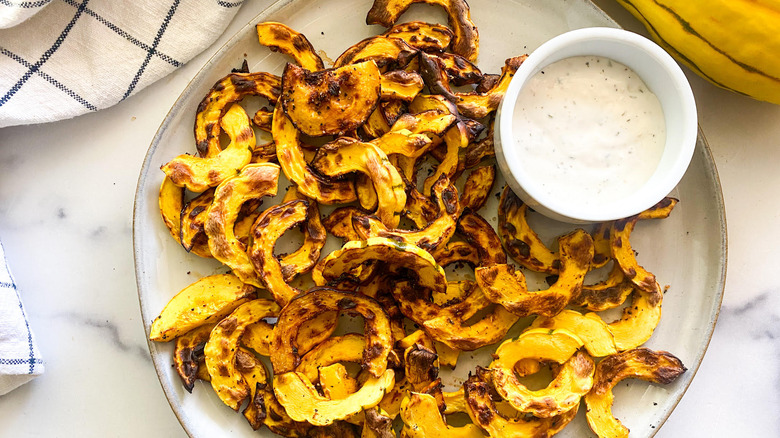 Ingredients
2 delicata squashes
avocado oil spray or 1 tablespoon of oil
½ teaspoon salt
½ teaspoon garlic granules
¼ teaspoon pepper
Directions
Wash the squashes well and cut them both in half lengthwise.
Scoop out the seeds and discard them.
Cut each long half crosswise into half rings.
Transfer the rings to a large bowl and spray them with the avocado oil or toss them with oil.
Sprinkle on the salt, garlic granules, and pepper, and toss the squash to coat each piece.
Lay about ⅓ of the squash in the air fryer basket in a single layer.
Set the temperature to 400 F and the timer to 12 minutes.
Halfway through the cooking time, shake the air fryer basket and put it back in for the remaining time.
Repeat the cooking process with the rest of the squash rings in batches.
Serve as desired.
Nutrition
| | |
| --- | --- |
| Calories per Serving | 118 |
| Total Fat | 3.7 g |
| Saturated Fat | 0.5 g |
| Trans Fat | 0.0 g |
| Cholesterol | 0.0 mg |
| | |
| --- | --- |
| Total Carbohydrates | 22.7 g |
| Dietary Fiber | 3.3 g |
| Total Sugars | 0.0 g |
| Sodium | 297.2 mg |
| Protein | 1.8 g |