Arby's New Limited Time Merch Will Smell Just Like A Sandwich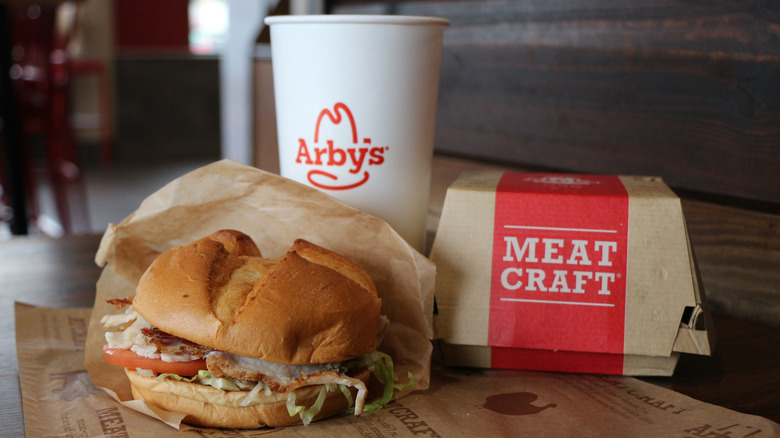 Deutschlandreform/Shutterstock
Arby's is well known for its roast beef sandwiches, like the very popular Beef n' Cheddar menu item, which comes on a toasted onion roll that's drizzled with cheddar cheese sauce and zesty ranch. But if you're in the mood for something a little different, the chain also serves sandwiches made with chicken, turkey, and steak. As if that weren't enough delicious offerings, Arby's recently revealed it was releasing the new Real Country Style Rib Sandwich.
This latest creation features Texas pit smoked pork rib, melted smoked Gouda cheese, crunchy onions, mayo and barbecue sauce. While you would think just the mention of this brand new menu item would be enough to get customers to flock to the fast food chain, Arby's has decided to go even further to promote its new offering. The company revealed on its website that it's giving their fans a chance to smell just like their favorite meat sandwich.
What Arby's customers are saying about the new meat-smelling sweats
In an interesting move, the chain has created a sweater and matching sweatpants that apparently smell just like its newly released sandwich. "When you're sitting in a smokehouse, smoking the meat for Arby's Real Country Style Rib Sandwich for hours and hours over real hickory wood, your brain starts to wander," the brand wrote on its website. "You begin to wonder what a pair of premium sweats might smell like if they, too, were smoked over hickory wood for hours. Well, Arby's found out."
And if the enthusiasm on the company's Instagram is any indication, you may not want to wait to put in your order. One fan wrote, "Damn I'm buying this right away." While another commented, "now this is drippy‼️ thank you Arby's, I'll be ordering for an early birthday present for myself." The burgundy apparel will be available for purchase on October 4, but will only be sold in limited quantities.