Best Veggie Breakfast Hash Recipe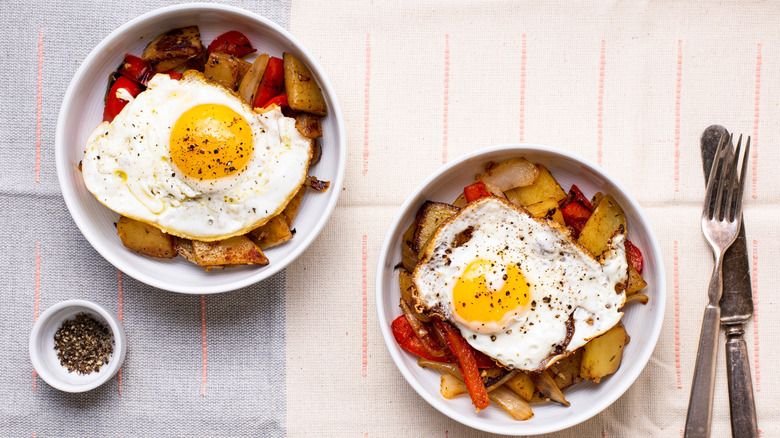 Alexandra Shytsman/Mashed
Let's be honest: A full weekend breakfast is something we look forward to all week long. It's a time to unwind, stay in our pajamas and fluffy slippers until way later than we probably should, and indulge in something fancier than plain old oatmeal or a quick smoothie.
This veggie breakfast hash brought to you by recipe developer Alexandra Shytsman of The New Baguette is undeniably perfect for those days when you're craving something savory instead of pancakes or French toast. It's an indulgent way to sneak a couple of servings of vegetables into your first meal of the day, and it definitely doesn't taste like "health food."
The 20-minute hash consists of creamy potatoes with caramelized onions and peppers, all tied together with the savory flavors of smoked paprika, dried herbs, and fresh garlic. The sunny-side-up eggs add richness (and protein, of course). If your stomach is already growling, we can seriously relate. Read on to find out how to prepare this tasty breakfast in your own home this weekend (and many weekends to come)!
Gather the ingredients to prepare this veggie breakfast hash recipe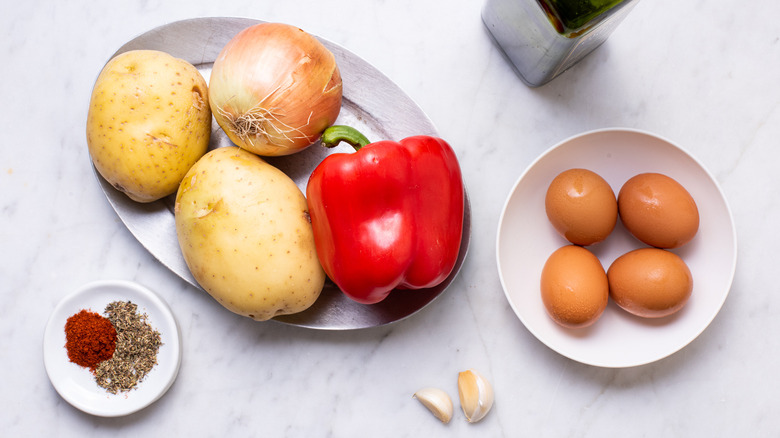 Alexandra Shytsman/Mashed
To make this hash, you'll need two large potatoes, a bell pepper, a large onion, fresh garlic, dried herbs, smoked paprika, and eggs. You can use any kind of potatoes you have on hand, including Idaho, red, Yukon Gold, butter, or new potatoes. For the onion, you can go with yellow, white, or red, and any color bell pepper will do. As for the dried herbs, you can use oregano, thyme, rosemary, or Herbes de Provence — anything that's hardy with a woodsy flavor!
Prep the vegetables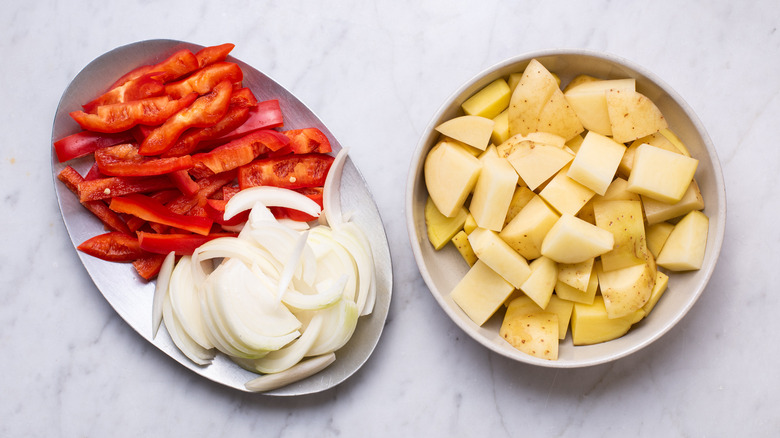 Alexandra Shytsman/Mashed
Before chopping, scrub the potatoes clean. Since you'll be leaving their skins on, you don't want to be crunching down on bits of dirt later! Next, cut the potatoes into 1-inch chunks. (Keep in mind that the smaller you cut them, the faster they'll cook through.) Then, slice the pepper and onion into strips, and mince the garlic. Keep everything separate for now, since you'll be adding the vegetables to the skillet in stages.
Cook the vegetables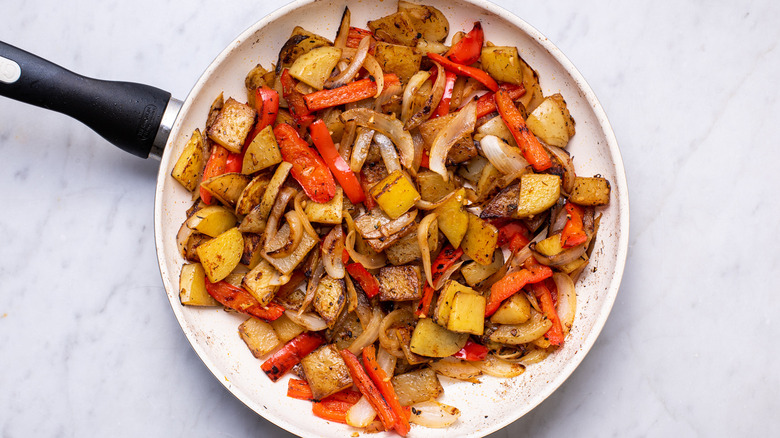 Alexandra Shytsman/Mashed
The potatoes go into the skillet first. They need to cook with the lid on to trap the steam inside the skillet, which will soften the potatoes. After about eight minutes, when they're almost fork-tender, stir in the remaining vegetables, and cook everything uncovered until the peppers and onions are soft, and all the vegetables are nicely browned. Don't rush this process, since the browning is where the vegetables will get their flavor. The smoked paprika and garlic go in at the very end so their flavor doesn't cook out.
Fry the eggs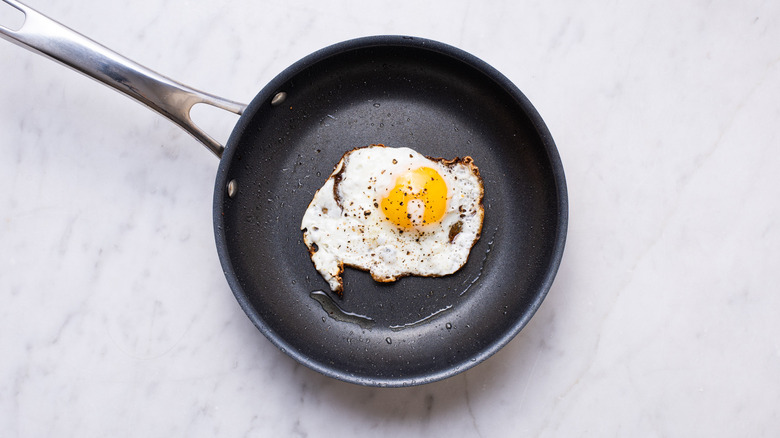 Alexandra Shytsman/Mashed
When the vegetables are close to being done, start frying the eggs. Preheat a skillet over medium-low heat, and add enough oil to lightly coat the bottom. Gently crack the eggs into the skillet, being careful to keep the yolks intact. Cook the eggs until the whites are completely set and the edges are golden brown. Resist the temptation to raise the heat in order to cook the eggs faster, because the edges may burn before the eggs have a chance to fully set.
Serve your veggie breakfast hash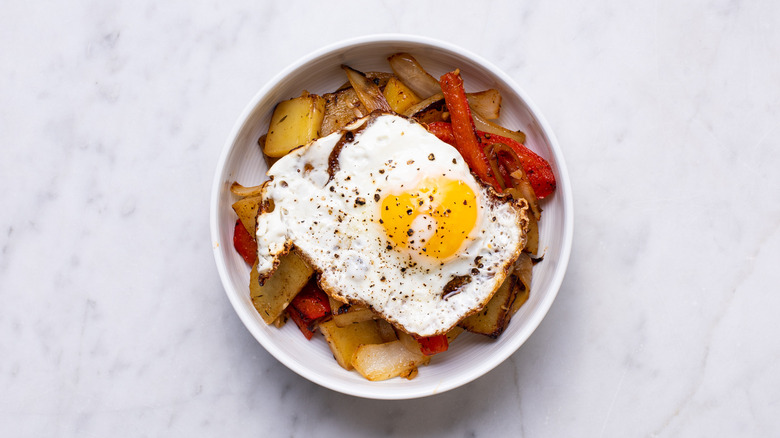 Alexandra Shytsman/Mashed
Get excited, because you've arrived at the most exciting part of the recipe — dishing up and digging into this tasty breakfast hash! When you're ready to serve, divide the veggie hash among bowls, and top them with the fried eggs. If you're not a fan of sunny-side-up eggs, by the way, feel free to swap them for soft-boiled eggs (aka seven-minute eggs) instead. We like to serve this with hot sauce on the side or even chipotle mayo when we're feeling fancy.
Best Veggie Breakfast Hash Recipe
The veggie hash consists of creamy potatoes, caramelized onions, and peppers, all tied together with savory flavors of smoked paprika, dried herbs, and garlic.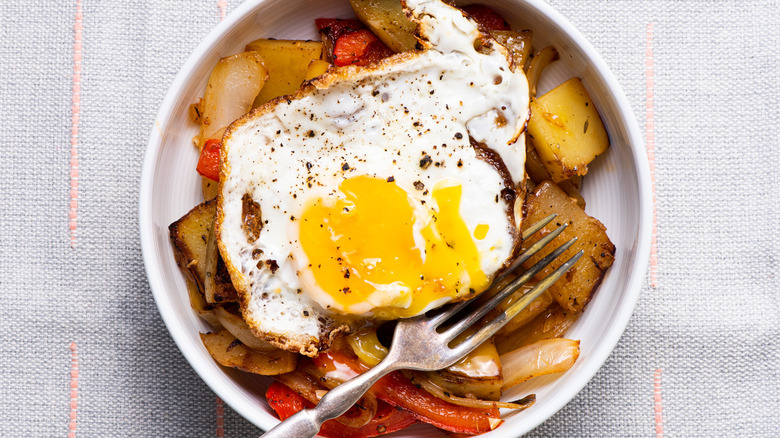 Ingredients
3 tablespoons extra-virgin olive oil, divided
2 large Yukon Gold or butter potatoes, cut into 1-inch chunks
1 bell pepper, ribs and seeds removed, cut into ½-inch-thick slices
1 medium yellow onion, cut into ½-inch-thick slices
½ teaspoon dried oregano or thyme
¼ teaspoon sea salt + more to taste
freshly ground black pepper, to taste
2 medium garlic cloves, minced
½ teaspoon smoked paprika
4 eggs
Directions
Heat 2 tablespoons of olive oil in a large nonstick skillet over medium-low heat. Add the potatoes, cover, and cook until they can be pierced with a fork, tossing occasionally, 6 to 8 minutes.
Uncover, and add the peppers, onions, oregano, salt, and a few grinds of pepper. Cook, stirring occasionally, until the vegetables are brown and soft, another 6 to 8 minutes. Stir in the garlic and paprika, and cook for 1 minute more.
Meanwhile, heat the remaining tablespoon of oil in a separate nonstick skillet over medium-low heat. Gently break the eggs into the skillet, and season with salt and pepper. Fry until the edges are golden and the whites are completely set, about 4 minutes.
To serve, divide the hash among 4 plates, and top with the eggs.
Nutrition
| | |
| --- | --- |
| Calories per Serving | 258 |
| Total Fat | 14.5 g |
| Saturated Fat | 2.8 g |
| Trans Fat | 0.0 g |
| Cholesterol | 160.0 mg |
| | |
| --- | --- |
| Total Carbohydrates | 24.4 g |
| Dietary Fiber | 3.8 g |
| Total Sugars | 3.5 g |
| Sodium | 188.1 mg |
| Protein | 8.4 g |